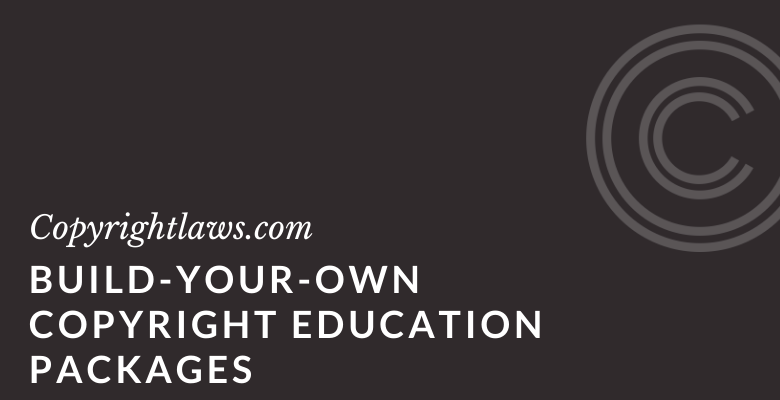 You don't need to reinvent the wheel when it comes to copyright awareness and education in your library, school, business or other organization. Copyrightlaws.com's build-your-own education packages are an easy way to privately meet your organization's copyright education needs.
Copyrightlaws.com designs professional copyright training for organizations who need specific information. Contact us to discuss how we can create and deliver professional copyright training tailored for your staff around your copyright and licensing scenarios.
Your Employees, Your Needs: Private Copyright Education
Using a state-of-the-art learning platform, your cohort can learn together and improve your organization's copyright awareness, lower your risks of copyright infringement, and confidently manage copyright and licensing issues.
Using our build-your-own copyright education packages, you can benefit from customized copyright education without writing and developing your own courses. You choose the topic, level of knowledge, course duration and the number of hours a student may spend completing a course. All courses are self-paced and you can add virtual classes, assignments and discussions relevant to your organization's everyday uses of copyright-protected materials.
The Benefits of Customized Private Cohorts
Copyrightlaws.com offers individual eTutorials or packages of two or more courses in a private cohort for your organization or institution. You select the course or courses, the timing, and whether you want built-in final quizzes and digital certificates for your employees. We'll help you build your own private copyright education packages tailored to the specific needs of your audience. Contact us to discuss course selection and licensing fees.
Examples of Past Private Cohorts
The following are two examples of custom education packages for private groups:
We recently worked with a group of 21 students from an organization who enrolled as a cohort in our Legally Using Images eTutorial
Another group of 28 learners from an educational institution participated in a group offering of our copyright certificate program.
Choose From the Following Courses
And check out our online learning platform, Thinkific.
Questions about private copyright education for your organization?
Contact us for further information.
Learn more about Copyrightlaws.com's approach to copyright education.