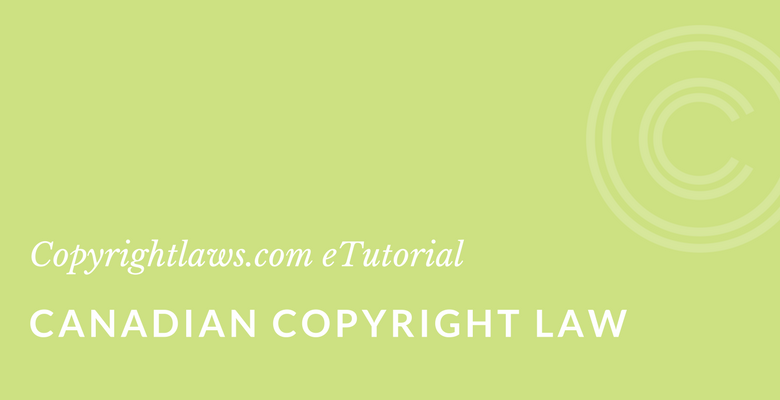 **NEW June offering. Register here.
This Canadian Copyright Law course is a 17-lesson online primer/refresher on Canadian copyright law. Each e-lesson in this eTutorial provides up-to-date information on the topics listed in the Syllabus below, setting out fundamentals for that topic, as well as a self-marking quiz and URLs for further reading.
On 13 December 2017, the Canadian government launched its mandatory review of the Canadian Copyright Act. 2018 will be a pivotal year in copyright policy in Canada. Take the time now to understand how copyright works and why it's important to you and your workplace by registering for the Canadian Copyright Law eTutorial.
Register for 1 – 14 June 2018. Or scroll down to register below. Course registration fee: $165 to $187 CDN.
All of Copyrightlaws.com's courses are aimed at empowering nonlawyers to deal with copyright and licensing issues. You'll gain knowledge to help lower risk copyright infringement in your library or organization.
Syllabus for Canadian Copyright Law Course
Understanding intellectual property
History of Canadian copyright law
Criteria for copyright protection (e.g., originality, fixation)
How to obtain copyright protection
How does international copyright protection work?
What is protected by copyright?
Who owns copyright?
The duration of copyright
Rights protected by copyright
Limitations on rights
How may rights be exploited?
How is copyright violated?
Remedies for the violation of copyright
Using copyright-protected materials
A comparison of Canadian and U.S. copyright laws
Digital copyright and electronic rights
A final 16-question self-marking multiple choice quiz will be e-mailed to participants following the final e-lesson. You will receive a Certificate of Completion at the end of this eTutorial.
Benefits from taking this eTutorial:
Be equipped to explain Canadian copyright law and answer basic questions about Canadian copyright law
Understand how to apply fair dealing to your situations
Identify what Canadian copyright law protects and when you need permission to use copyright-protected materials
Testimonials for our courses:
Terrific course. Lessons are short and easy to fit into my busy day."
— Gina Cali, Visual Research (November 2017)

I recommend this course if you're looking for Canadian Copyright Law in a nutshell. The topics were well organized and I loved the self-marking quizzes. I can now help our IP legal counsel with copyright-related research."
— Amra Porobic, Manager, Library Services, Insurance Bureau of Canada (October 2017)

I was expecting a lot of reading in this course [Canadian Copyright Law]; however, the lessons are compact with a lot of information and written for the layperson.
— Karen Mah, Head, Information Centre, Agriculture and Agri-Food Canada, Lethbridge, Alberta

The e-mail format of the lessons worked for me as I could do them as I was able within a busy schedule. I may take another eTutorial in the near future.
— Carolyn R. Wilker, Freelance Editor/Writer
Who should enroll in the Canadian Copyright Law course?
Copyright managers, librarians in all sorts of institutions, risk management professionals, marketers, publishers, editors, photographers, graphic designers and more
Those in for- and nonprofit businesses and organizations concerned about copyright compliance and lowering copyright risks
Email Copyrightlaws.com with questions about the Canadian Copyright Law course.
Looking for a more in-depth review of copyright law and applying copyright to your everyday copyright and licensing issues without the assistance of a lawyer? Consider the Certificate in Canadian Copyright Law program, the only copyright certificate program in Canada!
What graduates say about the Certificate in Canadian Copyright Law:
The Certificate in Canadian Copyright Law exceeded my expectations. I can now answer clients' questions about copyright with confidence. I liked the email format and that I could learn at my own pace. It was interesting to hear how other professionals in different organizations deal with copyright issues.
— Stephanie Joly, Information Management Specialist, Bank of Canada, February 2018

The Certificate program met my expectations. I am now able to to answer more complicated copyright questions we receive from our members and licensees, particularly in relation to handling international licensing situations."
— Marcia Lea, Copyright Agent, Copyright Visual Arts/Droit d'auteur Arts Visuals (CARCC), February 2018

I needed a starting base of information on copyright law and clearing rights. This course was suggested by my association VRSC, and was an amazing source of information. I am starting from scratch. The procedures and checklists provided in the program are a great way to kick off my new adventure in copyright. For anyone working in or interested in copyright, this program is an eye opener.
— Charlotte Grant, Visual Researcher & Design Assistant, February 2018

It was a great course. I really liked how it is broken down into small, daily modules because it makes it easier to retain the information. The quizzes were really helpful because they tested my knowledge on the subject and allowed me to self-assess areas that I needed to brush up on.
— Corinne Hope, Library Services Manager, Keyano College, October 2017