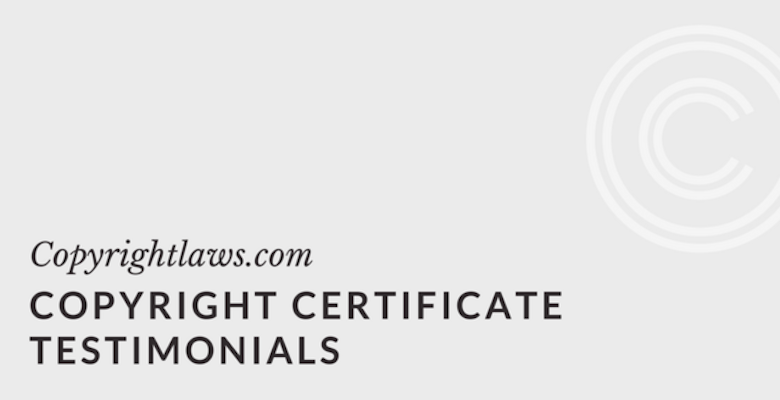 Copyright Certificate Testimonials from our graduates provide you with concrete feedback why you too should join our Copyright Certificate programs.
Click to see our complete list of Copyright Certificate graduates.
Brooke C. Stewart — Climate Assessment Program Managing Editor, NC State University/North Carolina Institute for Climate Studies (U.S.)
The team I work on is solely focused on obtaining and managing copyright permissions, so I will be applying the guidelines from the course to ensure that each license agreement we enter contains the pieces that we require. This will be an immediate change that will be solidified further when I work with my team and management to create standardized license agreements and implement a clear process. The other immediate change will be my ability to more clearly articulate to management and partner agencies what we require in terms of permissions and why some license agreements simply do not fit our needs. The knowledge from this course will help clear up some topics of ongoing confusion and disagreement. (July 2018)
Sylvia Lesage — Publishing Assistant, World Health Organization (France)
This has been a very enriching "copyright experience.". The content was really helpful and well-structured. My supervisor enrolled in the sister program, the Certificate in Canadian Copyright, and I enrolled in the Copyright Leadership Certificate, so together we have an international perspective when answering copyright questions. The content and Tools are really valuable. I highly recommend this program. (February 2018)
Lindsay Williams — Editorial and Rights Coordinator, American Society for Microbiology (ASM Press) (U.S.)
The Certificate program was well worth the price. Not only is the knowledge essential, but the networking aspect will continue to help with copyright issues long after the program. We'll be making lots of changes due to what I learned. Initially, we'll focus on how we handle requests from educators for use of our intellectual property in course materials and in the classroom. I also want to reevaluate how we value the content we own and license. (February 2018)
Kyra Folk-Farber — Music Librarian, University of California (U.S.)
The Copyright Leadership Certificate program was worth the price. It is impossible to find this much accessibly written, current, reliable information in one place, along with the opportunity to ask questions and discuss the issues.The Tools are now taped on my office wall, right in my sight-line. The one that I always think of and have shared with my Copyright Advisory Committee is "Get to yes whenever you can." There was lots of material that I didn't know and now I have that information should those copyright issues arise, which they probably will; for example, international treaties and licensing digital material. (August 2017)
Jean Waldrop — Library Director, Brackett Library, Harding University (U.S.)
I just graduated from the Copyright Leadership Certificate and I've already started a permissions log and I am writing copyright policies and guidelines for the library. I think Lesley did a great job of connecting with people. Not everyone does that well in an online class situation but she took time to have "face meetings" and stayed in touch through the group project and the blog. Thanks so much. I really enjoyed the program. (August 2017)
Mike Minjock — Licensing Manager, Oncology Nursing Society (U.S.)
Thanks to the Copyright Leadership Certificate program I am more informed about copyright law and better able to answer co-workers' questions. (August 2017)
Anita Szafran — Research Librarian, RAND Corporation (U.S.)
Thanks for the great program. I have a much better understanding of copyright overall, and the Tools are very useful. The format for this Certificate worked well. (July 2017)
Irina Burns — Managing Editor, Academy of Management (U.S.)
The Copyright Leadership Certificate exceeded my expectations. I did not expect the course to cover as much material as it did. I will be applying a number of changes throughout the rest of year due to what I learned in the Certificate program, mostly to our copyright guidelines. I would absolutely recommend this program to others. (July 2017)
Janet Hartmann — Global Research Operations Lead, The Boston Consulting Group (U.S.)
The email format of the lessons was great. I was able to work at my own pace. The certificate program is unique and having it as a credential is worth the price. (July 2017)
David M.P. Leggett — Library & Copyright Assistant, Northern Lights College (Canada)
The Certificate program has done wonders for me in terms of fueling my confidence in my ability to do the job. I will be pushing for a more centralized approach to copyright administration — most immediately the completion of along-promised database for managing copyright permissions.
Teresa Lee — Knowledge Manager (France)
I would definitely recommend this program to others. At first I was surprised that email would be the predominant mode of lesson delivery, but in fact I much preferred it to having to deal with Moodle or another type of LMS. It's fuss-free and there's no excuse for failing to do the readings! I've already had a "copyright coffee" with some publishing staff in another unit, and copyright training of Agency staff is now a key training goal for this year. (February 2018)
Darcye Lovsin — Copyright Librarian, Langara College (Canada)
The program was very helpful. I will immediately be using some of the fair dealing information to update our library copyright website and clarify our copyright guidelines for our staff and faculty. (February 2018)
Stephanie Joly — Information Management Specialist, Bank of Canada (Canada)
The Certificate in Canadian Copyright Law exceeded my expectations. I can now answer clients' questions about copyright with confidence. I liked the email format and that I could learn at my own pace. It was interesting to hear how other professionals in different organizations deal with copyright issues. (February 2018)
Marcia Lea — Copyright Agent, Copyright Visual Arts/Droit d'auteur Arts Visuals (CARCC) (Canada)
The Certificate program met my expectations. I am now able to to answer more complicated copyright questions we receive from our members and licensees, particularly in relation to handling international licensing situations. (February 2018)
Charlotte Grant — Visual Researcher & Design Assistant (Canada)
I needed a starting base of information on copyright law and clearing rights. This course was suggested by my association VRSC, and was an amazing source of information. I am starting from scratch. The procedures and checklists provided in the program are a great way to kick off my new adventure in copyright. For anyone working in or interested in copyright, this program is an eye opener. (February 2018)
Kelly-Ann Turkington — Permissions/Licensing Officer (Canada)
The Certificate in Canadian Copyright Law was definitely worth the price. I now have a much greater knowledge of Canadian copyright in general and how copyright applies in my workplace. (January 2018)
Selena Percy — Archives Specialist, City of Red Deer, Alberta (Canada)
I would definitely recommend the Certificate in Canadian Copyright Law to others. I really enjoyed learning about international copyright law as well. The Tools are all very useful and I'll be incorporating them into our archives' practices. (August 2017)
Juanita MacDonald (Canada)
The Certificate in Canadian Copyright Law was definitely what I was looking for. I am now more mindful of project management planning and risk assessments with respect to copyright. (August 2017)
Corinne Hope  —Library Services Manager, Keyano College (Canada)
It was a great course. I really liked how it is broken down into small, daily modules because it makes it easier to retain the information. The quizzes were really helpful because they tested my knowledge on the subject and allowed me to self-assess areas that I needed to brush up on. (October 2017)
Nicole Fletcher — Collections Manager, Winnipeg Art Gallery (Canada)
I loved the Certificate program, it exceeded my expectations. Each tutorial delivered copyright information in an easy to understand format and I was pleasantly surprised at the amount of information that we received. After the program, my priority is to revise the copyright portion of our contracts. I will also make a copyright adherence policy for staff and begin staff copyright education. The program has been a very valuable experience for me and has made me feel more secure in managing copyright at work. I definitely recommend the Certificate program to others.
Rowan Arnott — District School Board (Canada)
Thank you for offering this Certificate program. Today's lesson has prompted me to draft a document/resource/table of frequently asked questions with a 'scripted' response plus links and references to substantiate that response. It should make my life a bit easier and could be accessed by others when I am not available.
Bradley Hampson, MBA — Assistant Superintendent, Technology, Frontier School Division, Winnipeg (Canada)
The Certificate program and each eTutorial is logical and linear, and the e-lessons are easily (and enjoyably) read and retained. The most value I expect to get is with the overall legality of copyright and how best to develop a personal risk/copyright management plan as it pertains to my photography. For my work, I can see how it has already benefited the School Division as we are reworking our Copyright protocols, policies, and most importantly our Professional Development and communications for our students, educators, and support staff.
Michelle Demeyere — Visual Researcher, VRSC (Canada)
The Certificate program is fantastic. Beyond fantastic. I can't recommend this program enough. It's validating in that it reviews and supports the bits of copyright law that I've gleaned in doing this thing called 'visual research'. It's a great compilation of a lot of things that come up in our emails/facebook – eg: fair dealing, public domain, creative commons, digital rights, international clearance etc. I wish I had taken this course 15 years ago when I started. I wish I had taken this course anytime within the last 15 years. I feel like it's making me a better researcher, and more confident in knowing the law behind our research scenarios.
Juanita Richardson — The Michener Institute of Education at UHN (Canada)
I was able to immediately apply what I learned in the Certificate in Canadian Copyright Law program and I have already created a Fair Dealing Policy and Procedure. I am now in the process of creating a Copyright Strategy for our organization.
Rowan Arnott (Canada)
I received the plaque this week — it looks great. Thank you, I enjoyed the course and it got me beyond thinking about copyright in the 'local sense' and forced me to realize how important it was in an international or global sense. I was not sure what to expect as this was the first e-course that I have taken (showing my age). The course proved to be exceptionally thorough and the lessons were precise, detailed, professional and had excellent footnotes for additional information and resources. Your email communications were regular, encouraging, personal when needed, and cheerful. I appreciated the breakdown by modules and the tool to ensure that I organized the notes in an orderly fashion. At the end of the day I have a great resource that I can refer to in the future; I have a stronger understanding of the subject; and I have cast a critical eye as to how I manage copyright in the workplace.
Sylvie Séguin — Agente aux droits d'auteur (Canada)
I was very pleased and honored to receive the Certificate in Canadian Copyright Law. The Certificate brought immediate positive feedback from my employer and colleagues.
If you enjoyed our Copyright Certificate program testimonials, see Copyrightlaws.com's Copyright Certificate programs.