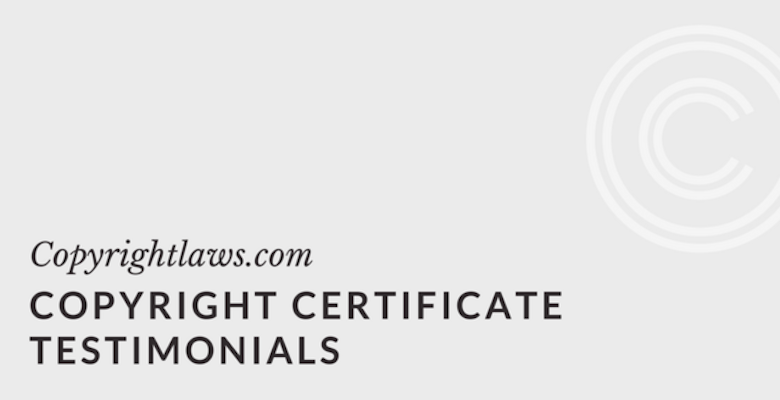 Copyright Certificate Testimonials from our graduates provide you with concrete feedback why you too should join our Copyright Certificate programs. See testimonials for the:
See our complete list of Copyright Certificate graduates.
Copyright Leadership Certificate
Nora Sawyer, Information Specialist, Cornerstone Research (U.S.)
I was blown away by the thoroughness of the information presented. We're now a lot more conscious of copyright, and have implemented new rules and procedures to increase awareness of copyright issues and make sure all copyright requests come through our department. (January 2020)
Jane G. Scott, Head of Public Services, Clark Library, University of Portland (U.S.)
Very helpful — I gained confidence and learned how to weigh and analyze copyright issues! I appreciated the bite-sized daily lessons. The final project was practical and we've now begun to implement copyright management steps outlined in the project. (August 2019)
Joyce Shalaby, Acquisitions Coordinator, Deerfield Academy (U.S.)
The program provided me with the knowledge and tools needed to begin our school's copyright compliance program. The first thing I am doing is creating a fair use presentation for our library staff. The program helped me understand copyright nuances and how to practically deal with them. (August 2019)
Olivia D. Haines, Technical Librarian (U.S.)
I wanted to fill in the gaps on copyright and licensing missing from graduate school and learn how to practically apply copyright to the company I now work for. Mission accomplished. Thank you! (August 2019)
Rachel Sweeney, Digital Publications Librarian (U.S.)
Terrific program! The final assignment has given me a road map to start centralizing and developing better library copyright processes and procedures. And the permissions tracker tool is fantastic and really thorough. Thank you! (July 2019)
Sergio Oreni Gordillo (United Kingdom)
The format was perfect, and the lessons contained lots of practical tips on addressing copyright issues in any work environment. The virtual classroom sessions were an excellent opportunity to chat with other students and to share experiences in our respective jobs. I highly recommend this program to learn about U.S. and international copyright law. (July 2019)
Satoko Nakao, Paralegal, S&C Electronic Company (U.S.)
I want to thank you for such a great program. I loved how everything was written so clearly with plain English that anyone can understand. I would recommend this program to anyone! (June 2019)
Laurel Mitchell — Photography & Licensing Manager, Carnegie Museum of Art (U.S.)
The Copyright Leadership Certificate surpassed my best expectations! I have taken part in several online copyright courses but this was by far the most thorough, most in-depth, most thoughtful and comprehensive experience I have had, either online or in person. The flexibility of the class also was paramount, as my busy work schedule didn't always permit me to dive into a topic each and every day. I loved the emails and PDF format.
From day one, I was able to apply helpful tactics directly to my work and positively impact the mission of my organization. I hope to apply so many aspects of this course into my workplace. My first and main goal is to take information that I learned from this course and implement it into a guide for our staff. This guide will also be incorporated into in-person training that I hope to launch with staff by individual departments. Thanks for such a wonderful course! (January 2019)
Tatiana Goriainova — Librarian, International Monetary Fund (U.S.)
The certificate program was more about re-enforcement and confidence level for me. When answering copyright related questions from our staff, I had to do research myself and sometimes consult with legal. I have a better grasp on the issues and better understanding of how it all fits together after taking this program. (January 2019)
Chrissy Taylor — Research Analyst, LAC (U.S.)
The Copyright Leadership Certificate program provided me with an in-depth review of copyright, copyright history and managing rights. I currently work copyright permissions and this program has provided me with a well-round understanding of copyright as a whole. Many missing pieces were filled in for me. The short self-marking quizzes at the end of each lesson were the best part. They provided a great summary and focus on the key takeaways. I highly recommend the program to any go-to copyright persons! (December 2018)
Christine Wadle — Library Operations Associate, University of Illinois at Chicago (U.S.)
This program more than met my expectations. It covered the things my faculty and staff need like working with images and digital material. I loved the email format and all of the practical tools. The tracking tools stand out for me as a way to assist faculty who may not want to do their own permissions tracking. I loved the Zoom virtual classroom meetings as they are a great way to touch base with everyone. I now know where our copyright management deficiencies are and have gained the knowledge to promote change among my faculty and staff. (December 2018)
Trina Purcell — Collections Manager (U.S.)
I have never held a professional position where copyright knowledge was not useful. I recommend this program to others who want to feel confident about copyright law and be able to help others understand it. (January 2018)
Anna Maripuu — Research Officer, International Monetary Fund (U.S.)
I immediately put my newfound copyright skills to use, advising my colleagues on appropriate actions to take regarding the inclusion of images in our lecture slides. I gained much practical knowledge for leading copyright issues in my workplace. The format was great, and I really appreciated the flexibility of the program." (September 2018)
Briget Wynne — (U.S.)
The program exceeded my expectations. I was hoping to learn more about U.S. Copyright law statutes and interpretation of the law, fair use, etc. This program gave me a foundation on which to build, including an international copyright perspective. The structure was just right for "digesting" this amount and complexity of information. The Fair Use Checklist and the spreadsheet for tracking copyright requests are Tools from the program that I'll be using again and again. The virtual classroom sessions really anchored the program and helped make it feel like a regular classroom setting. It was helpful to hear the questions posed by others — and the answers or guidance. Learning from others' experiences in invaluable. I'll now be tracking copyright requests and also beginning an education campaign to increase copyright awareness. The program was absolutely worth the price — and keeping all of the notes, tools and a bonus list of fellow copyright course graduates, priceless!" (August 2018)
Lindsay Barnett — Collection Development & Scholarly Communication Librarian, Cushing/Whitney Medical Library, Yale University (U.S.)
In addition to better understanding the basic tenets of copyright law, I had hoped that the program would provide me guidance on legitimate and reliable information sources to refer to when the need to research a copyright question on my own arose. I feel like the course did this successfully, providing tools, articles, websites, and other sources of information that I continue to use even though the course has ended. The important thing to me is that I left the course feeling confident in my understanding of copyright, and empowered to seek out more information as necessary.
After finishing the course I met with my institution's Licensing and Copyright Librarian and discussed my interest in copyright and the information needs I've encountered in my work. Since then, she has come to my library to speak on copyright law to my peers. We've also planned for continuing collaboration on this topic. I feel more comfortable talking to others with formal copyright education, having gained a better understanding of copyright law and how it's applied through this program. (August 2018)
Christy Shorey — Institutional Repository Manager, George A. Smathers Libraries, University of Florida
I hoped to learn about managing copyright issues in a library setting and in an institutional repository. And now I'm the go-to copyright person for my repository and can confidently answer copyright questions! I frequently refer to the resources from this program and use the Tools, especially Essential Steps for Analyzing Global Copyright Issues, and How to Obtain Permission to Use Digital and Online Content Tools. I definitely recommend this program. (September 2018)
Christopher Plattsmier (U.S.)
The program exceeded my expectations, I did not expect there to be as much of an emphasis on organizational management of copyright issues and was glad that was an emphasis. I wanted to gain skills, not just historical knowledge, that applied to my job and did. The extra links to resources were great for setting up organizational copyright procedures and we've already begun to implement documentation for copyright procedures and best practices for legally using copyright materials." (August 2018)
Anne Banfich — Licensing and Business Development Associate at the American Theological Library Association (U.S.)
I now have a more nuanced understanding of copyright to bring to the negotiating table. Thanks to the Copyright Leadership Certificate program, I feel more qualified to sit in the room with lawyers and hold my own in copyright discussions. (August 2018)
Gretchen Higginbottom — Interlibrary Loan Librarian, California State University (U.S.)
This was a great learning experience. The program has helped me become more confident in sharing the knowledge that I have gained so that I feel more at ease working with campus administrators, faculty, staff and students on copyright and fair use issues. My colleagues are excited about creating a central copyright service for the university. I'm grateful that the lessons weren't mired down in legal terminology that I didn't understand. The short quizzes at the end of each lesson were extremely helpful and acted as a quick, easy guide to assess my level of understanding. The day after completing the final quiz, I along with two other colleagues presented at the New Faculty Orientation. Part of our presentation focused on copyright and fair use. Both topics generated good questions and valuable discussions. We hope to continue our conversations with the campus community throughout the upcoming year and beyond." (August 2018)
Melissa Moore
—

Director for Library Services, Union University (U.S.)

I loved the format of the program. I got behind at least twice, but because of the built-in cushion between the lesson sets, I was able to catch up. The self-marking quizzes were very helpful and kept me accountable. The program provided me with knowledge and confidence to answer faculty and administrative questions (or know where to get the answers), particularly in relation to images and other digital content. I would definitely recommend the program to others. (August 2018)
Barbara Leone
—
Research Librarian, Northrop Grumman (U.S.)
The Copyright Leadership Certificate provided me with a better understanding of copyright law and helped me determine the next steps for becoming the copyright contact person in my department. It was great to receive the lessons via email and also in PDF. A bonus is to have the additional resources the program provided that I can refer to on an on-going basis and to be able to continue learning about copyright law. (July 2018)
Brooke C. Stewart — Climate Assessment Program Managing Editor, NC State University/North Carolina Institute for Climate Studies (U.S.)
The team I work on is solely focused on obtaining and managing copyright permissions, so I will be applying the guidelines from the course to ensure that each license agreement we enter contains the pieces that we require. This will be an immediate change that will be solidified further when I work with my team and management to create standardized license agreements and implement a clear process. The other immediate change will be my ability to more clearly articulate to management and partner agencies what we require in terms of permissions and why some license agreements simply do not fit our needs. The knowledge from this course will help clear up some topics of ongoing confusion and disagreement. (July 2018)
Sylvia Lesage — Publishing Assistant, World Health Organization (France)
This has been a very enriching "copyright experience." The content was really helpful and well-structured. My supervisor enrolled in the sister program, the Certificate in Canadian Copyright, and I enrolled in the Copyright Leadership Certificate, so together we have an international perspective when answering copyright questions. The content and Tools are really valuable. I highly recommend this program. (February 2018)
Lindsay Williams — Editorial and Rights Coordinator, American Society for Microbiology (ASM Press) (U.S.)
The Certificate program was well worth the price. Not only is the knowledge essential, but the networking aspect will continue to help with copyright issues long after the program. We'll be making lots of changes due to what I learned. Initially, we'll focus on how we handle requests from educators for use of our intellectual property in course materials and in the classroom. I also want to reevaluate how we value the content we own and license. (February 2018)
Michael

Christensen — Licensing Manager, Novo Nordisk (Denmark)
I have already recommended this program to others. I immediately felt greater confidence in answering copyright questions from end-users. (January 2018)
Kyra Folk-Farber — Music Librarian, University of California (U.S.)
The Copyright Leadership Certificate program was worth the price. It is impossible to find this much accessibly written, current, reliable information in one place, along with the opportunity to ask questions and discuss the issues.The Tools are now taped on my office wall, right in my sight-line. The one that I always think of and have shared with my Copyright Advisory Committee is "Get to yes whenever you can." There was lots of material that I didn't know and now I have that information should those copyright issues arise, which they probably will; for example, international treaties and licensing digital material. (August 2017)
Jean Waldrop — Library Director, Brackett Library, Harding University (U.S.)
I just graduated from the Copyright Leadership Certificate and I've already started a permissions log and I am writing copyright policies and guidelines for the library. I think Lesley did a great job of connecting with people. Not everyone does that well in an online class situation but she took time to have "face meetings" and stayed in touch through the group project and the blog. Thanks so much. I really enjoyed the program. (August 2017)
Mike Minjock — Licensing Manager, Oncology Nursing Society (U.S.)
Thanks to the Copyright Leadership Certificate program I am more informed about copyright law and better able to answer co-workers' questions. (August 2017)
Anita Szafran — Research Librarian, RAND Corporation (U.S.)
Thanks for the great program. I have a much better understanding of copyright overall, and the Tools are very useful. The format for this Certificate worked well. (July 2017)
Irina Burns — Managing Editor, Academy of Management (U.S.)
The Copyright Leadership Certificate exceeded my expectations. I did not expect the course to cover as much material as it did. I will be applying a number of changes throughout the rest of year due to what I learned in the Certificate program, mostly to our copyright guidelines. I would absolutely recommend this program to others. (July 2017)
Janet Hartmann — Global Research Operations Lead, The Boston Consulting Group (U.S.)
The email format of the lessons was great. I was able to work at my own pace. The certificate program is unique and having it as a credential is worth the price. (July 2017)
Jane E. Matthews — Corporate Librarian, Cook Research, Inc.
The Copyright Leadership Certificate is a great, well-paced overview of copyright law, with material to continue to study on my own and to continue to use as reference in the future. The e-mail format of the lessons worked great. The self-grading quizzes in each lesson helped me focus on what I failed to learn/understand and need to relearn. I will use the fair use tool and many of the charts and guides provided. I found the class list had great potential for network contacts as well, should I have questions in the future and may want to reach out. Thanks to the Certificate, I am now able to respond with more confidence to copyright questions and know when to seek further advice from legal. The Certificate was definitely worth the price and I recommend it to others. (June 2017)
See our complete list of Copyright Certificate Graduates.
Certificate in Canadian Copyright Law
Suzanne Morin, Senior Library Technician, Copyright, College of the Rockies (Canada)
The program was exceptional. I have many years of experience working with copyright but did not have any formal training. This program helped pull [together] all the information that I have gathered over the years and has reassured and made me more confident in responding to copyright questions. I will be educating our new faculty and staff during their HR orientation session. This will be done on a regular basis and I hope to update them with monthly copyright tips. (August 2019)
Helen Hiltz, Library and Information Services Coordinator (Canada)
Just a quick note to let you know how informative and valuable this course has been to me so far. I plan to have two other employees participate next year. Again just felt the need to let you this course has been outstandingly well done in my opinion. Keep up the awesome work! (June 2019)
Melanie Bérubé, Manager, Continuing Professional Development (Canada)
My background in this area has […] not been extensive, so this Certificate Program has been incredibly useful in increasing my knowledge base and will surely enable me to better manage authors and presenters moving forward, as well as to maintain an increased level of organizational copyright compliance in the future. (June 2019)
Alan Kilpatrick, Reference Librarian (Canada)
I absolutely recommend the Certificate in Canadian Copyright Law to anyone who wants to develop practical copyright skills. Before the course started, I thought I had a high degree of knowledge about copyright. However, I realize that I lacked the skills to apply that knowledge practically. I imagine that most librarians are in a similar situation. Now, I am confident I have the skills to make practical decisions about copyright in my library. (February 2019)
Angela Heath — Copyright Technician, Seneca Libraries (Canada)
I would absolutely recommend this program to my colleagues or anyone who wants a better understanding of copyright law in plain English. I am now able to give presentations on copyright to new faculty and my library colleagues. Since completing this program, I feel much more confident in educating others about copyright and answering their questions. The unique email format was very helpful, especially with the ability to print lessons and review them on my own time. I find myself always referring back to my notes and the readings. (October 2018)
Visal Chea — eLearning Developer, Durham College (Canada)
The Certificate program was definitely worth the price for the knowledge gained. I have a much better understanding of the type of content I can use and not use in my role as an eLearning developer. I'm now more conscious of the type of content we use, and I've gained the knowledge to spot possible copyright issues and advise accordingly. I definitely recommend the program. (August 2018)
Paola Kontic — Manager Catholic Library Learning Commons (Canada)
The Certificate in Canadian Copyright Law increased my copyright knowledge base and I will now be the key person to respond to copyright queries from staff. I really appreciated the ability to complete the program on my own time and pace. I am now working on a website with copyright information that staff can access and will shortly begin teaching others in my school about copyright compliance. (August 2018)
Catherine MacGregor — Information Resource Specialist (Canada)
I was looking for an overview of Canadian and international copyright law, advice and best practices on compliance within an organization and information on the role of librarians in managing copyright – the Certificate in Canadian Copyright Law provided all of that and more. The tools were very helpful. I have the Copyright Compliance Checklist pinned to the board at my desk! The Fair Dealing/Fair Use comparison was also useful. We've already started drafting a copyright disclaimer for circulating materials and are planning mandatory interactive learning, some targeted training and centralized copyright information on the intranet. I would definitely recommend this program to others. (August 2018)
Cyndi Smith — Library and Academic Success Centre, Georgian College (Canada)
The whole design of the program worked very well for a busy professional. I learned more than I was expecting and everything was paced very well for me. The online discussions altered my thinking on at least two occasions. Without the input from another I might not have taken that perspective into account or made that kind of a connection by myself. I now know what I need to prioritize with my copyright action items, and how to evaluate my institution's risk level. (August 2018)
David M.P. Leggett — Library & Copyright Assistant, Northern Lights College (Canada)
The Certificate program has done wonders for me in terms of fueling my confidence in my ability to do the job. I will be pushing for a more centralized approach to copyright administration — most immediately the completion of a long-promised database for managing copyright permissions.
Melissa Werrell — Lead Graphic Designer, Marketing & Communications, DRIVING FORCE (Canada)
The program was 100% worth the price. There's a lot of information to take in but it's extremely valuable to have in our organization. I will be keeping all the course materials in a binder so I can always refer back in any given situation. The Zoom virtual meetings were awesome. It was fantastic to join in and hear all the different discussions with fellow students. (July 2018)
Teresa Lee — Knowledge Manager (France)
I would definitely recommend this program to others. At first I was surprised that email would be the predominant mode of lesson delivery, but in fact I much preferred it to having to deal with Moodle or another type of LMS. It's fuss-free and there's no excuse for failing to do the readings! I've already had a "copyright coffee" with some publishing staff in another unit, and copyright training of Agency staff is now a key training goal for this year. (February 2018)
Darcye Lovsin — Copyright Librarian, Langara College (Canada)
The program was very helpful. I will immediately be using some of the fair dealing information to update our library copyright website and clarify our copyright guidelines for our staff and faculty. (February 2018)
Stephanie Joly — Information Management Specialist, Bank of Canada (Canada)
The Certificate in Canadian Copyright Law exceeded my expectations. I can now answer clients' questions about copyright with confidence. I liked the email format and that I could learn at my own pace. It was interesting to hear how other professionals in different organizations deal with copyright issues. (February 2018)
Marcia Lea — Copyright Agent, Copyright Visual Arts/Droit d'auteur Arts Visuals (CARCC) (Canada)
The Certificate program met my expectations. I am now able to to answer more complicated copyright questions we receive from our members and licensees, particularly in relation to handling international licensing situations. (February 2018)
Charlotte Grant — Visual Researcher & Design Assistant (Canada)
I needed a starting base of information on copyright law and clearing rights. This course was suggested by my association VRSC, and was an amazing source of information. I am starting from scratch. The procedures and checklists provided in the program are a great way to kick off my new adventure in copyright. For anyone working in or interested in copyright, this program is an eye opener. (February 2018)
Kelly-Ann Turkington — Permissions/Licensing Officer (Canada)
The Certificate in Canadian Copyright Law was definitely worth the price. I now have a much greater knowledge of Canadian copyright in general and how copyright applies in my workplace. (January 2018)
Selena Percy — Archives Specialist, City of Red Deer, Alberta (Canada)
I would definitely recommend the Certificate in Canadian Copyright Law to others. I really enjoyed learning about international copyright law as well. The Tools are all very useful and I'll be incorporating them into our archives' practices. (August 2017)
Juanita MacDonald (Canada)
The Certificate in Canadian Copyright Law was definitely what I was looking for. I am now more mindful of project management planning and risk assessments with respect to copyright. (August 2017)
Corinne Hope — Library Services Manager, Keyano College (Canada)
It was a great course. I really liked how it is broken down into small, daily modules because it makes it easier to retain the information. The quizzes were really helpful because they tested my knowledge on the subject and allowed me to self-assess areas that I needed to brush up on. (October 2017)
Nicole Fletcher — Collections Manager, Winnipeg Art Gallery (Canada)
I loved the Certificate program, it exceeded my expectations. Each tutorial delivered copyright information in an easy to understand format and I was pleasantly surprised at the amount of information that we received. After the program, my priority is to revise the copyright portion of our contracts. I will also make a copyright adherence policy for staff and begin staff copyright education. The program has been a very valuable experience for me and has made me feel more secure in managing copyright at work. I definitely recommend the Certificate program to others.
Rowan Amott — District School Board (Canada)
Thank you for offering this Certificate program. Today's lesson has prompted me to draft a document/resource/table of frequently asked questions with a 'scripted' response plus links and references to substantiate that response. It should make my life a bit easier and could be accessed by others when I am not available.
I received the plaque this week — it looks great. Thank you, I enjoyed the course and it got me beyond thinking about copyright in the 'local sense' and forced me to realize how important it was in an international or global sense. I was not sure what to expect as this was the first e-course that I have taken (showing my age). The course proved to be exceptionally thorough and the lessons were precise, detailed, professional and had excellent footnotes for additional information and resources. Your email communications were regular, encouraging, personal when needed, and cheerful. I appreciated the breakdown by modules and the tool to ensure that I organized the notes in an orderly fashion. At the end of the day I have a great resource that I can refer to in the future; I have a stronger understanding of the subject; and I have cast a critical eye as to how I manage copyright in the workplace.
Bradley Hampson, MBA — Assistant Superintendent, Technology, Frontier School Division, Winnipeg (Canada)
The Certificate program and each eTutorial is logical and linear, and the e-lessons are easily (and enjoyably) read and retained. The most value I expect to get is with the overall legality of copyright and how best to develop a personal risk/copyright management plan as it pertains to my photography. For my work, I can see how it has already benefited the School Division as we are reworking our Copyright protocols, policies, and most importantly our Professional Development and communications for our students, educators, and support staff.
Michelle Demeyere — Visual Researcher, VRSC (Canada)
The Certificate program is fantastic. Beyond fantastic. I can't recommend this program enough. It's validating in that it reviews and supports the bits of copyright law that I've gleaned in doing this thing called 'visual research'. It's a great compilation of a lot of things that come up in our emails/facebook – eg: fair dealing, public domain, creative commons, digital rights, international clearance etc. I wish I had taken this course 15 years ago when I started. I wish I had taken this course anytime within the last 15 years. I feel like it's making me a better researcher, and more confident in knowing the law behind our research scenarios.
Juanita Richardson — The Michener Institute of Education at UHN (Canada)
I was able to immediately apply what I learned in the Certificate in Canadian Copyright Law program and I have already created a Fair Dealing Policy and Procedure. I am now in the process of creating a Copyright Strategy for our organization.
Sylvie Séguin — Agente aux droits d'auteur (Canada)
I was very pleased and honored to receive the Certificate in Canadian Copyright Law. The Certificate brought immediate positive feedback from my employer and colleagues.
See our complete list of Copyright Certificate Graduates.
Certificate in Licensing Digital Content
Kelly Denzer — Electronic Resource Librarian (U.S.)
The virtual classroom sessions were very effective. It helped give the course a community feel. It's always great to see and hear directly from a course instructor and to have the opportunity to learn from other students and to ask questions. (August 2019)
Sylvie Poirot — Copyright Officer, International Monetary Fund
This course crystallized what I have practiced throughout my work in licensing and has given me additional information and advice. I really like the format. It allowed me to pace the readings according to my other work demands. The quizzes in each lesson were very helpful and are one of my favorite parts of the course. I will now be more organized and systematic about licensing and think about the broader picture and not just the specific license I am working on. I highly recommend this program! (July 2019)
Andrea McCarrick, Technical Editor
The Licensing Digital Content program provided me with a great overview of digital licensing processes, terminology, and sources to keep me current. And I liked the quizzes in each lesson. They were extremely helpful to verify that I understood the key points in each lesson. (July2019)
Lynette Toews-Neufeldt, Assistant Director, Information Services & Campus Copyright Officer, Concordia University of Edmonton (Canada)
The Certificate in Licensing Digital Content is a great way to get up to speed on the main legal issues when licensing new products or renewing existing ones. And it would be especially useful for librarians who've never licensed electronic resources before. I knew a fair amount coming into it, and still gleaned several valuable things that are directly relevant to my day-to-day work. The emailed and PDF lessons worked well for me and enabled me to easily access lessons while on the road. The additional curated resources presented in each lesson will be very useful. I wasn't aware of many of these resources and wouldn't have thought to look for many of them. The final quiz and Certificate provides proof to my employer that I covered the material and now "officially" know something about how to license digital products on behalf of the institution. (January 2019)
Scott Anderson, Library Technician, College of Physicians and Surgeons of BC (Canada)
The Certificate in Licensing Digital Content exceeded my expectations. While it is not a substitute for a lawyer, it definitely provides anyone who deals with licenses a wider toolset for understanding their own needs, rights and obligations. I absolutely recommend this program. The price is very reasonable for the depth of information and tools provided. The material was thought out, well written, and organized and presented efficiently. The virtual classroom provided a fun way to hear the experiences of other students. (July 2019)
Emily Newman, Research and E-Services Librarian (Canada)
The Certificate in Licensing Digital Content has given me a foundation on which I am now ready to move forward! I'm better equipped to work with vendors to procure licenses to different products. The email format was very convenient. During busy periods at work, I could set the course aside for a few days until I had time to dedicate to the lessons. I will now be assuming responsibility for digital licenses and contracts within my library. I will be able to use the knowledge gained in this course when renegotiating with existing vendors or creating licenses with new vendors. This is a great course! (January 2019)
Electronic Services Librarian, Washington DC (U.S.)
By completing the Certificate in Licensing Digital Content I am more confident and knowledgeable in licensing electronic resources. The micro-learning PDF lessons were just the right length for me as it meant I didn't get overwhelmed by too much information at once. This is content I've needed for a long time and haven't been able to find anywhere else. I would absolutely recommend this program to others.(January 2019)
See our complete list of Copyright Certificate graduates.
If you enjoyed our Copyright Certificate program testimonials, see Copyrightlaws.com's Copyright Certificate programs.