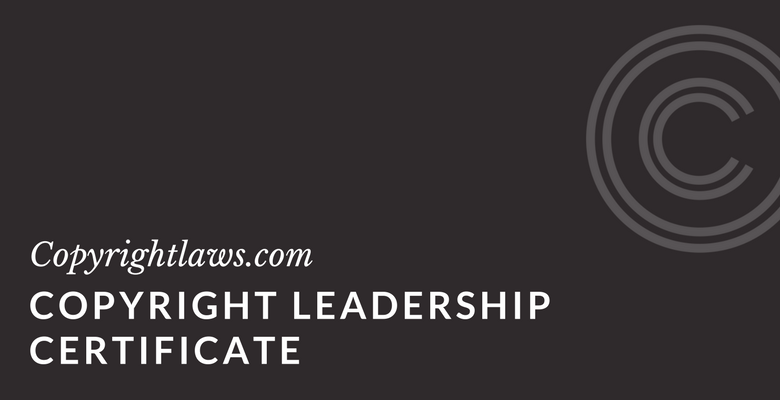 Copyrightlaws.com's Copyright Leadership Certificate is a 12-week program (extendable to 20 weeks) that provides a strong foundation in copyright decision making skills. It's for those new to copyright or those seeking to enhance their current knowledge base. Students learn important copyright principles, with the primary focus on practical skills that can be adapted to individual needs.
The next cohort begins 17 September 2018 with Flexible Enrollment.* Register now!
*This program offers flexible enrollment. Course materials are distributed over a 12-week period from 17 September to 7 December. Late enrollments are accepted any time until 1 December. Students have an additional eight weeks after 7 December to complete the course requirements.
The Copyright Leadership Certificate program was worth the price. It is impossible to find this much accessibly written, current, reliable information in one place, along with the opportunity to ask questions and discuss the issues.The Tools are now taped on my office wall, right in my sight-line. The one that I always think of and have shared with my Copyright Advisory Committee is "Get to yes whenever you can." There was lots of material that I didn't know and now I have that information should those copyright issues arise, which they probably will; for example, international treaties and licensing digital material.
— Kyra Folk-Farber, Music Librarian, University of California, August 2017

I just graduated from the Copyright Leadership Certificate and I've already started a permissions log and I am writing copyright policies and guidelines for the library. I think Lesley did a great job of connecting with people. Not everyone does that well in an online class situation but she took time to have "face meetings" and stayed in touch through the group project and the blog. Thanks so much. I really enjoyed the program.
— Jean Waldrop, Library Director, Brackett Library, Harding University, August 2017
If you're the Go-To Copyright Person or want to more confidently answer copyright questions, this program is for you. You'll have high-quality current copyright information, interaction with like-minded individuals and takeaways such as reference materials and several Tools (including a permissions database, fair use cheat sheet and document on how to analyze a copyright question or issue.)
Learning Outcomes from the Copyright Leadership Certificate
By participating in Copyrightlaws.com's Copyright Leadership Certificate, you'll be able to:
Describe U.S. copyright law principles
Explain global copyright law on a practical level
Know when and how to obtain copyright permission
Provide quick answers about copyright law and licensing digital content
Develop best practices for lowering copyright risks in your library or organization
We'll work with you to:
Develop your breadth of knowledge of copyright principles
Lower your risk of copyright infringement
Increase your knowledge on when and how to obtain copyright permissions
Network with other copyright professionals
Find practical solutions to your everyday copyright questions and issues
Gain the confidence you need to lead copyright issues in your organization
From Copyright Leadership Certificate Graduates
The Copyright Leadership Certificate is a great, well-paced overview of copyright law, with material to continue to study on my own and to continue to use as reference in the future. The email format of the lessons worked great. The self-grading quizzes in each lesson helped me focus on what I failed to learn/understand and need to relearn. I will use the fair use tool and many of the charts and guides provided. I found the class list had great potential for network contacts as well, should I have questions in the future and may want to reach out. Thanks to the Certificate, I am now able to respond with more confidence to copyright questions and know when to seek further advice from legal. The Certificate was definitely worth the price and I recommend it to others.
— Jane E. Matthews, Cook Research, Inc., June 2017

The Copyright Leadership Certificate exceeded my expectations. I did not expect the course to cover as much material as it did. I will be applying a number of changes throughout the rest of year due to what I learned in the Certificate program, mostly to our copyright guidelines. I would absolutely recommend this program to others.
— Irina Burns, Academy of Management, July 2017
Features of the Copyright Leadership Certificate
Five eTutorials on U.S. and global copyright law **Canadians, click here.
24/7 access on your computer or mobile device to a private discussion forum moderated by Lesley Ellen Harris
Exclusive Tools to help you apply copyright law in your enterprise
Online networking with other copyright professionals
Virtual classroom meetings
Reference materials and resources (including Tools) for use after you earn your certificate
A Copyright Leadership Certificate plaque (for those who achieve 80% or higher on our final quiz)
A public listing of the certificate holders on Copyrightlaws.com
I must say that I really love these lessons. So clearly written and just when I thought I understood how something worked, enlightenment happens. I like that they're flexibly written so you can handle them one-off, as my workload is a jealous mistress.
— Cindy Alfieri, Agilent Technologies, Inc.
Course Descriptions
U.S. Copyright Law is both a primer and refresher on U.S. copyright law.
Practical International Copyright provides a practical view of international copyright issues, including giving and obtaining permission when dealing with foreign countries and online works.
Legally Using Images sets out essential information on using third-party content, how permissions work, risk management tips and best practices for legally using images. This eTutorial is applicable to the use of all content, not just images.
Digital Copyright Management teaches you the legal, strategic and practical implications of using, publishing and redistributing online and licensed digital content.
Minimizing Copyright Risks and Organizing Copyright Issues in Your Workplace is an overview of managing the legal use of all types of copyright-protected works.
See our list of recent graduates from this copyright leadership program and imagine your name on that list! Here's what some of them say about the Copyright Leadership Certificate.
"Thank you for offering this Certificate program. Today's lesson has prompted me to draft a document/resource/table of frequently asked questions with a 'scripted' response plus links and references to substantiate that response. It should make my life a bit easier and could be accessed by others when I am not available."

"The Certificate program and each eTutorial is logical and linear, and the e-lessons are easily (and enjoyably) read and retained. The most value I expect to get is with the overall legality of copyright and how best to develop a personal risk/copyright management plan as it pertains to my photography. For my work, I can see how it has already benefited the School Division as we are reworking our Copyright protocols, policies, and most importantly our Professional Development and communications for our students, educators, and support staff."

"The Certificate program is fantastic. Beyond fantastic. I can't recommend this program enough. It's validating in that it reviews and supports the bits of copyright law that I've gleaned in doing this thing called 'visual research.' It's a great compilation of a lot of things that come up in our emails/Facebook… I wish I had taken this course 15 years ago when I started. I wish I had taken this course anytime within the last 15 years. I feel like it's making me a better researcher, and more confident in knowing the law behind our research scenarios."
About the Instructor
Lesley Ellen Harris is the instructor for the Copyright Leadership Certificate. You can see her bio here.
Canadians, Copyrightlaws.com offers a sister program tailored specifically to Canadian copyright issues. Click for further information about the Certificate in Canadian Copyright Law.
Not ready to commit to the Copyright Leadership Certificate program? See our individual copyright eTutorials.