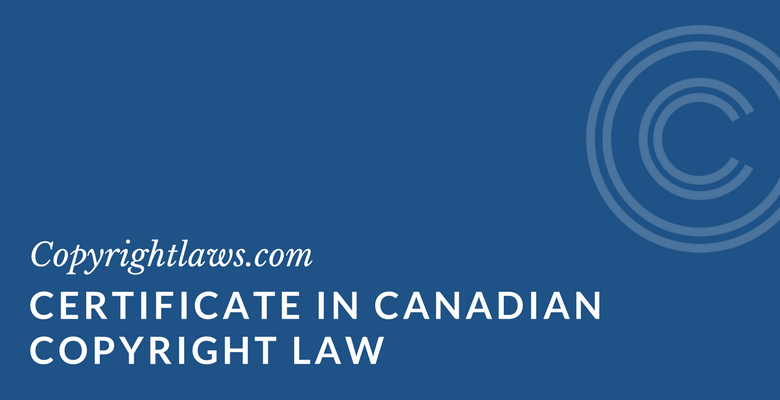 Copyrightlaws.com's Certificate in Canadian Copyright Law is a 12-week program that provides a strong foundation in copyright decision making skills. It's intended for those new to copyright or those seeking to enhance their current knowledge base. The program equips you with knowledge of copyright principles, with the primary focus on practical skills that can be adapted to individual needs. (Not Canadian? Click to see the Copyright Leadership Certificate.)
The 2018 Certificate in Canadian Copyright Law is now open.
REGISTER HERE.
The session begins 15 March 2018 and ends 7 June 2018. You can enroll until 15 May 2018. Once you enroll, we'll get you started in the program right away.
Learning Outcomes
By participating in Copyrightlaws.com's Certificate in Canadian Copyright law, you will be able to:
Describe Canadian copyright law principles
Explain global copyright law on a practical level
Know when and how to obtain copyright permission
Provide quick answers about copyright law and licensing content
Develop best practices for lowering copyright risks
We will work with you to:
Develop your breadth of knowledge of copyright issues
Lower your risk of copyright infringement
Increase your knowledge on when and how to obtain copyright permissions
Network with other copyright professionals through our online forum
Gain the confidence you need to lead copyright issues in your organization
REGISTER HERE for the 2018 Certificate in Canadian Copyright Law program.
What Canadian Copyright Law Graduates Say
See our list of recent graduates from this copyright leadership program and imagine your name on that list! Here is what some of them say about the Canadian Certificate in Copyright Law.
I loved the Certificate program, it exceeded my expectations. Each tutorial delivered copyright information in an easy-to-understand format and I was pleasantly surprised at the amount of information that we received. After the program, my priority is to revise the copyright portion of our contracts. I will also make a copyright adherence policy for staff and begin staff copyright education. The program has been a very valuable experience for me and has made me feel more secure in managing copyright at work. I definitely recommend the Certificate program to others.
— Nicole Fletcher, Collections Manager, Winnipeg Art Gallery

The Certificate program has done wonders for me in terms of fueling my confidence in my ability to do the job. I will be pushing for a more centralized approach to copyright administration — most immediately the completion of a long-promised database for managing copyright permissions.
— David M.P. Leggett, Library & Copyright Assistant, Northern Lights College

The Certificate program and each eTutorial is logical and linear, and the e-lessons are easily (and enjoyably) read and retained. The most value I expect to get is with the overall legality of copyright and how best to develop a personal risk/copyright management plan as it pertains to my photography. For my work, I can see how it has already benefited the School Division as we are reworking our Copyright protocols, policies, and most importantly our Professional Development and communications for our students, educators, and support staff.
— Bradley Hampson, MBA, Assistant Superintendent, Technology, Frontier School Division, Winnipeg
Features of the Certificate in Canadian Copyright Law
Five eTutorials on Canadian and global copyright law **Non-Canadians click here.
24/7 access on your computer or mobile device to a private discussion forum moderated by Lesley Ellen Harris
Exclusive Tools to help you apply copyright law in your enterprise
Online networking with other copyright professionals
Reference materials and resources for use after you earn your certificate
A Certificate in Canadian Copyright Law plaque (for those who achieve 80% or higher on our final quiz)
A public listing of the certificate holders on Copyrightlaws.com
Canadian Copyright Law Course Descriptions
Canadian Copyright Law is both a primer and refresher on Canadian copyright law.
Practical International Copyright provides a practical view of international copyright issues, including giving and obtaining permission when dealing with foreign countries and online works.
Legally Using Images sets out essential information on using third-party content, how permissions work, risk management tips and best practices for legally using images. This eTutorial is applicable to the use of all content, not just images.
Digital Copyright Management teaches you legal, strategic and practical implications of using, publishing and re-distributing online and licensed digital content.
Minimizing Copyright Risks and Organizing Copyright Issues in Your Workplace is an overview of managing the legal use of all types of copyright-protected works.
About the Instructor
Lesley Ellen Harris is the instructor for the Copyright Leadership Certificate. You can see her bio here.
Not ready to commit to the Copyright Leadership Certificate program? See our individual subject-specific copyright eTutorials.