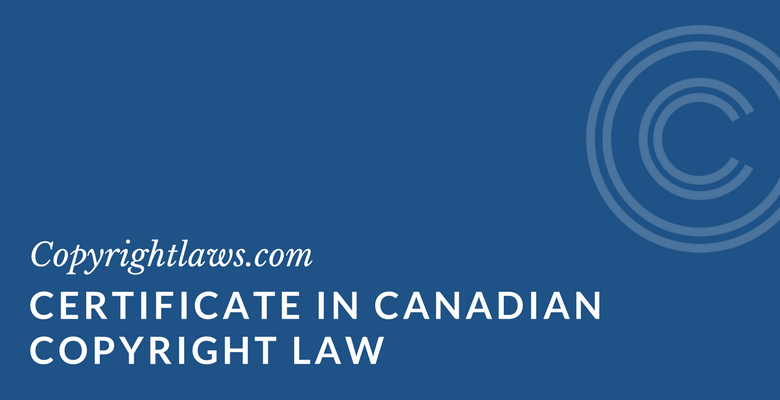 NEW COHORT ADDED. Register now for the second 2023 cohort of the Certificate in Canadian Copyright Law. You will have access to course content from 2 October 2023 until 2 February 2024. If you need access beyond this date, please contact us.
The Certificate in Canadian Copyright Law provides a strong foundation in copyright decision making skills. It's intended for those new to copyright or those seeking to enhance their current knowledge base. Participants gain a knowledge of copyright principles, with the primary focus on practical skills that can be adapted to individual needs.
5 eTutorials with close to 60 E-Lessons, assignments,
several customizable tools and online discussions
Working on your own schedule in our easy-to-use online learning system, you'll have access to the course materials for four months and can download the lessons for future reference. The expected time to complete this course is estimated to be 40 to 60 hours.
As always, our personal touch remains a hallmark of our copyright education. We'll continue to work with you to help you schedule learning time in your busy and perhaps disrupted schedule, and provide extensions where necessary. Our goal is to encourage and assist you in completing this course.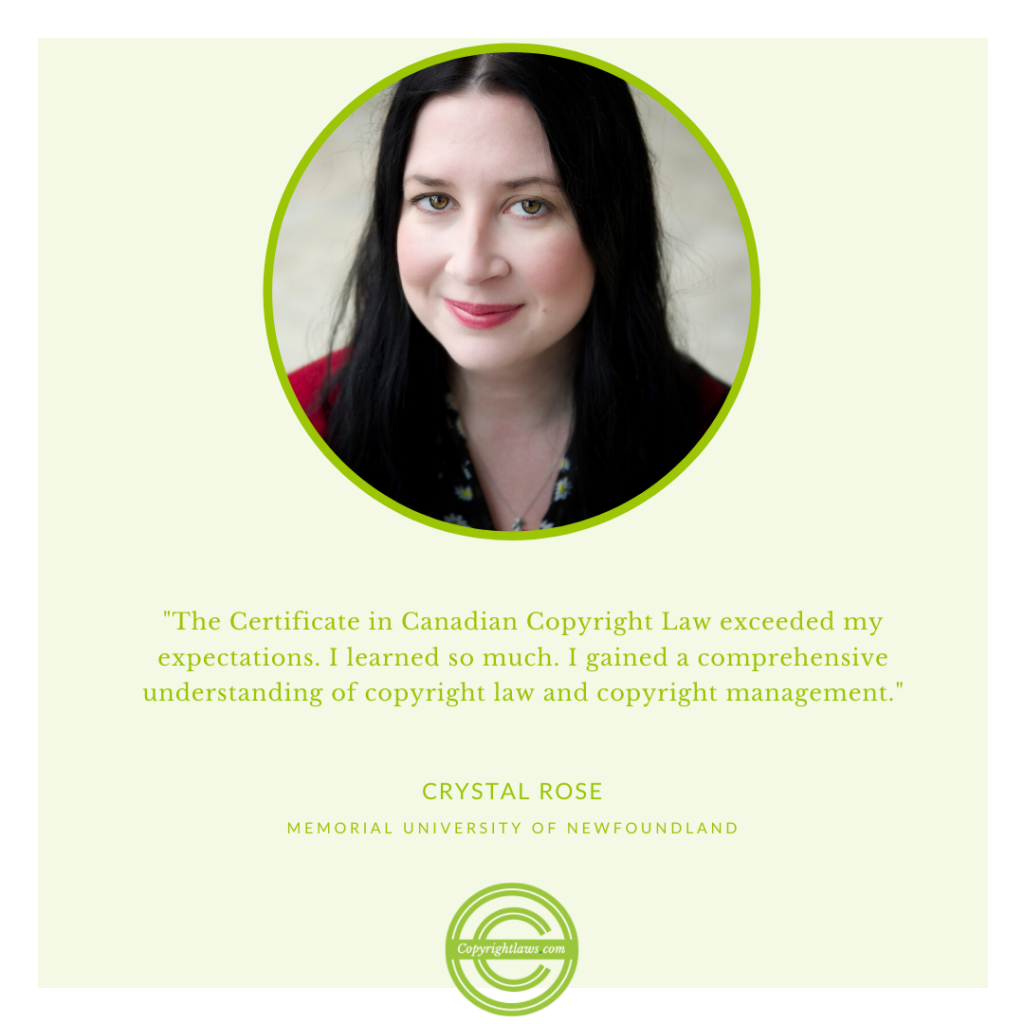 Contact us for more information.
See What Our Students Value in the Certificate in Canadian Copyright Law
A Unique Combination of Knowledge and Practical Skills
I loved the Certificate program, it exceeded my expectations. Each tutorial delivered copyright information in an easy-to-understand format and I was pleasantly surprised at the amount of information that we received. After the program, my priority is to revise the copyright portion of our contracts. I will also make a copyright adherence policy for staff and begin staff copyright education. The program has been a very valuable experience for me and has made me feel more secure in managing copyright at work. I definitely recommend the Certificate program to others.

— Nicole Fletcher, Collections Manager, Winnipeg Art Gallery
I was able to immediately apply what I learned in the Certificate in Canadian Copyright Law program and I have already created a Fair Dealing Policy and Procedure. I am now in the process of creating a Copyright Strategy for our organization.

— Juanita Richardson, The Michener Institute of Education at UHN
The Certificate program and each eTutorial is logical and linear, and the e-lessons are easily (and enjoyably) read and retained. The most value I expect to get is with the overall legality of copyright and how best to develop a personal risk/copyright management plan as it pertains to my photography. For my work, I can see how it has already benefited the School Division as we are reworking our Copyright protocols, policies, and most importantly our Professional Development and communications for our students, educators, and support staff.

— Bradley Hampson, MBA, Assistant Superintendent, Technology, Frontier School Division, Winnipeg
Gaining Confidence to Answer Copyright Questions
If you're the Go-To Copyright Person or want to more confidently answer copyright questions, this program is for you. You'll have high-quality current copyright information, interaction with like-minded individuals and takeaways such as reference materials and several tools (including a permissions database, fair dealing cheat sheet and a guide to analyzing a copyright question or issue), plus copyright buddies for life!
The Certificate in Canadian Copyright Law increased my copyright knowledge base and I will now be the key person to respond to copyright queries from staff. I really appreciated the ability to complete the program on my own time and pace. I am now working on a website with copyright information that staff can access and will shortly begin teaching others in my school about copyright compliance.

— Paola Kontic, Manager, Catholic Library Learning Commons, Hamilton Wentworth Catholic District School Board (August 2018)
I truly enjoyed the course and pulling my knowledge about copyright law all together.

— Suzanne Morin (May 2019)

The Certificate program has done wonders for me in terms of fueling my confidence in my ability to do the job. I will be pushing for a more centralized approach to copyright administration — most immediately the completion of a long-promised database for managing copyright permissions.

— David M.P. Leggett, Library & Copyright Assistant, Northern Lights College
Also see our sister Certificate program on U.S. and global copyright,
the Copyright Leadership Certificate.
Learning Outcomes from the Certificate in Canadian Copyright Law
By participating in Copyrightlaws.com's Certificate in Canadian Copyright law, you'll be able to:
Describe Canadian copyright law principles
Explain global copyright law on a practical level
Know when and how to obtain copyright permission
Provide quick answers about copyright law and licensing content
Develop best practices for lowering copyright risks in your library or organization
We'll work with you to:
Develop your breadth of knowledge of copyright principles
Lower your risk of copyright infringement
Increase your knowledge of when and how to obtain copyright permissions
Network with other copyright professionals
Gain the confidence you need to lead copyright issues in your organization
More from Certificate in Canadian Copyright Law Graduates
I was looking for an overview of Canadian and international copyright law, advice and best practices on compliance within an organization and information on the role of librarians in managing copyright – the Certificate in Canadian Copyright Law provided all of that and more. The tools were very helpful. I have the Copyright Compliance Checklist pinned to the board at my desk! The Fair Dealing/Fair Use comparison was also useful. We've already started drafting a copyright disclaimer for circulating materials and are planning mandatory interactive learning, some targeted training and centralized copyright information on the intranet. I would definitely recommend this program to others.

— Catherine MacGregor, Information Resource Specialist (August 2018)
The Certificate in Canadian Copyright Law exceeded my expectations. I can now answer clients' questions about copyright with confidence.

— Stephanie Joly, Information Management Specialist, Bank of Canada (February 2018)
This course exceeded my expectations; I really liked the way the information was divided into small, easily digestible, bits. The information was also scaffolded very well to build on what came before.
— Jaclyn Chambers Page, Copyright Librarian, Dalhousie University, (July 2023)
Features of the Certificate in Canadian Copyright Law
Five eTutorials on Canadian and global copyright law **Non-Canadians, see our Copyright Leadership Certificate.
24/7 access to all course content on your computer or mobile device
Zoom virtual classroom meetings
Online discussions
Exclusive Tools to help you apply copyright law in your enterprise
Online networking with other copyright professionals
Reference materials and resources (including Tools) for use after you earn your certificate
A Certificate in Canadian Copyright Law plaque (for those who achieve 80% or higher on our final quiz)
A public listing of the certificate holders on Copyrightlaws.com
This program offers flexible enrolment.
The Certificate program is fantastic. Beyond fantastic. I can't recommend this program enough. It's validating in that it reviews and supports the bits of copyright law that I've gleaned in doing this thing called "visual research." It's a great compilation of a lot of things that come up in our emails/Facebook: e.g., fair dealing, public domain, Creative Commons, digital rights, international clearance, etc. I wish I had taken this course 15 years ago when I started. I wish I had taken this course anytime within the last 15 years. I feel like it's making me a better researcher, and more confident in knowing the law behind our research scenarios.

— Michelle Demeyle, Visual Researcher, VRSC
I was very pleased and honoured to receive the Certificate in Canadian Copyright Law. The Certificate brought immediate positive feedback from my employer and colleagues.

— Sylvie Séguin, Agente aux Droits D'Auteur
Course Descriptions
Canadian Copyright Law is both a primer and refresher on Canadian copyright law.
Practical International Copyright provides a practical view of international copyright issues, including giving and obtaining permission when dealing with foreign countries and online works.
Legally Using Images sets out essential information on using third-party content, how permissions work, risk management tips and best practices for legally using images. This eTutorial is applicable to the use of all content, not just images.
Digital Copyright Management teaches you legal, strategic and practical implications of using, sharing, publishing and re-distributing online and licensed digital content.
Managing Copyright Issues is an overview of managing the legal use of all types of copyright-protected works.
Just a quick note to let you know how informative and valuable this course has been to me so far. I plan to have two other employees participate next year. Again just felt the need to let you this course has been outstandingly well done in my opinion. Keep up the awesome work!

— Helen Hiltz, Library and Information Services Coordinator, New Brunswick Community College, Frederiction
About the Instructor
Erin Gurski is the instructor for the Certificate in Canadian Copyright Law. A copyright professional with 10+ years experience, including several with Copyrightlaws.com, she is excited to lead this cohort.
Copyrightlaws.com offers a sister program tailored specifically to U.S. and global copyright issues, the Copyright Leadership Certificate.