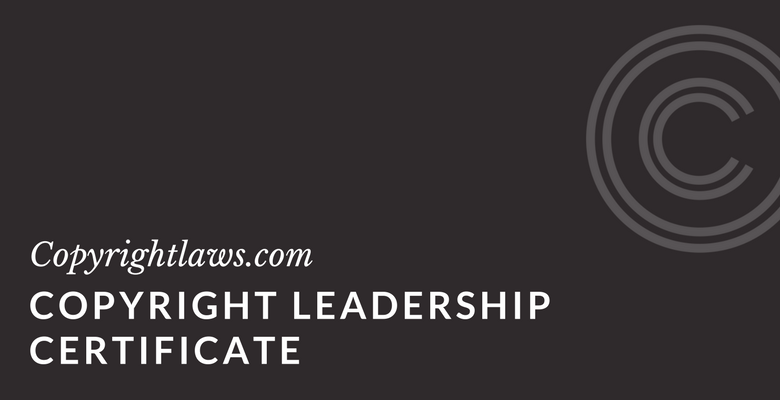 NEW COHORT ADDED. The Copyright Leadership Certificate is a unique comprehensive online program that provides you with confidence and practical application for avoiding copyright infringement. It's for those new to copyright or those seeking to enhance their current knowledge base.
You will have access to course content from 2 October 2023 until 2 February 2024. If you need access beyond this date, please contact us.
Registration Fee: $1,499
5 eTutorials, assignments, several customizable tools
and online discussions. Self-paced with optional virtual classes and office hours.
Working on your own schedule in our easy-to-use online learning system, you'll have access to the course materials for four months and can download the lessons for future reference. The expected time to complete this course is 35 to 55 hours.
As always, our personal touch remains a hallmark of our copyright education. We'll continue to work with you to help you schedule learning time in your busy and perhaps disrupted schedule, and provide extensions where necessary. Our goal is to encourage and assist you in completing this course.
Contact us for more information.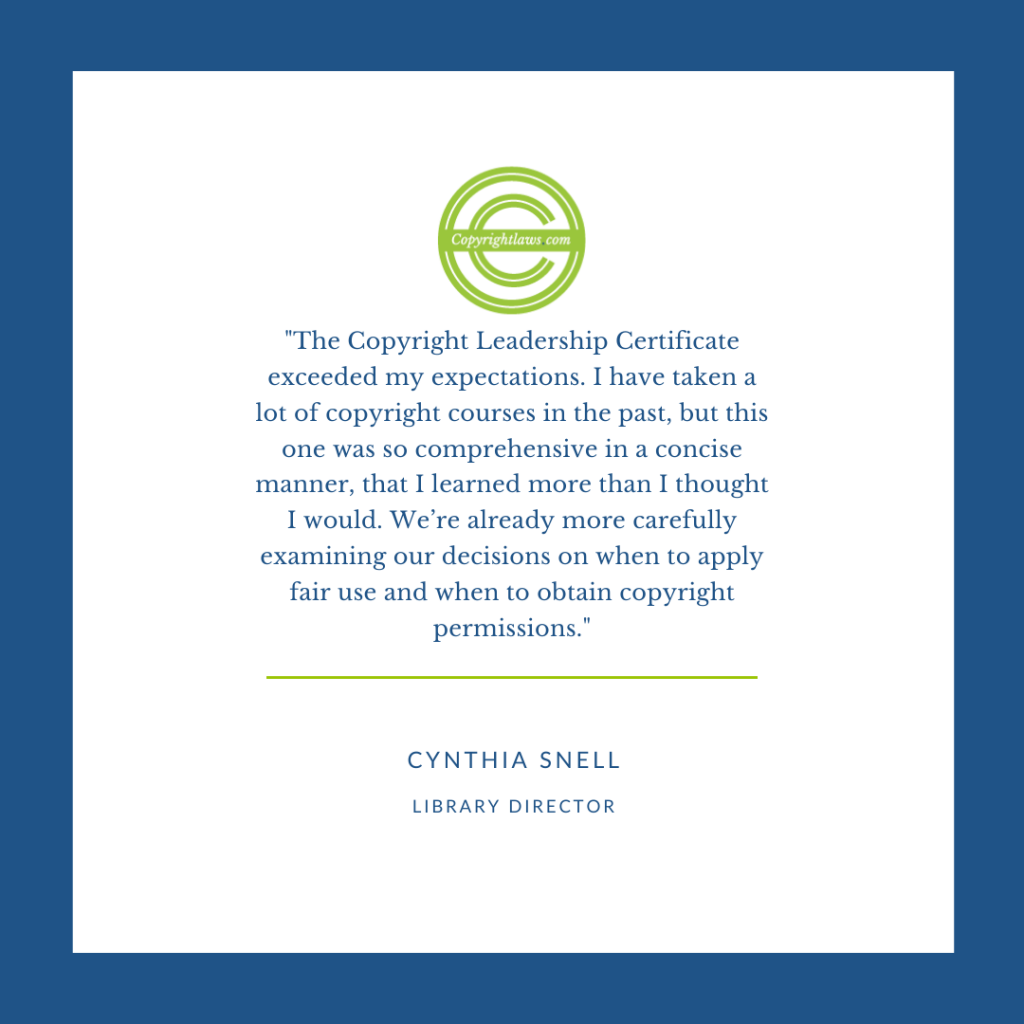 See What Our Students Value About the Copyright Leadership Certificate
A Unique Combination of Knowledge and Practical Skills
Students learn important copyright principles, with the primary focus on practical skills that can be adapted to individual needs.
I was blown away by the thoroughness of the information presented. We're now a lot more conscious of copyright, and have implemented new rules and procedures to increase awareness of copyright issues and make sure all copyright requests come through our department.

— Nora Sawyer, Information Specialist, Cornerstone Research
The Copyright Leadership Certificate program was worth the price. It is impossible to find this much accessibly written, current, reliable information in one place, along with the opportunity to ask questions and discuss the issues. The tools are now taped on my office wall, right in my sight-line. The one that I always think of and have shared with my Copyright Advisory Committee is "Get to yes whenever you can." There was lots of material that I didn't know and now I have that information should those copyright issues arise, which they probably will; for example, international treaties and licensing digital material.

— Kyra Folk-Farber, Music Librarian, University of California
The Copyright Leadership Certificate provided me with a better understanding of copyright law and helped me determine the next steps for becoming the copyright contact person in my department. It was great to receive the lessons via email and also in PDF. A bonus is to have the additional resources the program provided that I can refer to on an on-going basis and to be able to continue learning about copyright law.

— Barbara Leone, Research Librarian, Northrop Grumman

Gaining Confidence To Answer Copyright Questions
If you're the Go-To Copyright Person or want to more confidently answer copyright questions, this program is for you. You'll have high-quality current copyright information, interaction with like-minded individuals and takeaways such as reference materials and several tools (including a permissions database, fair use cheat sheet and a guide to analyzing a copyright question or issue), plus copyright buddies for life!
In addition to better understanding the basic tenets of copyright law, I had hoped that the program would provide me guidance on legitimate and reliable information sources to refer to when the need to research a copyright question on my own arose. I feel like the course did this successfully, providing tools, articles, websites, and other sources of information that I continue to use even though the course has ended. The important thing to me is that I left the course feeling confident in my understanding of copyright, and empowered to seek out more information as necessary.

After finishing the course I met with my institution's Licensing and Copyright Librarian and discussed my interest in copyright and the information needs I've encountered in my work. Since then, she has come to my library to speak on copyright law to my peers. We've also planned for continuing collaboration on this topic. I feel more comfortable talking to others with formal copyright education, having gained a better understanding of copyright law and how it's applied through this program.

— Lindsay Barnett, Collection Development & Scholarly Communication Librarian, Cushing/Whitney Medical Library, Yale University
Learning Outcomes from the Copyright Leadership Certificate
By participating in Copyrightlaws.com's Copyright Leadership Certificate, you'll be able to:
Describe U.S. copyright law principles
Explain global copyright law on a practical level
Know when and how to obtain copyright permission
Provide quick answers about copyright law and licensing digital content
Develop best practices for lowering copyright risks in your library or organization
We'll work with you to:
Develop your breadth of knowledge of copyright principles
Lower your risk of copyright infringement
Increase your knowledge on when and how to obtain copyright permissions
Network with other copyright professionals
Find practical solutions to your everyday copyright questions and issues
Gain the confidence you need to lead copyright issues in your organization
Join Our International Graduates
To date we've had over 200 graduates from our copyright certificate programs from the U.S., Canada, the UK, Denmark and Switzerland.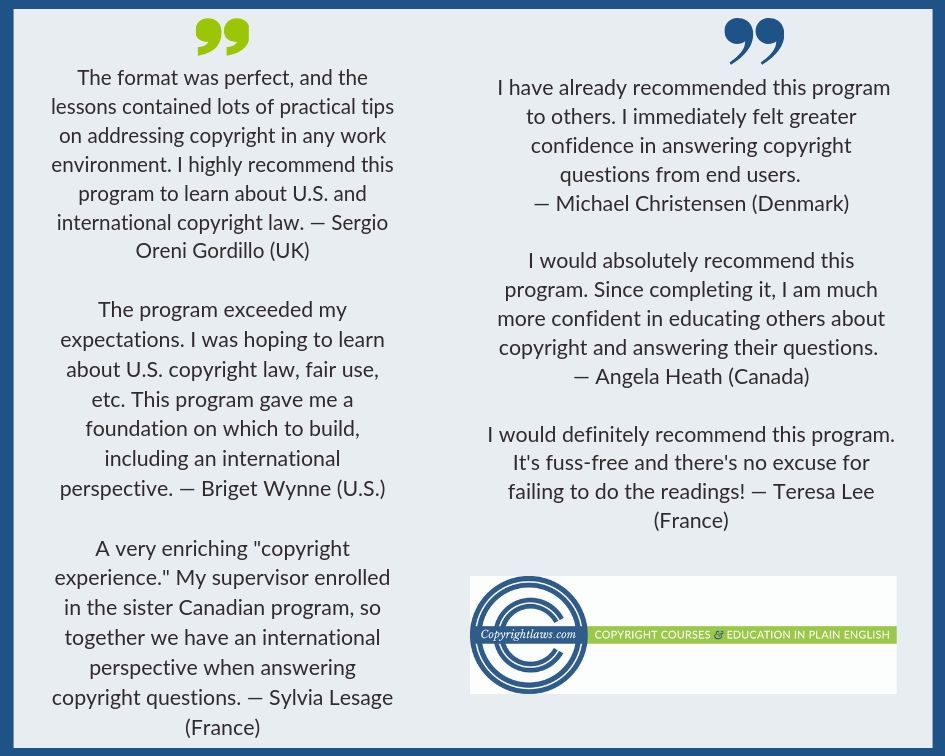 More from Copyright Leadership Certificate Graduates
The Copyright Leadership Certificate is a great, well-paced overview of copyright law, with material to continue to study on my own and to continue to use as reference in the future. The email format of the lessons worked great. The self-grading quizzes in each lesson helped me focus on what I failed to learn/understand and need to relearn. I will use the fair use tool and many of the charts and guides provided. I found the class list had great potential for network contacts as well, should I have questions in the future and may want to reach out. Thanks to the Certificate, I am now able to respond with more confidence to copyright questions and know when to seek further advice from legal. The Certificate was definitely worth the price and I recommend it to others.

— Jane E. Matthews, Cook Research, Inc.
Terrific program! The final assignment has given me a road map to start centralizing and developing better library copyright processes and procedures. And the permissions tracker tool is fantastic and really thorough. Thank you!

— Rachel Sweeney, Digital Publications Librarian, U.S.
The Copyright Leadership Certificate exceeded my expectations. I did not expect the course to cover as much material as it did. I will be applying a number of changes throughout the rest of year due to what I learned in the Certificate program, mostly to our copyright guidelines. I would absolutely recommend this program to others.

— Irina Burns, Academy of Management
Features of the Copyright Leadership Certificate
Five eTutorials on U.S. and global copyright law **Canadians, see our Certificate in Canadian Copyright Law.
Online discussions
Exclusive Tools to help you apply copyright law in your enterprise
Online networking with other copyright professionals
Reference materials and resources (including Tools) for use after you earn your certificate
A Copyright Leadership Certificate plaque (for those who achieve 80 percent or higher on our final quiz)
A public listing of the certificate holders on Copyrightlaws.com
This program offers flexible enrollment
I must say that I really love these lessons. So clearly written and just when I thought I understood how something worked, enlightenment happens. I like that they're flexibly written so you can handle them one-off, as my workload is a jealous mistress.

— Cindy Alfieri, Agilent Technologies, Inc.
I just graduated from the Copyright Leadership Certificate and I've already started a permissions log and I am writing copyright policies and guidelines for the library. I think Lesley did a great job of connecting with people. Not everyone does that well in an online class situation but she took time to have "face meetings" and stayed in touch through the group project and the blog. Thanks so much. I really enjoyed the program.

— Jean Waldrop, Library Director, Brackett Library, Harding University
Course Descriptions
U.S. Copyright Law is both a primer and refresher on U.S. copyright law.
Legally Using Images sets out essential information on using third-party content, how permissions work, risk management tips and best practices for legally using images. This eTutorial is applicable to the use of all content, not just images.
Practical International Copyright provides a practical view of international copyright issues, including giving and obtaining permission when dealing with foreign countries and online works.
Digital Copyright Management teaches you the legal, strategic and practical implications of using, publishing and redistributing online and licensed digital content.
Managing Copyright Issues is an overview of managing the legal use of all types of copyright-protected works.
I wanted to fill in the gaps on copyright and licensing missing from graduate school and learn how to practically apply copyright to the company I now work for. Mission accomplished. Thank you!

— Olivia D. Haines, Library Technician
The program provided me with the knowledge and tools needed to begin our school's copyright compliance program. The first thing I am doing is creating a fair use presentation for our library staff. The program helped me understand copyright nuances and how to practically deal with them.

— Joyce Shalaby, Acquisitions Coordinator, Deerfield Academy
About the Instructor
Erin Gurski is the instructor for the Copyright Leadership Certificate. A copyright professional with 10+ years experience, including several with Copyrightlaws.com, she is excited to lead this cohort.
Canadians, Copyrightlaws.com offers a sister program tailored specifically to Canadian copyright issues. See further information about the Certificate in Canadian Copyright Law.