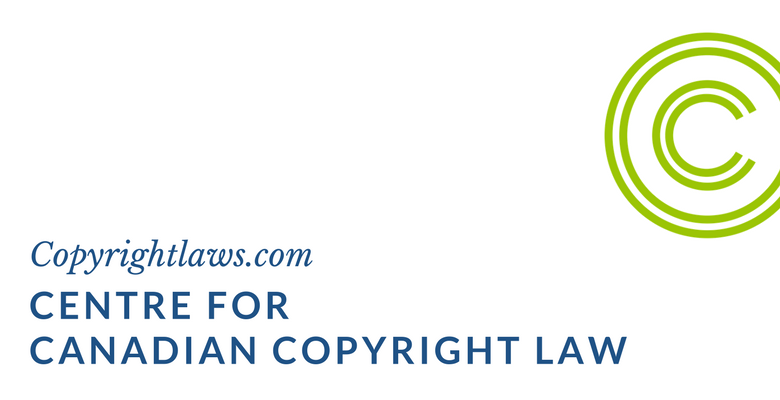 Welcome to Copyrightlaws.com's Centre for Canadian Copyright Law.
What's buzzing in Canadian copyright law?
How can you learn more about Canadian copyright law?
Note that the registration fees for the above Canadian courses are in Canadian currency. Canadians also join our international courses which attract a North American and global audience and are priced in U.S. currency. They include:
All of our courses are eTutorials :
"I really enjoyed the email format. No need to sign up for a course platform — super simple!" — Sarah Heath, Librarian
Questions About Our Online Courses?
I invite you to sign up for a 20-minute call to discuss which course will best meet your needs. Sign up here.
Latest Articles From the Centre for Canadian Copyright Law
---
Certificate in Canadian Copyright Law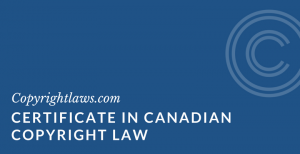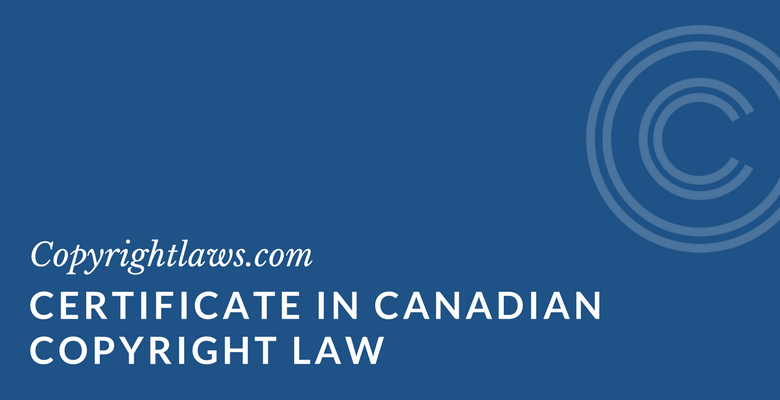 Copyrightlaws.com's Certificate in Canadian Copyright Law is a 12-week program that provides a strong foundation in copyright decision making skills.
It's intended for those new to copyright or those seeking to enhance their current knowledge base. The program equips you with knowledge of copyright principles, with the primary focus on practical skills that can be adapted to individual needs. The fee for an individual is $1,499 (in Canadian currency).
Enrolment is open for the spring 2020 cohort.
Registration — Testimonials — Graduates
Contact us for more information.
Course Testimonials
I recommend this course if you're looking for Canadian Copyright Law in a nutshell. The topics were well organized and I loved the self-marking quizzes. I can now help our IP legal counsel with copyright-related research.
— Amra Porobic, Manager, Library Services, Insurance Bureau of Canada

The e-mail format of the lessons worked for me as I could do them as I was able within a busy schedule.
— Carolyn R. Wilker, Freelance Editor/Writer

I loved the Certificate program, it exceeded my expectations. Each tutorial delivered copyright information in an easy-to-understand format and I was pleasantly surprised at the amount of information that we received. After the program, my priority is to revise the copyright portion of our contracts. I will also make a copyright adherence policy for staff and begin staff copyright education. The program has been a very valuable experience for me and has made me feel more secure in managing copyright at work. I definitely recommend the Certificate program to others.
— Nicole Fletcher, Collections Manager, Winnipeg Art Gallery

The Certificate program has done wonders for me in terms of fuelling my confidence in my ability to do the job. I will be pushing for a more centralized approach to copyright administration — most immediately the completion of a long-promised database for managing copyright permissions.
— David M.P. Leggett, Library & Copyright Assistant, Northern Lights College
See more testimonials from our Certificate in Canadian Copyright Law graduates.
Canadian Copyright Law eTutorial
Copyrightlaws.com also offers the Canadian Copyright Law eTutorial. This eTutorial is a 17-lesson online primer/refresher on Canadian copyright law. It's available on demand for groups. Register now for our 1 to 17 April offering.
---
Fair Dealing Court Cases
Access Copyright and York University
On 31 July 2017, York University announced it would appeal the recent federal court fair dealing decision against them initiated by Access Copyright. York filed its Notice of Appeal on 22 September 2017. A summary of the court decision is here. Update: Hearings in the appeal of the Federal Court's decision took place on 5 – 6 March 2019.
Copibec and Université Laval
In late September 2017, Copibec announced its copyright challenge in Canada against Université Laval. A favourable decision for Copibec was rendered on 27 November 2017.
On 13 November 2018, Copibec announced the conclusion of its lawsuit against Université Laval:
Copibec and Université Laval are pleased to announce that their out-of-court settlement agreement was approved by Justice Simon Hébert of the Quebec Superior Courtand that Université Laval has signed the comprehensive licence agreement applicable to Quebec universities.

The Court's approval of the settlement has now put an end to the legal dispute between the two parties concerning copyright royalty management for the university's teaching and research activities. Both parties are looking forward to once again working collaboratively for the benefit of authors, publishers, teaching personnel and students.
---
United States-Mexico-Canada Agreement (USMCA)
On 30 September 2018, Canada, Mexico and the United States announced the completion of negotiations towards a new trade agreement to replace the North American Free Trade Agreement (NAFTA). The United States-Mexico-Canada Agreement (USMCA) includes a chapter on intellectual property. Among other things, it requires member countries to protect copyright for a minimum of 70 years after an author's death. Currently, the copyright duration in Canada is 50 years after an author's death.
For information on the USMCA, and the procedure for implementing a new trade agreement, see the Canadian government website.
Bill C-100, An Act to implement the Agreement between Canada, the United States of America and the United Mexican States was introduced into the Canadian Parliament on 29 May 2019.
---
Learn more about Canadian copyright law and these recent developments in our unique Certificate in Canadian Copyright Law.
Test Your Canadian Copyright Knowledge with our Quiz