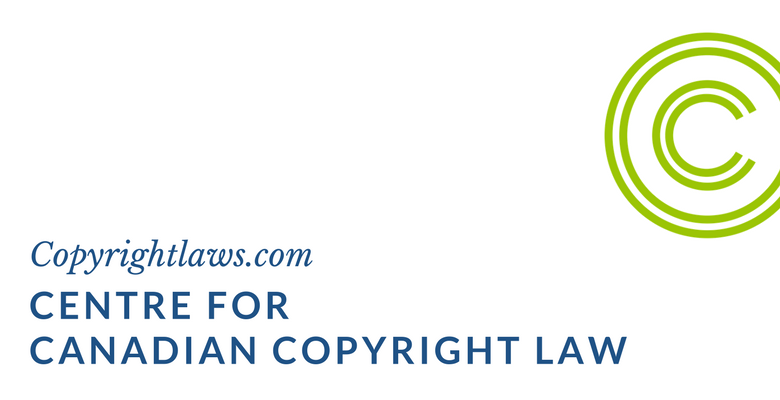 Welcome to Copyrightlaws.com's Centre for Canadian Copyright Law.
Whether you live in Canada or you have an interest in Canadian copyright law from a global perspective, you can access reliable, objective and current Canadian content here.
2018 is going to be an important year in Canadian copyright law. We have the Canadian government review of the Copyright Act and several lawsuits to keep an eye on. Plus it's always a good time to be more aware of how Canadian copyright law works and how you can specifically apply it in your library or organization.
Throughout 2018 and beyond, the Centre for Canadian Copyright Law will be introducing new eTutorials on Canadian copyright law. Our Certificate in Canadian Copyright Law and Canadian Copyright Law eTutorial graduates are asking us for more and more Canadian-oriented education and we're all ears! As we roll out our new courses, our readers will have priority registration.
Questions, comments, or just want to say hello? Email us anytime. (Please note that we're unable to provide legal advice.)
Latest Articles from the centre for canadian copyright law
Click here to see our many articles on Canadian copyright law.
Canadian Copyright Law Courses
All of the courses below are for those interested in Canadian copyright law. All registration fees are in Canadian currency.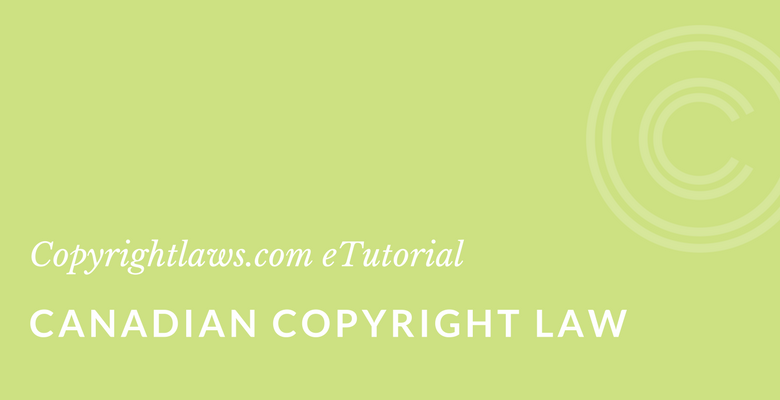 This Canadian Copyright Law course is a 17-lesson online primer/refresher on Canadian copyright law. Next offering: 1 June to 14 June 2018. $187. REGISTER NOW!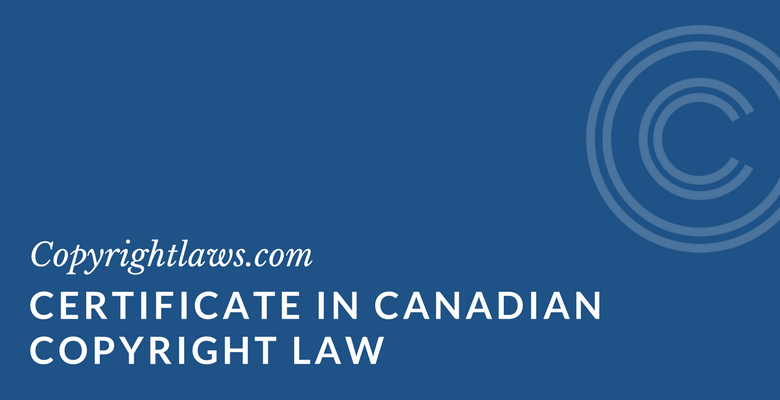 Copyrightlaws.com's Certificate in Canadian Copyright Law is a 12-week program that provides a strong foundation in copyright decision making skills. It's intended for those new to copyright or those seeking to enhance their current knowledge base. The program equips you with knowledge of copyright principles, with the primary focus on practical skills that can be adapted to individual needs. See upcoming course dates and registration information. $1,350 – $1,500.
Course Testimonials
I recommend this course if you're looking for Canadian Copyright Law in a nutshell. The topics were well organized and I loved the self-marking quizzes. I can now help our IP legal counsel with copyright-related research.
— Amra Porobic, Manager, Library Services, Insurance Bureau of Canada (October 2017)

The e-mail format of the lessons worked for me as I could do them as I was able within a busy schedule.
— Carolyn R. Wilker, Freelance Editor/Writer

I loved the Certificate program, it exceeded my expectations. Each tutorial delivered copyright information in an easy-to-understand format and I was pleasantly surprised at the amount of information that we received. After the program, my priority is to revise the copyright portion of our contracts. I will also make a copyright adherence policy for staff and begin staff copyright education. The program has been a very valuable experience for me and has made me feel more secure in managing copyright at work. I definitely recommend the Certificate program to others.
— Nicole Fletcher, Collections Manager, Winnipeg Art Gallery

The Certificate program has done wonders for me in terms of fuelling my confidence in my ability to do the job. I will be pushing for a more centralized approach to copyright administration — most immediately the completion of a long-promised database for managing copyright permissions.
— David M.P. Leggett, Library & Copyright Assistant, Northern Lights College
---