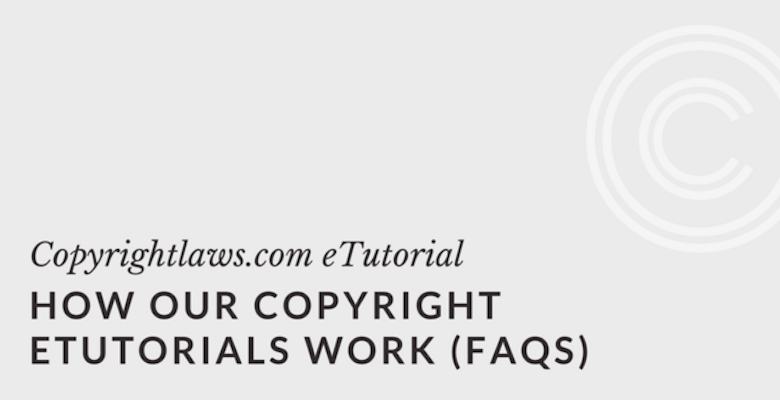 Our copyright and licensing courses are designed to meet your needs by providing practical up-to-date content in plain English through flexible learning. All of our courses are fully online. Curious? Here's how Copyrightlaws.com's courses work.
How Copyrightlaws.com's Courses Work
Copyrightlaws.com provides different types of courses:
Primer courses
Beyond the fundamentals courses
Assignment courses
Certificate programs
To learn more about each type, see Selecting an Online Copyright Course from Copyrightlaws.com.
We deliver all of our courses via our flexible eTutorial philosophy, as described below. While learning at your own pace is a hallmark of all our courses, assignment courses and certificate programs do include assignments with generous and flexible timelines. They also offer access to 24/7 online discussions and virtual classroom meetings.
The following questions and answers will help you understand how Copyrightlaws.com's courses work. And you can contact us with your questions about our online courses.
eTutorial FAQs
What's an eTutorial?
An eTutorial is a way of teaching and delivering content to you in small, specific bursts, all via email. Some call it microlearning. You're in control of when you access each e-lesson and how much deeper you want to delve into the subject.
What if I'm too busy to review the lessons?
Our unique eTutorial microlearning method means that you can review any eTutorial (in our certificate programs) and any lesson in any order. So, if you're feeling behind you can always jump into that day's lesson if it grabs your attention. And your instructor can also set up a personal study schedule for you.
What if circumstances surrounding COVID-19 disrupt my completing the course I enroll in?
We'll work with you to help schedule learning time in your busy and disrupted schedules and provide extensions where necessary to complete the course. Our goal remains the same: to encourage and assist you in completing the course or program you've enrolled in. Our personal touch is a hallmark of our copyright education.
Why take Copyrightlaws.com's eTutorials?
Our courses are short, practical, self-paced and reasonably priced. Also, there's no need to travel or physically attend a classroom. You'll finish the course with added knowledge about copyright and licensing, great reference materials and a certificate of completion. Plus, through our assignment and certificate program courses, you'll find new copyright buddies you'll be in touch with long after the course has ended.
Do I need a password to access the lessons?
No passwords are necessary. We email the e-lessons to the address you provide us. Just sit back, relax and receive the e-lessons in text and PDF format on any device you use to access your email.
Are the courses self-paced?
Yes, you may read the e-lesson, consult the recommended further resources (which are available for free) and take the self-marking quiz when it's convenient for you. We vet all further information resources, and regularly review and update them if necessary.
If I go on vacation or to a conference, how will I be able to keep up with the lessons?
You can access the lessons anywhere you access your email. If you're away from email, the e-lessons will be waiting in your inbox when you return.
I assume there isn't a certain time frame every day when we must work on this course — we can do the work on our own schedule. True?
Your assumption is correct. The e-lessons are entirely self-paced so you can complete them at your convenience. And if you ever get overwhelmed in reviewing the lessons, ask your instructor to work with you to set a personal schedule to complete the course.
What's the anticipated number of hours for each eTutorial?
The amount of time varies, but each e-lesson can take an average of 30 to 60 minutes. So a course that has 16 e-lessons takes approximately 8 to 16 hours to complete. A course that has six e-lessons takes approximately 3 to 6 hours to complete. Our assignment courses and certificate programs, however, require additional time for assignments, online discussions and/or virtual meetings.
Is it possible to obtain answers to specific copyright and licensing questions?
While we can't provide legal advice, you'll find all of our courses very informative and packed with strategic information you can apply in your day-to-day work. Our eTutorials also provide recommended websites for further consultation. Our certificate programs and assignment courses provide a private online discussion forum and/or virtual classroom meetings for discussing questions, real-life situations and networking with other copyright professionals.
Can I share the course materials with a colleague who's also interested in learning more about copyright law?
We request that you don't share the e-lessons, as they're intended only for paid participants.
I'd like to enroll in one of the courses, but I don't see it scheduled.
Please contact us and let us know which course you'd like to take, as there may be others interested in the same one. Also, if you have a group of five or more people, we can schedule a class for your group.
Testimonials
Don't just take our word for it. Our Founder and CEO Lesley Ellen Harris has been teaching through eTutorials since 2002. Here's what some of our students say ...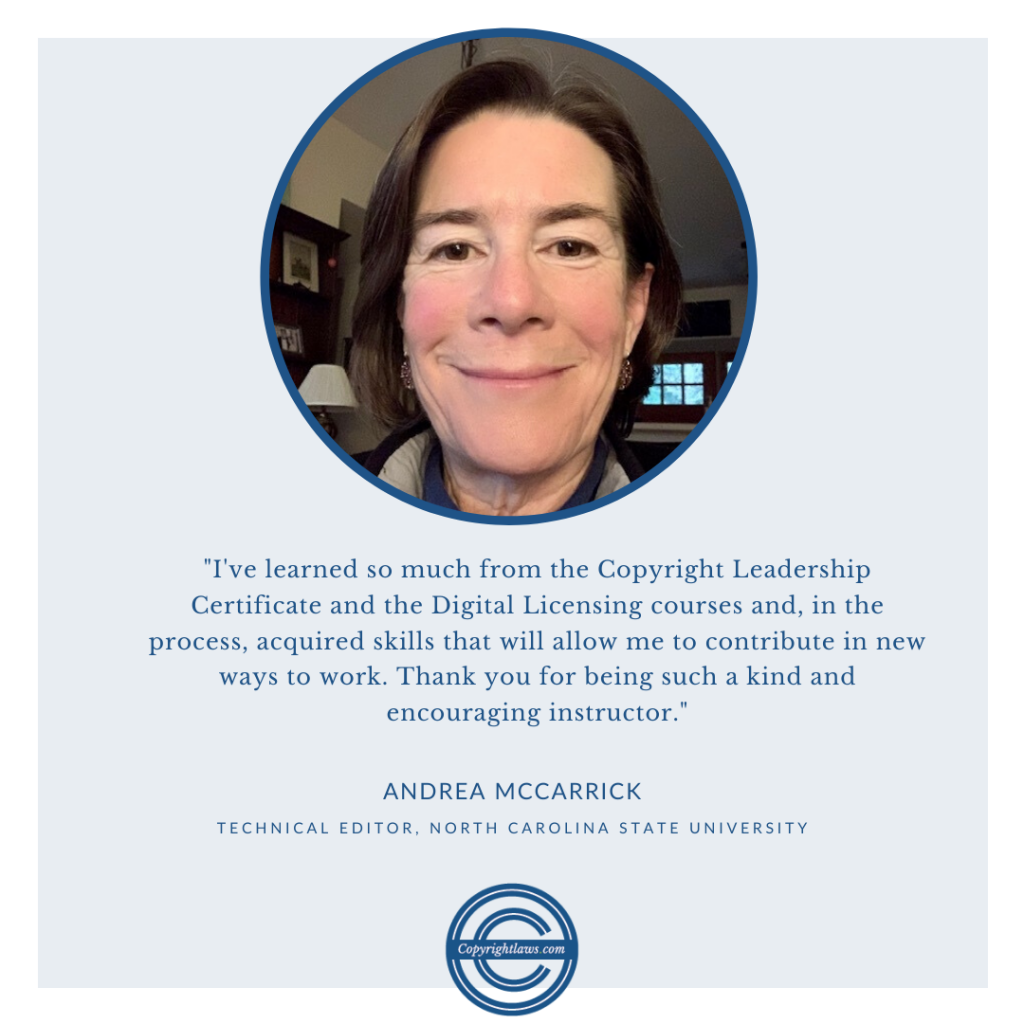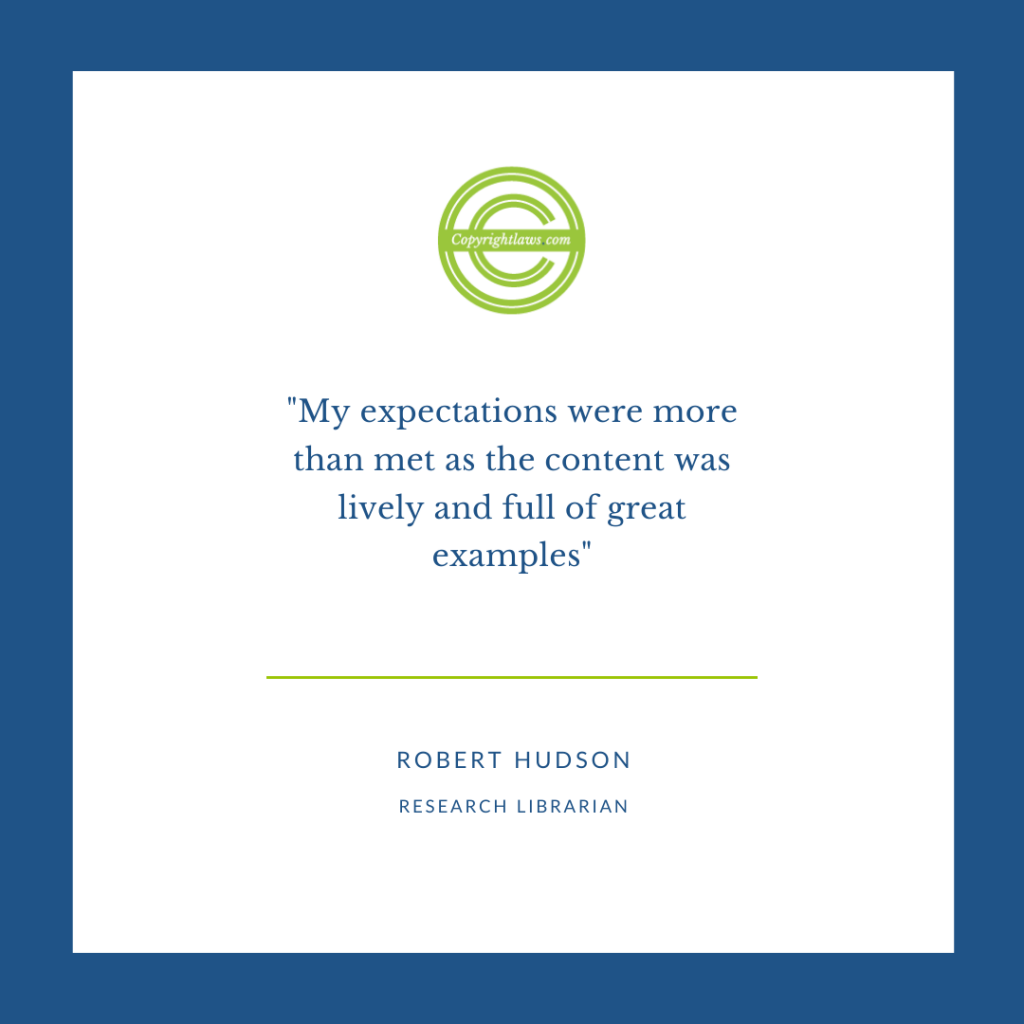 See our copyright course calendar.