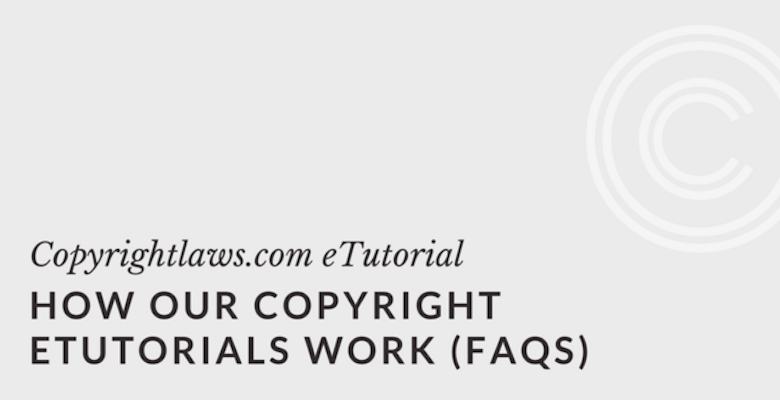 Are you wondering how our online eTutorials work? Our FAQs about Copyright and Licensing eTutorials describe our approach to effective, stress-free learning.
FAQs about Copyright and Licensing eTutorials
What is an eTutorial?
An eTutorial is a way of teaching and delivering content to you in small, specific bursts, all via email. You are in control of when you access each e-lesson and how much deeper you want to delve into the subject.
Do I need a password to access the lessons?
No, the e-lessons will be emailed to the email address you provide us. Just sit back and relax and receive the e-lessons in text and PDF format on any device you use to access your email.
Are the courses self-paced?
Yes, you may read the e-lesson, consult the recommended websites and take the self-marking quiz when it is convenient to you.
If I go on vacation or to a conference, how will I be able to keep up on the lessons?
You may access the lessons anywhere that you access your email. If you are away from email access for a few days, the e-lessons will be waiting in your email inbox when you return.
I assume that there isn't be a certain time frame every day when we work on this course — we can do the work on our own schedule. True?
Your assumption is correct. The e-lessons are entirely self-paced so you can complete them at your convenience.
What is the anticipated number of hours for each eTutorial?
The amount of time varies but each e-lesson can take an average of 30 – 60 minutes, so a course that has 16 e-lessons takes approximately 8 – 16 hours to complete. A course that has six e-lessons takes approximately 3 – 6 hours to complete.
Is it possible to obtain answers to specific copyright and licensing questions?
While we cannot provide legal advice, you will find all of our courses very informative and packed with strategic information that you can apply in your day-to-day work. Our eTutorials also provide recommended websites for further consultation. Our certificate programs and assignment courses provide a private online discussion forum during the duration of the course for posting questions and networking with other copyright professionals.
Can I share the course materials with a colleague who is also interested in learning more about copyright law?
We request that you do not share the e-lessons, as they are only intended for paid participants. 
Why take your eTutorials?
Our courses are short, practical, self-paced and inexpensive, and there's no need to travel or physically attend a classroom. You will finish the course with added knowledge about copyright, great reference materials and a certificate of completion.
Should the courses be taken in a particular order?
No, each course is self-contained. Jump in and experience one of our eTutorials by selecting a topic that interests you or by your availability during the year. We offer eTutorials on a variety of topics, including copyright basics and more advanced subjects. We also have one assignment eTutorial, Developing a Copyright Policy or Guidelines. By completing the assignments in this eTutorial, you'll end the course with a draft Copyright Policy or Guidelines.
How may I obtain a syllabus for any of the courses?
See our copyright courses to go to the course page for the courses that interest you, and you'll find the syllabus there. If you can't locate the syllabus you're seeking, email us.
I'd like to enroll in one of the courses, but I don't see it scheduled.
Please contact us and let us know which course, as there may be others interested in the same one.  Also, if you have a group of five or more people, we can schedule a class for your group.
Testimonials
Don't take our word for it. Lesley has been teaching through eTutorials since 2002. This is what our participants say:
Thank you for offering this course. I feel more "in the know" about copyright!
— Paula Hardy, Interior Health Libraries, Kamloops, BC

The e-lessons in the course, Managing Copyright Issues, were very clear and easy to understand, despite the complexity of the issues. I would definitely recommend this course to others.
— Jody Gripp, Tacoma Public Library, Washington State

Thank you very much [for instructing Developing A Copyright Policy.] This course has forced us to put down on paper what we need to move copyright forward in our institution.
— Patricia Sutherland, Library Manager, College of the North Atlantic – Qatar

A super course. I appreciated getting your prompt feedback after posting my assignments in the course, Developing A Copyright Policy.
— Lynn Hughes, College of the Rockies Library, British Columbia

I was expecting a lot of reading in this course [Canadian Copyright Law], however, the lessons are compacted with a lot of information and written for the layperson.
— Karen Mah, Head, Information Centre, Agriculture and Agri-Food Canada, Lethbridge, Alberta
 If you have an other questions, please let us know and we'd be happy to answer them.
For a straightforward primer on licensing, see the third edition of Lesley Ellen Harris' book
Licensing Digital Content: A Practical Guide for Librarians.
See our full roster of online courses and certificate programs here.