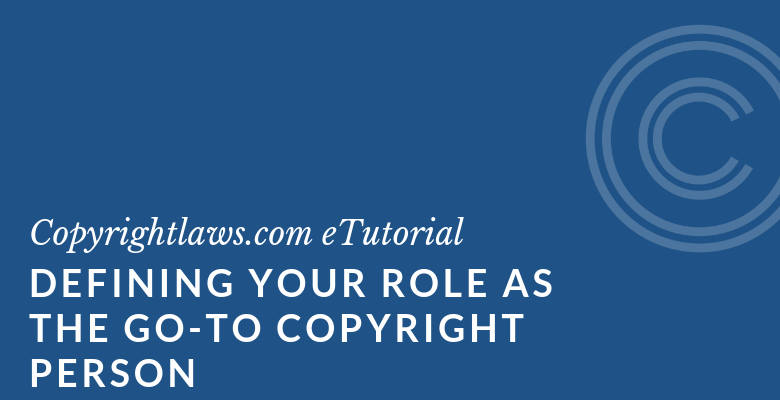 Defining Your Role as the Go-To Copyright Person is an exploratory online course in which you learn about the why, who, what and how of being that designated copyright contact person. You'll receive one lesson each week with short discussion questions to help you explore your role. Please email us if you're interested in registering for this course in 2020.
This eTutorial has 5 e-lessons including a summary of best practices + 24/7 online discussions and short assignments to guide you in exploring your role as the go-to copyright person.
Syllabus for Defining Your Role as the Go-To Copyright Person
E-Lesson 1.0 — What Is the Go-To Copyright Person's Role?
Who Should Be the Go-To Copyright Person?
What Is Your Role vis-à-vis Copyright Issues?
Do I Need a New Job Title?
E-Lesson 2.0 — Getting Established
Your Support Groups
Your Organization's Copyright Issues
Your Target Audience
E-Lesson 3.0 — Your Responsibilities
Responsibilities of a Copyright Professional
Understanding Copyright as Part of Risk Management
The Role of a Copyright Policy or Guidelines
E-Lesson 4.0 — Your Copyright Education
Your Continuing Copyright Education
Copyright Basics
Exceptions to Obtaining Permission
E-Lesson 5.0 — Best Practices for Getting Started
10 Best Practices for Getting Started as the Go-To Copyright Person
Participants do the work on their own time as their schedules permit and we don't meet together at any specific times. Instruction includes readings and assignments in one-week segments. Student participation is in an online forum.
What Does It Take To Be a Copyright Specialist?
We asked copyright specialist Emilie Algenio to share her tips for librarians who deal with copyright issues and who answer copyright questions. Her recommendations include:
1. Prioritize and organize

2. Connect with your people

3. Rehearse your elevator speech

4. Start local, then think global

5. Be patient and compassionate

Copyright Specialist: Getting Started by Emilie Algenio
For a more comprehensive copyright course on leading copyright issues in your library or organization, see the Copyright Leadership Certificate.