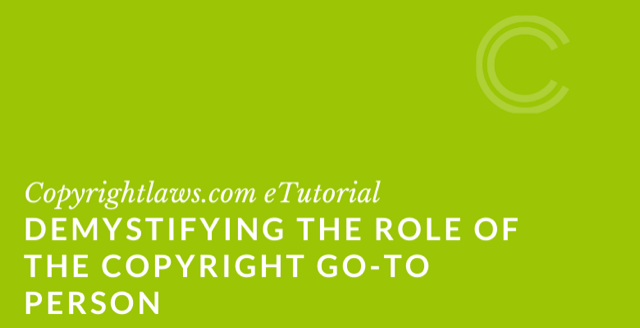 Demystifying the Role of the Go-To Copyright Person is an exploratory online micro course in which you learn about the why, who, what and how of being that designated copyright contact person.
We are in the process of updating this course for 2023. Registration will reopen in December 2022.
Registration fee: $199 US
Defining Your Role as the Go-To Copyright Person exceeded my expectations. The questions raised in each lesson really made me think outside my daily tasks. I am now able to make it clear to my colleagues that all permission questions and requests must be addressed through me. I highly recommend this course to other go-to copyright persons!

— Irina Burns, Senior Managing Editor and Licensing Services Manager, Academy of Management
You'll have access to the course materials for eight weeks in our easy-to-use online learning system. These include short videos and text lessons, a list of best practices for the go-to copyright person, 10 questions to help you explore your own role as the go-to copyright person, further resources to consult and a quiz to test your learning.
The course is self-paced within those eight weeks — you can review the lessons and other materials at your own convenience. The expected time to complete this course is four to six hours.
As always, our personal touch remains a hallmark of our copyright education. We'll continue to work with you to help you schedule learning time in your busy and perhaps disrupted schedule, and provide extensions where necessary. Our goal remains the same: to encourage and assist you in completing this course.
Who Should Take this Course?
This course is designed for those new to the go-to copyright person role as well as those who already occupy it. And if your goal is to become the designated copyright contact person for your organization, this course is for you.
Demystifying the Role of the Go-To Copyright Person isn't country specific. You can apply the teachings no matter where you work, and we welcome students from around the globe.
Testimonials from More Graduates
I really liked the eTutorial format of Defining Your Role as the Go-To Copyright Person. The short assignments were very helpful in defining my role. I'm now able to bring more copyright awareness to my workplace and hopefully decrease reproducing copyright materials without permission.

— Sarah Jones (January 2020)
This was a great course. It provided me with a clear idea of my role as the go-to copyright person in my college.

— YoungKyu Joo, Copyright Advisor, Camosun College (January 2020)
Defining Your Role as the Go-To Copyright Person is a great refresher to ensure I am following best practices in my copyright role. I definitely recommend this course to anyone who is responsible for copyright issues in their organization.

— Kellie Denny, Intellectual Property & Contracts, Biltmore (January 2020)
Part of Our New Demystifying Copyright Series
This course is part of Copyrightlaws.com's new Demystifying Copyright series, a selection of micro courses that provide a succinct overview of key copyright topics. In as little as four to six hours you can review course materials such as text lessons and short videos, consult additional resources, and test your knowledge on subjects such as copyright basics, the public domain, Creative Commons, and more.
What Does It Take To Be a Copyright Specialist?
We asked copyright specialist Emilie Algenio to share her tips for librarians who deal with copyright issues and who answer copyright questions. Her recommendations include:
1. Prioritize and organize

2. Connect with your people

3. Rehearse your elevator speech

4. Start local, then think global

5. Be patient and compassionate

Copyright Specialist: Getting Started by Emilie Algenio
For a more comprehensive copyright course on practical copyright issues in your library or organization, see the Copyright Leadership Certificate.