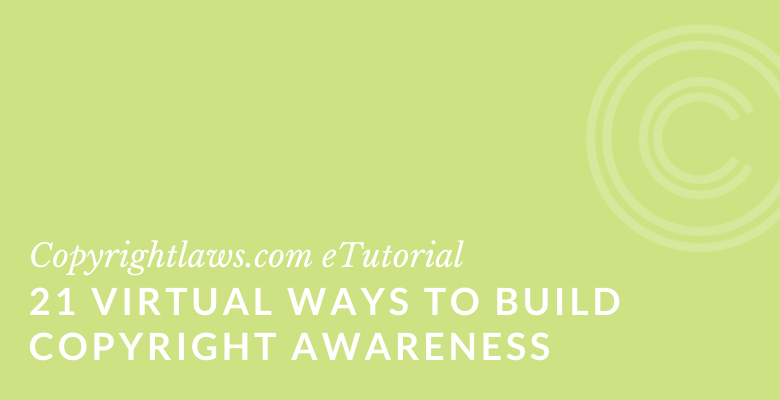 21 Virtual Ways to Build Copyright Awareness in Your Library or Organization is a self-paced eTutorial with:
A wealth of tips on how to transform your workplace copyright compliance culture
Copyright awareness ideas you can immediately implement to lower the risk of copyright infringement in your organization
Register Now to start right away!
Each of the 10 e-lessons provides ...
Up-to-date information on aspects of developing and implementing an effective copyright awareness program, including practical strategies and activities
A self-marking quiz
Resources and examples from the U.S., Canada and the UK
All of Copyrightlaws.com's courses are aimed at empowering nonlawyers to deal with copyright and licensing issues.
You'll gain the most from this course if you have a basic knowledge of copyright law.
Topics Covered
Where and How to Begin
Our 21 Ideas
Persuading Others To Prioritize Copyright Compliance
Who Leads Copyright Awareness?
Identifying Your Copyright Risks
Developing Motivating Copyright Awareness Strategies
What Formats Work for your Audience?
Social Media, Video Meetings and Online Forums: Where Does Copyright Awareness Fit In?
Preparing an Effective Copyright Awareness Strategy
Maintaining Your Copyright Awareness Buzz
You'll receive a Certificate of Completion at the end of this eTutorial.
Testimonial for Virtual Copyright Awareness
An excellent course. I now understand that many organizations and librarians face similar challenges conveying the copyright message. And I now have many new ideas about communicating the idea of what copyright is and why it is important for my employer to be aware of it and to comply with the law.

Brian Jones, Research and Information Management Coordinator
Benefits of Taking this eTutorial
After taking 21 Virtual Ways To Build Copyright Awareness, you'll be:
Equipped to explain what copyright literacy is and why your library or organization needs it
Able to immediately begin activities to make others more aware of relevant copyright issues
Confident in your ability to develop and implement a copyright awareness strategy
Testimonials for Our Courses
Thank you very much [for instructing Developing A Copyright Policy.] This course has forced us to put down on paper what we need to move copyright forward in our institution.
— Patricia Sutherland, Library Manager, College of the North Atlantic, Qatar

The Certificate program and each eTutorial is logical and linear, and the e-lessons are easily (and enjoyably) read and retained. The most value I expect to get is with the overall legality of copyright and how best to develop a personal risk/copyright management plan as it pertains to my photography. For my work, I can see how it has already benefited the School Division as we are reworking our Copyright protocols, policies, and most importantly our Professional Development and communications for our students, educators, and support staff.
— Bradley Hampson, MBA, Assistant Superintendent, Technology, Frontier School Division, Winnipeg
Who Should Enroll in 21 Virtual Ways To Build Copyright Awareness?
Copyright managers, librarians in all sorts of institutions, human resources professionals, risk management professionals, marketers, publishers and more
Those in businesses and organizations concerned about copyright compliance and lowering copyright risks
Anyone around the world seeking to educate others about copyright law (note that this eTutorial isn't country specific)
Looking for a more in-depth review of copyright law and applying copyright to your everyday copyright and licensing issues without the assistance of a lawyer? Consider our Copyright Leadership Certificate program, designed to empower nonlawyers to manage copyright issues.