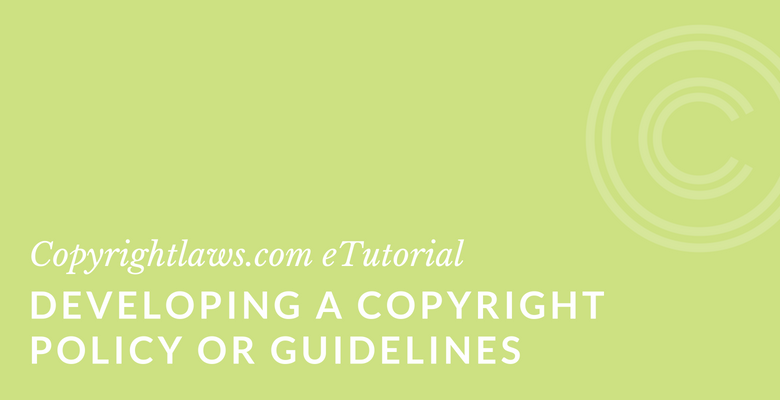 Developing a Copyright Policy or Guidelines is a unique hands-on eight-lesson eTutorial where you complete a draft Copyright Policy or Guidelines. This is the course for you if:
You've been meaning to write a copyright policy or guidelines but never seem to have the time
You're unsure how to start your copyright compliance document
You need encouragement and feedback to complete your copyright policy or guidelines draft
By reviewing each lesson in Developing a Copyright Policy or Guidelines and completing your assignments with feedback from moderator Lesley Ellen Harris and fellow students, you'll complete this course with a draft copyright policy, guidelines or best practices. Limited spots are available in this hands-on course.
16 September to 11 October 2019
All of Copyrightlaws.com's courses are aimed at empowering non lawyers to deal with copyright and licensing issues. See our FAQs on how eTutorials work.
Thanks so much for everything. I always love your classes and guidance. I wanted to have a draft policy document by the end of the class and that's exactly what I got. My participation (and the draft document) will allow me to get a copyright policy in place in 2019. Developing a Copyright Policy or Guidelines is definitely worth the price — it is a bargain when you consider that you end up with a draft document and instructor review of it in addition to the course work. I absolutely recommend this course!
— Tracy Herson, Senior Manager, Corporate Information at Reata Pharmaceuticals (November 2018)
Facts About This Course
Developing a Copyright Policy or Guidelines is a hands-on course in which you develop and write a draft copyright compliance policy, guidelines or best practices
Some knowledge of copyright law is required
This course isn't country specific — each lesson contains resources and sample documents from the U.S., Canada, the UK and global content
You'll receive one lesson each week with short assignment
Completing all of the assignments will result in a draft copyright policy or guidelines document. Participants do the work on their own time as their schedules permit. We do not meet together at any specific times. Instruction includes readings and assignments. Student participation is in an online forum.
Syllabus for Developing a Copyright Policy or Guidelines
Why Your Enterprise Needs a Copyright Compliance Document
Simplifying Copyright in a Policy or Guidelines
How To Select Key Copyright Policy Team Members
Tips for Sensitizing and Educating Others
Obtaining Copyright Permissions: The Big Picture
Obtaining Copyright Permissions: The Specifics
Addressing Your Specific Copyright Situations
Writing Your Outline and Draft
You'll receive a Certificate of Completion at the end of the eTutorial.
Benefits of Taking Developing a Copyright Policy or Guidelines
After taking Developing a Copyright Policy or Guidelines you'll be able to:
Identify the role of a copyright policy or guidelines in your organization
Understand the components that will make copyright compliance in your organization a reality
Complete a draft copyright policy or guidelines specific to your organization's needs
See all our online copyright courses.
More Testimonials for This Course
This course forced me to do more "on my own" thinking, which is more powerful than hand-holding. I wanted a final guideline at the end of this course and ended up with a draft guideline, a bucketful of company-specific questions to answer, and an intention to pull together a copyright team. That's an excellent outcome. Thanks to this course, we'll likely propose new approaches to copyright/licensing/permissions processes.
— Developing a Copyright Policy or Guidelines Participant (November 2017)

This course has been tremendously helpful in showing me crucial components for a copyright policy. It has helped me organize what's needed in a copyright document, who needs to be involved from our staff, and has provided me with great examples of policy documents. Thank you!
— Erin Beasley, Digital Image Rights and Reproduction Specialist, National Portrait Gallery, Smithsonian Institute (October 2017)

A super course. I appreciated getting your prompt feedback after posting my assignments.
— Lynn Hughes, Library Technician, Copyright, College of the Rockies Library, British Columbia, Canada

Thank you very much [for instructing Developing A Copyright Policy.] This course has forced us to put down on paper what we need to move copyright forward in our institution.
— Patricia Sutherland, Library Manager, College of the North Atlantic, Qatar
Who Should Enroll in This Course?
Developing a Copyright Policy or Guidelines is ideal for anyone who needs to have consistent rules for applying copyright law in their organization.
Is This Course Based on U.S. Copyright Law?
No, this course is about having the right tool for managing copyright and copyright compliance — a written copyright policy or guidelines — and isn't based on any one country's copyright laws. Many examples of copyright compliance are included in the lessons with an emphasis on U.S., Canadian and UK resources.
Is This Course Aimed at Librarians?
Although many librarians participate in this course, the course is ideal for any individual or organization. Every for- or nonprofit institution or organization would benefit from a written Copyright Policy or Guidelines.
Why Does Every Organization Need a Copyright Policy?
Having a copyright policy is an important part of copyright management, and can help your organization minimize its copyright risks. However, often the reasons for implementing a new copyright compliance document are more situational. For example:
A recent lawsuit in your industry has management and employees concerned about legal uses of copyright materials
Your use of images and third-party content has increased and you want to keep your copyright risks to a minimum
Senior management is requesting a more consistent approach to how you comply with copyright law, interpret fair use, and legally use global content
If you have any questions about this course, let us know and we'll be happy to answer them.
If you're looking for more in-depth knowledge of applying copyright to your every day situations, consider our Copyright Leadership Certificate program, designed to empower nonlawyers to manage copyright issues.