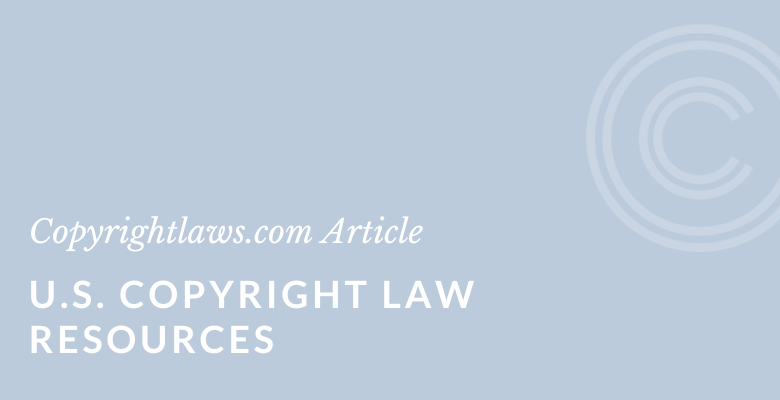 A Simple Guide to U.S. Copyright Law
U.S. copyright resources are available all over the internet and it can be intimidating trying to weed through all of the choices. Below we provide a great starting place to increase your U.S. copyright knowledge. You will find these resources helpful whether you're researching the duration of copyright and when works enter the public domain, if fair use applies to your particular situation, or how to legally share and republish online content.
We recommend you begin by reading our Simple Guide to U.S. Copyright Law and downloading our free U.S. copyright law primer with five essential facts and tips. The simple guide covers:
The legal background of copyright law
When the U.S. Copyright Act was first enacted
The role of the U.S. Copyright Office
General copyright principles on ownership, rights and limitations, duration, copyright protection criteria (e.g.,originality, minimal creativity, fixation, publication and registration), and using the copyright symbol
You may also enjoy our article Clarifying Misinformation About U.S. Copyright Law
The U.S. Copyright Office also has excellent resources for primary research.
Specific Issues in our U.S. Copyright Resources
Take a look at our other guides and articles that deal with a myriad of U.S. copyright issues. Also search Copyrightlaws.com for articles on various copyright issues.
A Simple Guide to Fair Use: How to Apply Fair Use to Your Copyright Scenarios
Copyright Law in U.S. Government Works
How to Protect Photos You Post Online
Who Owns Copyright in Works by Volunteers?
Sharing and Republishing Online Content: 6 Tips for Copyright Compliance
Moral Rights in U.S. Copyright Law
International Copyright Law, Licensing and Managing Copyright Issues
To understand and apply copyright law in your U.S.-based organization or when using U.S. copyright materials outside of the U.S., you'll need a general understanding of international copyright law, licensing electronic content and generally how to manage copyright risks and make sound copyright decisions.
Search through our many plain English copyright and licensing resources and consider enrolling yourself or a group of colleagues in one of our individual copyright courses or certificate programs. All of our courses are relevant to U.S. individuals and organizations and those using U.S. content from outside the U.S.
We share U.S. news and U.S. copyright resources in our weekly copyright newsletter. Subscribe below.