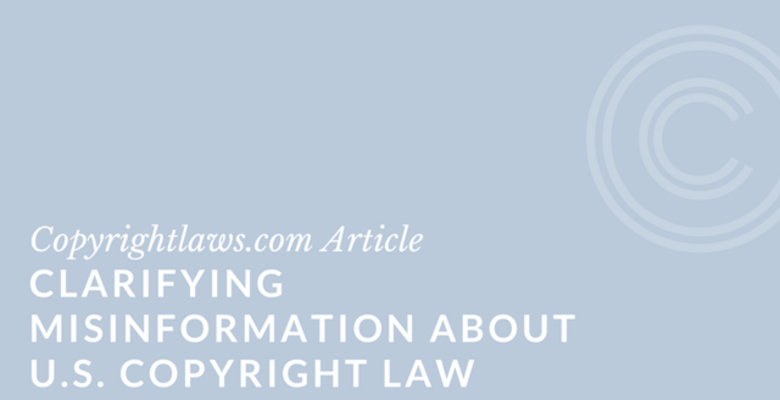 Misinformation about U.S. copyright law is unfortunately common, despite the abundance of resources available on this subject. Three commonly misunderstood U.S. copyright principles that often require clarification are:
The notion of automatic protection
The use of the copyright symbol, ©
Copyright registration with the U.S. Copyright Office
The discussion below assists in clarifying misinformation about U.S. copyright law. Need more in-depth knowledge on U.S. copyright law? See the Copyright Leadership Certificate program.
What's the Reason these U.S. Copyright Concepts Are Commonly Misunderstood?
In 1989, U.S. copyright law changed regarding automatic protection, copyright registration and use of the copyright symbol. This is largely the reason these three concepts remain misunderstood even today. These changes were implemented in order for the U.S. to join the leading copyright treaty, the Berne Convention, on 1 March 1989.
The U.S. is now one of the 181 countries that adhere to the Berne Convention. All Berne members must provide the Convention's minimum copyright provisions in their own copyright acts.
Read below to understand more about these three areas of misinformation about U.S. copyright law and see our practical tips relating to them.
1. Automatic Protection Under U.S. Copyright Law
Copyright protection is automatic in the U.S. Once you create an original work and write it on paper, musically notate it, or save it on your computer or a data stick, the work has immediate and automatic copyright protection. As of 1989, you don't need to register the work or deposit a copy of it with the U.S. Copyright Office, or even use the copyright symbol to have automatic copyright protection.
Once a work is automatically protected in the U.S., it's protected in all countries that are members of the Berne Convention. Click to see further information about the Berne Convention and international copyright law.
Tip: If you're reproducing, sharing or republishing images, text and other copyright works, start with the assumption that they're protected by copyright. Do your copyright research homework. If the work is in the public domain, you can freely use it (e.g., U.S. government works, or older works in which the copyright duration has expired). Also, check for any licenses. Is there a Creative Commons license on the work and do the terms and conditions of the license meet your needs? Does your enterprise already have permission to use the work? The terms and conditions of an existing license may allow your current use without obtaining further permission from the copyright owner.
2. Copyright Symbol and Notice in U.S. Copyright Law
You're no longer required to use the well-known copyright symbol, ©, or include a copyright notice on your work. However, doing so is recommended. Why?
It reminds people that copyright exists in your work and may deter some unauthorized uses of it.
Your copyright notice may also include your contact information to make it easier for people to reach you to ask permission to use your work.
See more information about the international copyright symbol and how to properly use it.
Tip: It's easy enough to place a copyright symbol on your images or articles, so if you're a copyright owner, consider the advantages of doing so. If you're using someone else's video, document, image or other work, keep in mind that it may be protected by copyright even if there's no copyright symbol placed on it. Always do your research to determine if you require permission to reproduce, share or republish it.
3. Copyright Registration Under U.S. Copyright Law
U.S. copyright law no longer requires registration or deposit of your work. However, doing these things provides certain benefits if you ever have to enforce your rights.
Registration is necessary if you're a U.S. citizen or legal resident with a work first published in the U.S. and you want to initiate a copyright infringement lawsuit.
If you register within three months of creating the work, you'll have a legal presumption that your copyright is valid. And if you're successful in a copyright infringement lawsuit, you may receive special statutory damages without having to prove any fiscal harm, as well as attorney fees.
Once your work is registered, those who want to use it will be able to find information about it in the records of the U.S. Copyright Office, facilitating the process of contacting you for permission to use your work.
U.S. Copyright Office Registration Portal
The U.S. has a robust copyright registration system. If you visit the U.S. Copyright Office registration page you'll see it's divided into the following sections:
Literary works, which include fiction, non-fiction, poetry, articles and periodicals
Performing arts, including music, lyrics, sound recordings, scripts and stage plays
Visual arts such as artwork, illustrations, jewelry, fabric and architecture
Digital content such as computer programs, databases, blogs and websites
Movies, TV shows, video games, animation and videos
Photographs, including selfies, family photos, news photos and wedding photos
Once you click on the category of work, the system takes you to a page with specific information about that work, what it covers and even its statutory definition. In this registration portal, you'll be able to determine if your creation is one that can be registered under this category. You'll also find informational videos, tips, FAQs, slide presentations and more.
The USCO does a comprehensive job of providing information in its complex registration system. You'll find its website easy to navigate. The site even includes processing times for registration applications.
Tip: The USCO has a robust public catalog that you can search online. You can search by the title or name of a work or even by keyword. But keep in mind that in a voluntary registration system not all works will be registered. If you cannot locate the work you wish to use in the USCO's registration system, you must locate the copyright owner by other means.
Our U.S. Copyright Law eTutorial is one of the five courses in Copyright Leadership Certificate program.