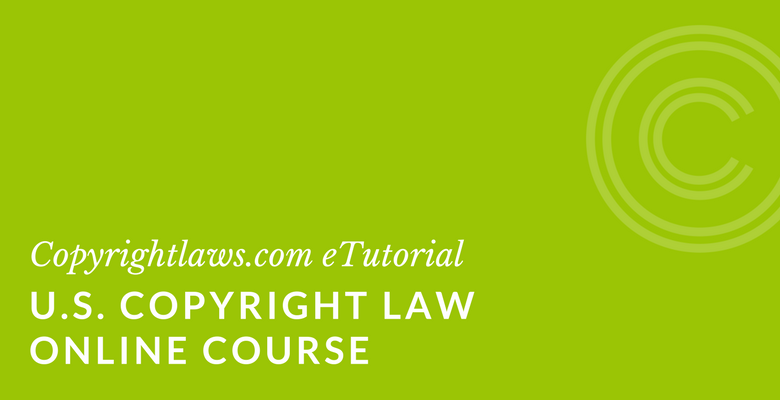 U.S. Copyright Law eTutorial is a 10 e-lesson eTutorial primer/refresher that demystifies U.S. copyright law.
Each e-lesson provides up-to-date information on the topic listed, sets out fundamentals for that topic, has a self-marking quiz, and provides URLs for further reading.
Register for 19 March 2018 to 3 April 2018 or use the form at the bottom of this post. Course registration fee: $187.
Syllabus for United States Copyright Law Online Course
E-Lesson 1.0 — Copyright and Intellectual Property
E-Lesson 2.0 — International Copyright in the U.S. Context
E-Lesson 3.0 — Works Protected by Copyright
E-Lesson 4.0 — Registration and Copyright Notices
E-Lesson 5.0 — Ownership and Duration of Rights
E-Lesson 6.0 — Protected Rights and Their Exploitation
E-Lesson 7.0 — Limitations on Rights
E-Lesson 8.0 — Copyright Infringement
E-Lesson 9.0 — Legally Using Copyright-Protected Materials
E-Lesson 10.0 — Final Quiz: Review of United States Copyright Law
You will receive a Certificate of Completion at the end of this eTutorial.
After taking our U.S. Copyright Law eTutorial you will be able to:
Explain how U.S. copyright law works and how to obtain copyright protection in the U.S.
Identify what is protected by U.S. copyright law and when you need permission to use copyright materials
Understand key U.S. copyright law principles and the international copyright law from the U.S. perspective
Click for Testimonials about our courses
Who should enroll in this course?
Anyone who wants a basic understanding of U.S. copyright law in plain English
Americans who want a primer or refresher on U.S. copyright law
Non-Americans who seek an overview of U.S. copyright law
Email Copyrightlaws.com with questions about the course
See all of Copyrightlaws.com's courses
If you're looking for more comprehensive copyright training, look at the Copyright Leadership Certificate. **Ask us about how this U.S. Copyright Law eTutorial counts as credit towards your Copyright Leadership Certificate.