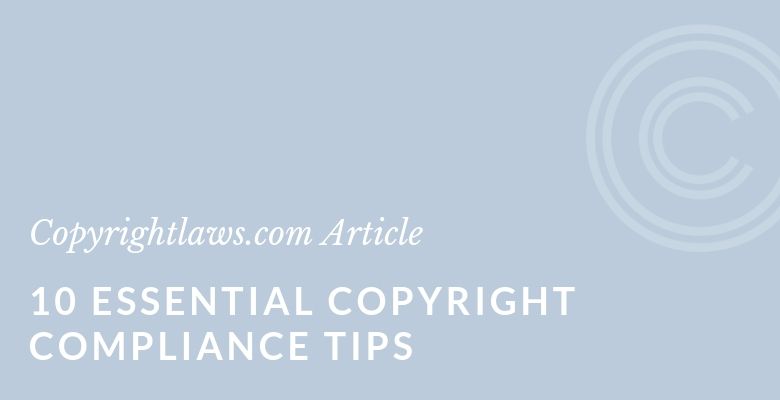 Copyright compliance is a key task of information professionals and librarians. Copyrightlaws.com's CEO Lesley Ellen Harris shares a presentation with 10 essential copyright compliance tips every information professional must know.
This guide is just the tip of the iceberg. You'll see a summary of the tips below. Then take a look at the slides for greater explanation of how these simple points can keep your copyright infringement risks to a minimum. And look below for Lesley's bonus tip!
Summary: 10 Essential Copyright Compliance Tips
It's all about risk management
U.S. copyright law doesn't protect ideas
Copyright protection is automatic
Registration with the U.S. Copyright Office is voluntary
There is no orphan works provision in the U.S.
U.S. government works aren't protected by copyright
Public domain = no copyright protection
Licenses expire
Fair use may apply to corporate libraries
Images found through Google Images may be protected by copyright
Slideshow: 10 Essential Copyright Compliance Tips
You can see the actual slides with an explanation of each of these tips here:
What Does Copyright Risk Management Mean?
Risk management can mean different things. In terms of copyright risk management, it means keeping your risks of using unauthorized third-party content to a minimum. To do this, you'll need to:
Understand copyright principles and when a specific provision in the copyright act applies to your library or organization
Be knowledgable of your workplace's risk tolerance policies
Practice analyzing copyright risks
Always keep in mind that if you're concerned about copyright risks, you can:
Use an alternative work
Create your own work
Use a work in the public domain
Link to a work rather than reproduce it
What Does It Mean to License Content?
Make sure your community understands that licenses are licenses. That means you don't own the content but are allowed to use it under specified circumstances, as agreed to in the terms and conditions of each specific license. This includes:
Licenses with vendors and database publishers
Creative Commons licenses
Stock photo image licenses
Bonus Copyright Compliance Tip
A simple tip: Be Proactive!
Don't wait until a copyright owner says you've infringed their work or used their copyright-protected article, image or video without their permission. This means:
Understand copyright and how it applies in your workplace.
Understand licenses and be familiar with the terms and conditions of licenses for works you're using.
Be familiar with your organization's tolerance for any risks, especially copyright risks.
Have a written copyright policy or guidelines in place so there's a clear copyright message and statement in your workplace. This is a document you can refer colleagues to when they question you about copyright and licensing issues.
Make others around you aware of copyright issues and how licenses work, especially in relation to the types of content and ways you use it in your workplace.
The Copyright Leadership Certificate is a hands-on program that will help guide you in legally using third-party content and keeping copyright compliant. The next cohort begins 17 April 2023. Register here.