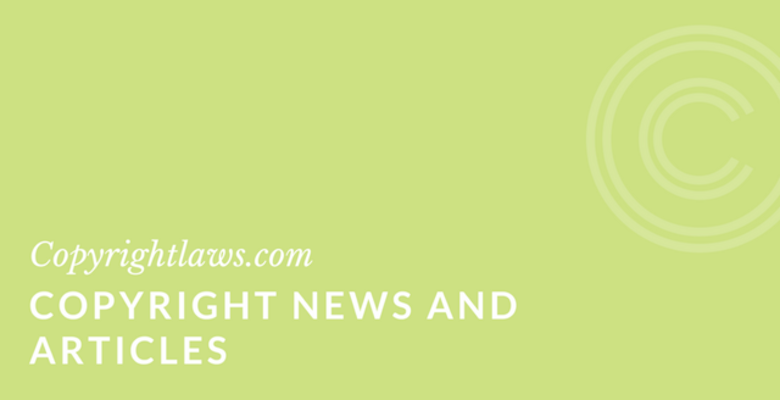 Copyrightlaws.com publishes a list of popular and interesting copyright news and articles from the U.S., Canada and around the world. Scroll down to see the latest items.
Bookmark This Post for Copyright News and Articles
Bookmark this post and check back here every second Monday for the latest update of copyright news and stories or better yet, subscribe for free to our copyright email list and enjoy a copyright email from us each Monday in your email inbox.
2021 Copyright Course Schedule Now Available
Click to see our Course Calendar and registration information.
Copyright news and articles, posted 11 June 2021
Breyer's Flawed Fourth Fair Use Factor in Google v. Oracle
Appeal Against Canada's First Successful Pirate Site-Blocking Order Is Dismissed: Good News for Copyright Protection in Canada
Authors to Earn Royalties on Secondhand Books for First Time
New York's New Post-Mortem Right of Publicity Law Comes Into Effect, Part 1 (Guest Blog Post)
Germany Attempts to Square the Circle in Its Implementation of Article 17 CDSMD – Part 1
Bloomsbury Sees Record Profits as Lockdown Book Sales Surge
Tragedy Revealed in Copyright and Image Rights Puzzle
The Register: The Historical and Unique Title for American Copyright Leadership
The Rolling Stones and Tom Jones Call for Streaming Reforms
The Beginning of the End of Online Piracy in Canada?
Adapting Opera in the Age of COVID: From "Grand Rights" to "Synchronization Licenses"
Using Copyrighted Broadcast Content Without Authorization to Produce Political Attack Ads: "All's Fair" Rules the Federal Court in Canada
Orphan Works and UK GLAMs: The Case for a Risk Managed Approach
Tips for Developing a Copyright Policy
Copyright news and articles, posted 16 May 2021
There Are Multiple Types of "Clickwrap." They Should All Be Enforceable–Calderon v. Sixt
The Covid Impact of Copyright on Education
At the Intersection of NFTs and Creative Commons Licenses
Open Practices, Copyright Literacy and Online Teaching
Will Posting Memes or Pro Wedding Pics Land You in Copyright Small Claims Court?
The Register: The Historical and Unique Title for American Copyright Leadership
Notice & Takedown (YouTube video)
Tintin Heirs Lose Legal Battle Over Artist's Edward Hopper Mashups
PRS and Qatar Airways Global Music Copyright Infringement Case Takes Off
5 Unusual Ways Works Can Enter the Public Domain
Copyright news and articles, posted 3 May 2021
Managing Risks and Disputes in the Fashion Industry
Copyright Registration: Bombay High Court Shows the Right Way
The DSM Copyright Directive: Article 15: What? – Part II
Legally Using Images in Libraries
The Art of Clearing a Sample: Deciding if It's Worth It and How to Actually Do It
Does Andy Warhol Get Same Copyright Treatment as Google Code?
Copyright Waffle - Episode 17 Caroline Ball (audio)
Foreign Works, US Rights: The 7th Circle of Copyright Hell?
Copyright news and articles, posted 19 April 2021
CBC vs Conservative Party: Fair Dealing Contested
Houdini and the Magic of Copyright
'Breakfast at Tiffany's' Remake Fuels $20M Copyright Claim
Warhol's "Prince Series" Isn't Fair Use, But What Is?
The Wild and Complicated Story of the Rights to King Kong
Google v Oracle: A Canadian Viewpoint
In Brief: Copyright Infringement and Remedies in USA
State Sovereign Immunity and Copyright with Rick Allen & Kevin Madigan
UK IPO Publishes the 10th Edition of the "Online Copyright Infringement Tracker"
Three Surprises in the Supreme Court's Google v. Oracle Decision
Copyright Case: Georgia v. Public.Resource.Org Inc., USA
Linking after VG Bild-Kunst ... In a Table
The Register: The Historical and Unique Title for American Copyright Leadership
The Government of Canada Launches Consultation on a Modern Copyright Framework for Online Intermediaries
The Louvre's Entire Collection Goes Online: View and Download 480,00 Works of Art
Caillou: Did the Little Boy's Bad Temper Spill Over to the Copyright Squabble between his two "Mothers"?
Copyright news and articles, posted 5 April 2021
6 Best Practices for Legally Using Google Images
Instagram and Copyright — What Are the Terms of Use?
Copyright Permissions Sample Letter
Legally Using Images in Presentation Slides
The International Copyright Symbol
U.S. vs Canadian Copyright Law: Which Has Stronger Copyright Protection?
Copyright Protection in Recipes
How To Protect Photos You Post Online
Copyright in U.S. Government Works
Copyright news and articles, posted 21 March 2021
CJEU Rules That Linking Can Be Restricted by Contract, Though Only by Using Effective Technological Measures
New York Supreme Court Permanently Bans Gallery From Showing 'Distorted' Image of Artist's Work
Jeff Koons Loses (Again) in France: His Fait D'Hiver Found to Infringe Copyright in Franck Davidovici's Own Fait D'Hiver
Canada's Copyright Term Extension Consultation: Why all the Tinkering Around the Edges?
Print-on-Demand Website Not Liable for Direct Copyright Infringement Due to Lack of Volitional Conduct
TEACHing from a Distance and Copyright Considerations
December 2020 Copyright Roundup
It's Game Over for Tokyo's' Infamous Knock-Off Mario Kart Experience
Hergé's Heirs Sue Artist Over His Tintin/Edward Hopper Mashups
Cancellation, Culture, and Copyright
Jaguar Goes After Replica Car Manufacturer for Copyright Infringement
Will Article 19.17 of the USMCA/CUSMA Influence Canadian Court Proceedings? (The Long—or Short?—Arm of Section 230)
Implied Copyright Licenses in the Digital World: Blogs, RSS Feeds, and Aggregators
Copyright news and articles, posted 7 February 2021
Copyright Small Claims and the Copyright Claims Board
The Marrakesh Treaty in Action: Exciting Progress in Access to Published Works for the Blind and Print-Disabled Communities
Why Is Facebook's Decision to Restrict News in Australia So Significant?
TDM Exceptions and Trust in AI
Time to Pay the Copyright Piper? A Digital Media Platform Copyright Reckoning for Journalists is Upon Us!
Taylor Swift's Rights Management Company Countersues Evermore Theme Park
Copyright Office Issues Final Rule to Create New Group Registration Option for Works on an Album of Music
ABBA's Björn Ulvaeus Puts Artists' Interests Center Stage
Who Owns a Photograph in the Social Media Age?
Court Rejects Matador's Bid to Copyright His 'Perfect Kill'
Jeff Koons, Centre Pompidou Lose Appeal on French Fashion Ad Plagiarism Suit
Women's Suffrage and Copyright; Any Connection? [pdf]
Australia: Federal Court Analyses Online Contracts: Dialogue Consulting v Instagram
Does What Happens in Vegas Actually Stay in Vegas?: Copyright Ownership and Employment
Copyright news and articles, posted 21 February 2021
Is It a Sculpture or a Monument? Copyright Litigation Reaches Russian Supreme Court
Duration of Copyright in Canada
Judge Can't Figure Out Who Owns Rights to "Jack Ryan" Character
Licensing of Out-Of-Commerce Works: An IFRRO Guide [pdf]
CLA Announces Further Help for Schools and Colleges During Current Closures
The Path to Protection - Good Trademark Strategies Start At the Beginning
How the College Art Association Bumbled Fair Use for their Conference Presenters
Almost Anyone Can Use NASA's Name and Logos, Just Don't Call it a Collaboration
Force Majeure and the Entertainment Industry During COVID-19
Copyright news and articles, posted 8 February 2021
How Music Copyright Lawsuits Are Scaring Away New Hits
What Copyright Protections Do Choreographers Have Over Their Work?
The 'Goldfish Phone Booth' Copyright Case in Japan
The Enduring Copyright Legacy of Justice Ruth Bader Ginsburg
Neil Young Sells 50% of Entire Song Catalogue Rights to Hipgnosis
UC Issues Revised Copyright Ownership Policy
Intellectual Property and Mobile Applications
The Regional Comprehensive Economic Partnership (RCEP) and Copyright
'Call of Duty' Publishers Sued Again for Copyright Infringement
ABBA's Björn Ulvaeus Puts Artists' Interests Center Stage
Copyright news and articles, posted 6 December 2020
A Simple Guide to Licensing Electronic Resources: How to Address Your Licensing Issues with Confidence
Six Copyright Concepts Your K-12 Students Should Know
Copyright in a Technical Drawing Protects the Drawing, not the Technique
TPM Circumvention and Website Blocking Orders: An EU Perspective
Does China Have a Copycat Culture? The Case of "Architectural Mimicry"
The Developer Who Painted Over the 5Pointz Graffiti Mecca Must Pay an Additional $2 Million to Cover the Artists' Legal Fees
COVID-19 Prompts Calls for Library-Friendly Copyright Laws
A Simple Guide to Licensing Electronic Resources: How to Address Your Licensing Issues with Confidence
A Simple Guide to Fair Use: How to Apply Fair Use to Your Copyright Scenarios
A Simple Guide to Copyright for Librarians
An In-Depth Guide to Copyright Literacy
Also see our list of articles relating to COVID-19 here.
Please be aware that we don't cover all the copyright news, we don't necessarily agree with the perspective of the authors of the articles we share,
and we don't vet them for legal accuracy.