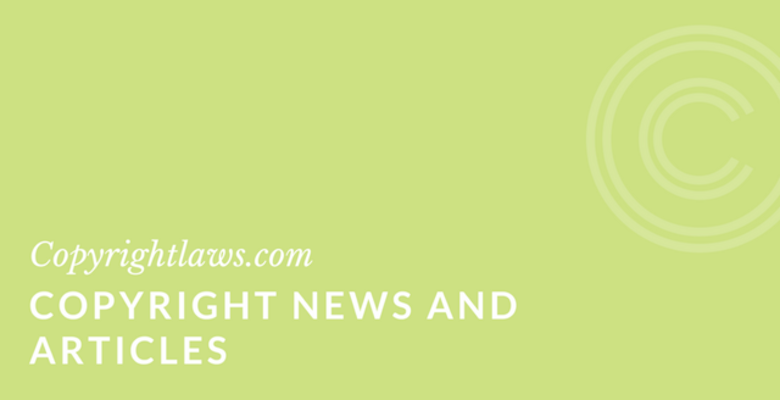 Every two weeks Copyrightlaws.com publishes a list of popular and interesting copyright news and articles from the U.S., Canada and around the world. Scroll down to see the latest items.
Bookmark This Post for Copyright News and Articles
Bookmark this post and check back here every second Monday for the latest update of copyright news and stories or better yet, subscribe for free to our copyright email list and enjoy a copyright email from us each Monday in your email inbox.
2020-2021 Copyright Course Schedule Now Available
We are excited to have set our schedule for the next teaching year! Please take a look at our individual fall courses on Obtaining Permission, Developing A Copyright Policy or Guidelines and 21 Virtual Ways to Build Copyright Literacy.
And please consider one of our certificate programs in 2021. Registration is now open in these programs and there are limited spots available:
Certificate in Licensing Digital Content. Join us from 14 January to 4 March 2021.
Copyright Leadership Certificate. Join us from 15 February to 7 May 2021.
Certificate in Canadian Copyright Law. Join us from 15 February to 7 May 2021.
Click to see our Course Calendar and registration information.
Copyright News and articles, posted 17 August 2020
Hello Kitty Hired to Spread Awareness of New Japanese Copyright Laws
Keep Moving Forward: Performance of the Copyright Office during COVID-19
Copyright Guidance for Using Films in Online Teaching During the COVID-19 Pandemic
'Love is in the Air' Case: A Missed Opportunity to Enforce Moral Rights in Australia
WIPO and Music Rights Awareness Foundation to Collaborate in Favor of Creators
University of Kent's Copyright Literacy Strategy: An Interview with Chris Morrison
Volvo Says All Public Instagram Photos are Fair Game in New Court Filing
Copyright News and articles, posted 3 August 2020
Recent Appellate Decisions Clarify the "NonCommercial" Requirement of the Creative Commons ShareAlike License
From Educators to Illustrators: Meet the Users of CC Search
TikTok Signs Copyright Licensing Agreements with Music Publishers
When Does Music Enter the Public Domain in the United States?
Are you familiar with our copyright and licensing guides that set out specific topics in plain English? Take a look ...
A Simple Guide to Licensing Electronic Resources: How to Address Your Licensing Issues with Confidence
A Simple Guide to Fair Use: How to Apply Fair Use to Your Copyright Scenarios
A Simple Guide to Copyright for Librarians
An In-Depth Guide to Copyright Literacy
We updated our list of articles relating to COVID-19 and copyright on 3 August 2020. You can view this list here.
Copyright news and articles, posted 20 July 2020
Court Reconsiders Mashable's Win in Embedding Suit
A Deeper Dive into the Copyright Office's Section 512 Report
Abraham Lincoln's Gift to Copyright for Photographers
Copyright Law of the United States (New Edition)
Short Explainers on Creative Commons and Open Educational Resources
From Russia, With Piracy: Russian Website Operator Must Defend U.S. Lawsuit
Copyright news and articles, posted 19 June 2020
Art Historian Sues Wildenstein Plattner Institute for Holding Modigliani Research 'Hostage'
Why is Piracy so Common in China? Confucian Cultural Traditions or Just Plain Commercial Advantage? (A Historical Perspective)
Mike Furlough Explains the HathiTrust Emergency Temporary Access Service
Internet Archive "National Emergency Library" Update
Will the Pandemic Force Universities to Address the Challenges of Copyright?
Sharing Openly Licensed Content on Social Media: A Conversation with GLAM
"That's Me! But it Couldn't Be Me!": The Problems of Claiming Libel in Works of Fiction
Copyright News and articles, posted 8 June 2020
The Geek in Review Ep. 77 – The Georgia Copyright Trilogy… The Final Chapter
Reviving the Goat: Copyrighting Creative Plating
Computer Games and Cheat Software
Lawsuit over online book lending could bankrupt Internet Archive
State Sovereign Immunity Study
Room Full of Spoons: The Contributions of Wiseau Studio v Harper to Canadian Entertainment Law
Revisiting Teranet v Keatley Surveying: An Analysis of Crown Copyright and its Implications for Canadians
Internet Archive's Public Interest Defense May Fall Short
Ensuring Respect for Indigenous Cultures: A Moral Rights Approach
"The Art is the Wall": Picasso, Nesjar, and the Moral Rights of the Artists in Oslo's Y-Block
Copyright News and articles, posted 23 May 2020
SOCAN'S New Encore! Program Will Pay Music Creators For Live Online Concerts
Copyright Bots and Classical Musicians are Fighting Online. The Bots are Winning
UC Berkeley Library Makes It Easier to Digitize Collections Responsibly with Novel Workflows and Bold Policy
Milan Court Rules Against Antonio Marras Over Unauthorized Use of Howling Wolf Photograph
Law School Admission Council Demands Removal of Free LSAT Online Tutoring Videos
U.S. Copyright Office Releases Report on Section 512
Copyright News and articles, posted 10 May 2020
Legally Using Images in Libraries
WIPO's Beijing Treaty Enters into Force: Begins Helping Actors and Other Performers
US Supreme Court Rules Official Georgia Codes Annotated is Ineligible for Copyright Protection - Georgia v. Public.Resource.Org, Inc.
Teaching Copyright Law through Participatory Involvement in an Unconference Setting
Copyright Life Hacks for Librarians
Music Piracy Is Going Old School in the Age of COVID-19
Dunnington Files U.S. Supreme Court Amicus Brief for Authors Guild et al. in Dispute Over Film Rights to John Steinbeck's Grapes of Wrath
Articles on Fair Dealing in Canada
Room Full of Spoons: The Contributions of Wiseau Studio v Harper to Canadian Entertainment Law
The York Appeal and Fair Dealing Guidelines
Copyright news and articles, posted 27 April 2020
How to Celebrate World Intellectual Property Day
Why Amy Schumer Is Being Sued for $300,000 for Posting Photos of Herself
Photographer Can't Sue a Website for Embedding her Instagram Post, Says Court
Two Thoughts on Zoom's Copyright Clause
Learning Engine Series - YouTube (U.S. Copyright Office)
U.S. Copyright Office free Copyright Matters lecture in celebration of World IP Day (will be held 29 April and you'll need to register)
Copyright news and articles, posted 13 April 2020
Protecting Indigenous Knowledge: A Personal Perspective on International Negotiations at WIPO
Significant Revisions to the Swiss Copyright Act
Can I Copy from an Unpublished Library Manuscript?
Celebrating the Women Leading the [U.S.] Copyright Office
Accessible Books Consortium: 500,000 Titles Now Available for Cross-Border Exchange
Articles on Copyright and COVID-19
In our 30 March LEH-Letter, we also shared a number of articles on copyright and COVID-19. Below we continue this coverage. Note that Copyrightlaws.com does not necessarily endorse the perspective of these sources.
AL Live-Libraries and COVID-19: Considering Copyright during a Crisis (recorded webinar with Lesley Ellen Harris, Kenneth Crews and Jill Hurst-Wahl)
The Controversy Over the National Emergency Library
Tell Internet Archive to Remove Your Books from the So-Called National Emergency Library
TEACHing from a Distance and Copyright Considerations
IFFRO Members Are Responding to the Challenges Posed by the Coronavirus Pandemic
Copyright Office Expands Electronic Submission Options
Webinars: copyright and online learning during the COVID-19 pandemic (UK)
Copyright news and articles, posted 30 March 2020
A "Cheatsheet" of GLAM Licensing Practices and Open Access Policies
Canadian Parliament Rushes Through Ratification of USMCA Trade Pact
The History of the Copyright Symbol
Of Shipwrecks, Sovereign Immunity, Pirates, and Copyright
5 Practical Things Artists Can Do Right Now
Articles on Using Copyright Materials and COVID-19
These articles are informational only and are not intended as legal advice. Fair use and fair dealing are interpreted based upon the facts in each situation and only a court of law can provide a definitive answer as to whether a use falls within fair use or fair dealing.
COVID-19, Copyright, & Library Superpowers (Part I): Fair Use and Exigent Circumstances. And also see Part II.
The Emergence of Copyright Looting
Publishers Sign Onto a Coronavirus 'Education Continuity License'
Copyright In a Time of Crisis Webinar Recording
Public Statement of Library Copyright Specialists: Fair Use & Emergency Remote Teaching and Research. Also see School Library Journal (SLJ) commentary.
Canadian Publishers Launch "Read Aloud Canadian Books" Program for Teachers and Librarians
Fair Dealing and Online Learning in the Time of Coronavirus in South Africa
Have you seen A Simple Guide to Fair Use: How to Apply Fair Use to Your Copyright Scenarios?
Copyright news and articles, posted 24 February 2020
How Do You Decide which Copyright Policy to Implement at Your Institution?
Fashion Piracy and Artificial Intelligence - Does the New Creative Environment Come with New Copyright Issues?
Can a Retweet Constitute Copyright Infringement? Uh ... —Bell v. Chicago Cubs
Balsillie Group Pushes for Standardized, Online IP Curriculum for Ontario Universities and Colleges
Spotify Launches "Songwriter Pages" — With Clickable Songwriting Credits
Copyright Matters: Quoth The Raven: Edgar Allan Poe & Derivative Works (video)
Does Copyright Require Authorization to Use Data "Subsisting in Copyright Works?"
Implementing Open Access in GLAMs
Copyright news and articles, posted 10 February 2020
Here's a Sneak Peek at the Updated Creative Commons License Chooser
Copyright Alert! Even U.S. Government Information May Be Protected by Copyright
How To Make Rights Determinations
Beijing Treaty on Audiovisual Performances
Canadian Copyright Terms and Public Domain (PD) Flowchart
Copyright: US Publishers Succeed in 'Audible Captions' Case
Social Media Information and Resources for World IP Day 2020
Copyright news and articles, posted 27 January 2020
Copyright and the Progress of Science: Why Text and Data Mining Is Lawful
License It Expressly or You May Lose It — A Cautionary Tale of Implied Copyright Licences
How Blockchain Copyright Protection Will Thwart Pirates
Making Copyright Determinations for Open Access in GLAMs
Mr. Muzzey Goes to China: How One Composer is Using Detection Services to Get Paid on Unlicensed Music Uses
Can Genius Really Win Its Lawsuit Against Google?
"Shape of You" — Has Ed Sheeran Got Form for Copyright Infringement?
Who Owns Your Social Media Content?
31-Day Copyright Challenge 2020
Copyright news and articles, posted 13 January 2020
The Role of Collective Licensing
Artist-Run Auction House Pays Out Artist Right — Even Though It's Not Legislated Yet
Browsewraps, Fair Dealing and Blacklock's Reporter v Canada: a Critical Commentary
Implementing the New EU Press Publishers' Right
Impact of Artificial Intelligence on IP Policy: Call for Comments
Copyright Checklist for Your Thesis
Librarian of Congress Appoints Maria Strong as Acting Register of Copyrights
CJEU Rules That the Provision of Ebooks is an Act of Communication to the Public (So There Is NO Digital Exhaustion under the InfoSoc Directive)
An Australian Version of the Press Publishers' Right: A Slow Start
U.S. Appellate Court Enforces CC's Interpretations of NonCommercial
Please take a moment to share which topics interest you for your copyright education. Click here.
Copyright news and articles, posted 9 December 2019
Site Blocking Orders Come to Canada: GoldTV.biz
Sample, Sample in My Song, Can They Tell Where You Are From? The Pelham Judgement — Part II
[Guest Post] IP Education Series #3
Reproductions of Public Domain Works Should Remain in the Public Domain
AIPPI: No Copyright Protection for AI Works Without Human Input, But Related Rights Remain
Insights From the Europeana Copyright Community Survey
CreateSpace Isn't Liable for Publishing Allegedly Infringing Uploaded Book — King v. Amazon
Journal of Copyright in Education and Librarianship
Copyright Protection of Fictional Characters: Is it Possible? How Far Can it Go?
Copyright news and articles, posted 18 November 2019
Supreme Court to Decide Whether States Are Immune from Monetary Damages for Copyright Infringement Claims
What Happens When Books Enter the Public Domain? Testing Copyright's Underuse Hypothesis Across Australia, New Zealand, the United States and Canada (Advance)
Sample, Sample in My Song, Can They Tell Where You Are From? The Pelham Judgement — Part I
Feilin v. Baidu: Beijing Internet Court Tackles Protection of AI/Software-Generated Work and Holds that Copyright Only Vests in Works by Human Authors
Netflix Finally Beats Journalist's Copyright Suit Over 'Narcos'
3D Printing, the Maker Movement, IP Litigation and Legal Reform
Which Way Now? Supporting Librarians in the Ever Changing Landscape
Hard Lessons in Dataset Licensing To Create Commercial Products: 77m v Ordnance Survey
To Quote or Not To Quote — That Is the Question
CN Tower's Management Claims Use of Building Image Is Trade Mark Violation
Intellectual Property Policies for Universities
Professor Ruth Okediji Delivers the 8th Annual Peter A. Jaszi Distinguished Lecture on Intellectual Property (Webcast)
Copyright news and articles, posted 4 November 2019
A European Perspective on Paparazzi Photographs of Celebrities and Lawsuits Against Celebrities Over the Posting of Photographs of Themselves
Martin v Kogan: Court of Appeal Clarifies Joint Authorship Test
MIT Announces Framework to Guide Negotiations With Publishers
WIPO Organized Practical Workshop Above Arctic Circle
When is it Legal to Repurpose Publicly Available Information for Commercial Purposes?
A Twist (With Apologies to Chubby Checker) in the Music Business When Public Transportation is Involved
Droits voisins : après Google, les éditeurs de presse français face à Facebook
Copyright Suit Targeting Taylor Swift's "Shake It Off" Revived by Appeals Court
Decreased Processing Times for Copyright Registrations
Copyright news and articles, posted 21 October 2019
Partial Screenshot Qualifies as Fair Use (on a Motion to Dismiss) — Yang v. Mic
From Fair Dealing to Fair Use: How Universities Have Adapted to the Changing Copyright Landscape in Canada
International Conference on Copyright Limitations and Exceptions for Libraries, Archives, Museums and Educational & Research Institutions
Monarch of All I Survey ... Copyright Excepted (What Are the Purposes and Limits of Government Copyright?)
Copyright Specialist in Residence
Compulsory License for Making and Distributing Phonorecords Other Than Phonorecord Deliveries
Intellectual Property in a Data-Driven World
Standing Committee on Copyright and Related Rights: Thirty-Ninth Session
Copyright news and articles, posted 7 October 2019
10 Essential Copyright Compliance Tips Every Information Professional Must Know
Zervos v Picasso, or Copyright v Droit d'Auteur
"Hamilton" Producer Fights Copyright Claims to Alexander Hamilton's Life
When Copyright in a Work Transfers to the Crown: Keatley v Teranet
Web Design Feature Killed Express License Argument in Copyright Case
A Man Sued and Said He Owned a Much-Used Photo of Indy's Skyline. He Doesn't, a Jury Said.
When Is Online Use of a Mark Trademark Use?
Kenya Amends Its Copyright Act to Ratify the Marrakesh Treaty and Address a Myriad of Other Issues
3D Printing, the Maker Movement, IP Litigation and Legal Reform
Copyright news and articles, posted 23 September 2019
Audible's Planned Caption Service Is Not Fair Use
Getting Creative with Video Games: Copyright, Public Domain, and Fair Use
US Judge Shuts Down French Court's Picasso Copyright Ruling
Open Access to Teaching Material — How Far Have We Come?
Canada's General Election: The Copyright Angle
The Ethics of Copying in Libraries: A Report from Chris's Keynote in Prague
Court of a-Peel: Nasty Split over Banana Costume Leads to Legal Monkey Business
Does the 9th Circuit's Decision in HiQ vs. LinkedIn Open the Floodgates to Scraping?
WIPO Officially Launches New IP Portal
Copyright news and articles, posted 9 September 2019
The Copyright Implications of Teaching with Videos
YouTube takes Copyright into Their Own Hands with New Policy on Music Infringement
It May Be the Biggest Statue Ever Copyrighted
Curbing Cultural Appropriation in the Fashion Industry with Intellectual Property
When a Copyright Is Not a "Work for Hire," Even When Everyone Agrees That It Is
Fair Use Error in Seuss/Trek Mash-Up Case Not Good for Small Creators
Cengage Faces New Class Action Suit From Authors
Bookmark this post and check back in two weeks for
our next list of copyright news and articles.
Please be aware that we don't cover all the copyright news, we don't necessarily agree with the perspective of the authors of the articles we share,
and we don't vet them for legal accuracy.