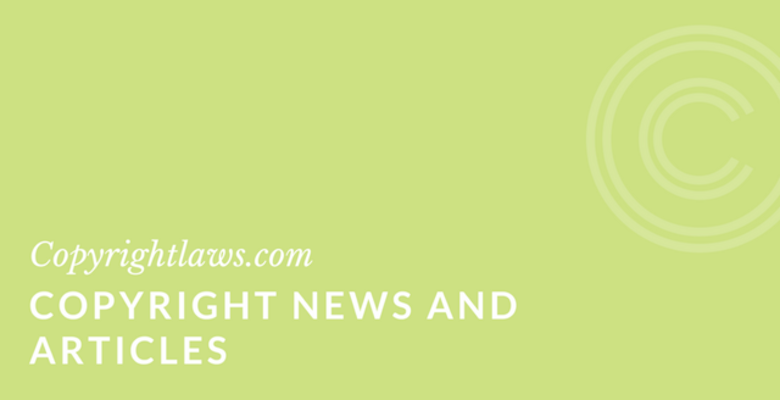 Every two weeks Copyrightlaws.com publishes a list of popular and interesting copyright news and articles from the U.S., Canada and around the world. Scroll down to see the latest items.
Bookmark This Post for Copyright News and Articles
Bookmark this post and check back here every second Monday for the latest update of copyright news and stories or better yet, subscribe for free to our copyright email list and enjoy a copyright email from us each Monday in your email inbox.
Copyright news and articles, posted 13 January 2020
The Role of Collective Licensing
Artist-Run Auction House Pays Out Artist Right — Even Though It's Not Legislated Yet
Browsewraps, Fair Dealing and Blacklock's Reporter v Canada: a Critical Commentary
Implementing the New EU Press Publishers' Right
Impact of Artificial Intelligence on IP Policy: Call for Comments
Copyright Checklist for Your Thesis
Librarian of Congress Appoints Maria Strong as Acting Register of Copyrights
CJEU Rules That the Provision of Ebooks is an Act of Communication to the Public (So There Is NO Digital Exhaustion under the InfoSoc Directive)
An Australian Version of the Press Publishers' Right: A Slow Start
U.S. Appellate Court Enforces CC's Interpretations of NonCommercial
Please take a moment to share which topics interest you for your copyright education. Click here.
Copyright news and articles, posted 9 December 2019
Site Blocking Orders Come to Canada: GoldTV.biz
Sample, Sample in My Song, Can They Tell Where You Are From? The Pelham Judgement — Part II
[Guest Post] IP Education Series #3
Reproductions of Public Domain Works Should Remain in the Public Domain
AIPPI: No Copyright Protection for AI Works Without Human Input, But Related Rights Remain
Insights From the Europeana Copyright Community Survey
CreateSpace Isn't Liable for Publishing Allegedly Infringing Uploaded Book — King v. Amazon
Journal of Copyright in Education and Librarianship
Copyright Protection of Fictional Characters: Is it Possible? How Far Can it Go?
Copyright news and articles, posted 18 November 2019
Supreme Court to Decide Whether States Are Immune from Monetary Damages for Copyright Infringement Claims
What Happens When Books Enter the Public Domain? Testing Copyright's Underuse Hypothesis Across Australia, New Zealand, the United States and Canada (Advance)
Sample, Sample in My Song, Can They Tell Where You Are From? The Pelham Judgement — Part I
Feilin v. Baidu: Beijing Internet Court Tackles Protection of AI/Software-Generated Work and Holds that Copyright Only Vests in Works by Human Authors
Netflix Finally Beats Journalist's Copyright Suit Over 'Narcos'
3D Printing, the Maker Movement, IP Litigation and Legal Reform
Which Way Now? Supporting Librarians in the Ever Changing Landscape
Hard Lessons in Dataset Licensing To Create Commercial Products: 77m v Ordnance Survey
To Quote or Not To Quote — That Is the Question
CN Tower's Management Claims Use of Building Image Is Trade Mark Violation
Intellectual Property Policies for Universities
Professor Ruth Okediji Delivers the 8th Annual Peter A. Jaszi Distinguished Lecture on Intellectual Property (Webcast)
Copyright news and articles, posted 4 November 2019
A European Perspective on Paparazzi Photographs of Celebrities and Lawsuits Against Celebrities Over the Posting of Photographs of Themselves
Martin v Kogan: Court of Appeal Clarifies Joint Authorship Test
MIT Announces Framework to Guide Negotiations With Publishers
WIPO Organized Practical Workshop Above Arctic Circle
When is it Legal to Repurpose Publicly Available Information for Commercial Purposes?
A Twist (With Apologies to Chubby Checker) in the Music Business When Public Transportation is Involved
Droits voisins : après Google, les éditeurs de presse français face à Facebook
Copyright Suit Targeting Taylor Swift's "Shake It Off" Revived by Appeals Court
Decreased Processing Times for Copyright Registrations
Copyright news and articles, posted 21 October 2019
Partial Screenshot Qualifies as Fair Use (on a Motion to Dismiss) — Yang v. Mic
From Fair Dealing to Fair Use: How Universities Have Adapted to the Changing Copyright Landscape in Canada
International Conference on Copyright Limitations and Exceptions for Libraries, Archives, Museums and Educational & Research Institutions
Monarch of All I Survey … Copyright Excepted (What Are the Purposes and Limits of Government Copyright?)
Copyright Specialist in Residence
Compulsory License for Making and Distributing Phonorecords Other Than Phonorecord Deliveries
Intellectual Property in a Data-Driven World
Standing Committee on Copyright and Related Rights: Thirty-Ninth Session
Copyright news and articles, posted 7 October 2019
10 Essential Copyright Compliance Tips Every Information Professional Must Know
Zervos v Picasso, or Copyright v Droit d'Auteur
"Hamilton" Producer Fights Copyright Claims to Alexander Hamilton's Life
When Copyright in a Work Transfers to the Crown: Keatley v Teranet
Web Design Feature Killed Express License Argument in Copyright Case
A Man Sued and Said He Owned a Much-Used Photo of Indy's Skyline. He Doesn't, a Jury Said.
When Is Online Use of a Mark Trademark Use?
Kenya Amends Its Copyright Act to Ratify the Marrakesh Treaty and Address a Myriad of Other Issues
3D Printing, the Maker Movement, IP Litigation and Legal Reform
Copyright news and articles, posted 23 September 2019
Audible's Planned Caption Service Is Not Fair Use
Getting Creative with Video Games: Copyright, Public Domain, and Fair Use
US Judge Shuts Down French Court's Picasso Copyright Ruling
Open Access to Teaching Material — How Far Have We Come?
Canada's General Election: The Copyright Angle
The Ethics of Copying in Libraries: A Report from Chris's Keynote in Prague
Court of a-Peel: Nasty Split over Banana Costume Leads to Legal Monkey Business
Does the 9th Circuit's Decision in HiQ vs. LinkedIn Open the Floodgates to Scraping?
WIPO Officially Launches New IP Portal
Copyright news and articles, posted 9 September 2019
The Copyright Implications of Teaching with Videos
YouTube takes Copyright into Their Own Hands with New Policy on Music Infringement
It May Be the Biggest Statue Ever Copyrighted
Curbing Cultural Appropriation in the Fashion Industry with Intellectual Property
When a Copyright Is Not a "Work for Hire," Even When Everyone Agrees That It Is
Fair Use Error in Seuss/Trek Mash-Up Case Not Good for Small Creators
Cengage Faces New Class Action Suit From Authors
August 2019 on Copyrightlaws.com
In August our highest viewing articles, each receiving over 4,000 page views, were:
Copyright news and articles, posted 19 August 2019
Protecting Traditional Knowledge and Traditional Cultural Expressions
Legally Using Images in Libraries
Books; Reading and Posting Online: Caring, Sharing and Copyright
HBO Used an Acclaimed Artist's Slenderman Painting Without Permission, Treating It as Fan Art. Now the Case Could Head to Trial
Copyright Make-Up Tips – How To Make a Lasting Impression
The World Intellectual Property Organization (WIPO) has a lot of great free information. Some links you may want to visit:
Sharing Copyrightlaws.com Links
We hope you find us a helpful resource for your copyright and licensing information needs. We constantly add to and update the content on our website. We offer close to 100 informative and practical copyright articles written in plain English.
Please feel free to link to any of our articles. Our most popular articles are:
Copyright news and articles, posted 5 August 2019
How To Avoid Copyright Infringement
The New Copyright Directive: Text and Data Mining (Articles 3 And 4)
Apollo 11 and The Copyright Connection
U.S. vs Canadian Copyright Law: Which Has Stronger Copyright Protection?
Repinning a Photo Infringes Copyright, Judge Rules
If It Looks Like a Duck, Quacks Like a Duck…
'Lion King' Has Been Clouded by Intellectual Property Controversy For 25 Years. Here's the Story Behind It
Our Most Popular Downloadable Guides
A Simple Guide to Copyright for Librarians: 15 Essential Facts and Tips
8 Essential Tips for Licensing Electronic Resources
6 Copyright Tips for Legally Using Google Images
Copyright news and articles, posted 22 July 2019
Usenet File-Swapping Was Acceptable In The '80s — But Not So Much Now: Pirate Pair Sent Down For 66 Months
Tips For Developing A Copyright Policy
Canadian Blockchain Innovation To Benefit Visual Artists
Google's "Stoush" With New Zealand: Who Will Prevail?
Education Publisher Pearson To Phase Out Print Textbooks
Guest Post By @poedavid: "Dance Like Nobody's Paying?" Spotify Isn't
Creative Commons Launches Its Search Engine Out Of Beta, With Over 300M Images Indexed
How To Protect Photos You Post Online
Icepops Presentations And Introducing The International Copyright Literacy Community Of Practice
Copyright news and articles, posted 8 July 2019
Implementing the Copyright Directive: Protecting the Public Domain With Article 14
State of Georgia, et. al. v. Public.Resource.Org, Inc.
Controlled Digital Lending Fact Sheet
SCOTUS Agrees To Decide Whether Annotated State Laws Can Be Copyrighted
Canada Through a Lens: The British Library Colonial Copyright Collection
"Mural, Mural on the Wall: Who's the Owner of Them All?"
Andy Warhol's 'Prince Series' Is Fair Use, Court Rules
Copyright FAQs In a School Library
Copyright news and articles, posted 24 June 2019
What Are Our Top Tips For Raising Copyright Awareness In Your Organisation?
International Copyright Law Primer
Find Public Domain And Openly Licensed Materials
UK IPO Launches New Copyright Education Resources For Schools
Intellectual Property Awareness Summit 2018 (video)
Copyright And The Currency Of Creativity: Beyond Income
A Closer Look At Specialized Intellectual Property Courts
Transcript: Africa Rising (Beyond the Book podcast)
EU Copyright Reform, the Good, the Bad, and the Ugly (slides)
Is There Potential For Blockchain In Copyright And Licensing Applications?
Please take a look at my article on Copyright Literacy published on the UK Copyright Literacy site.
Copyright news and articles, posted 10 June 2019
Introducing The Kent Copyright Literacy Strategy
Houston District Hit With $9 Million Verdict Over Illicit Copying Of Company's Materials
Supreme Court Agrees To Review Filmmaker's Copyright Lawsuit Against North Carolina
The Life Of A New Registration Specialist
Ai Weiwei Is Suing Volkswagen For Using His Installation Of Refugee Life Jackets In An Advertisement
CARL Releases Updated Canadian Author Addendum And New Author Rights Guide
"Obituary Piracy" And What It Could Mean For Archival Institutions
Why Researchers Get Copyright So Copy Wrong: Facing Up To The Realities Of Copyright Literacy In The Academy
Will Marvel Studios Face Copyright Infringement Claim For Using Ghanaian Kente Designs In The Black Panther Movie?
CJEU Asked To Rule On German Copyright "Framing" Case
Spotlight on Copyright Review in Canada
Statutory Review of the Copyright Act
On 3 June 2019, the Report of the Standing Committee on Industry, Science and Technology on the Statutory Review of the Copyright Act was published. You can view it here.
Canadian Heritage Report on Remuneration Models
To support the statutory review of the Copyright Act, the Committee on Industry, Science and Technology invited the Standing Committee on Canadian Heritage to conduct a study on remuneration models for artists and creative industries. Its report, Shifting Paradigms, was published on 15 May 2019.
Bookmark this post and check back in two weeks for
our next list of copyright news and articles.
Please be aware that we don't cover all the copyright news, we don't necessarily agree with the perspective of the authors of the articles we share,
and we don't vet them for legal accuracy.