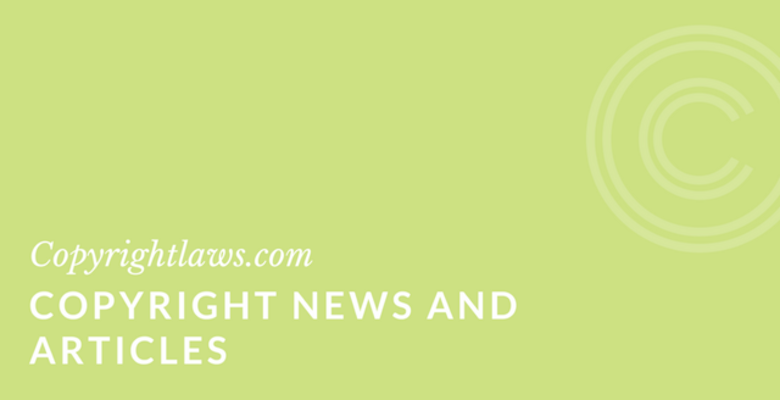 Every two weeks Copyrightlaws.com publishes a list of popular and interesting copyright news and articles from the U.S., Canada and around the world. Scroll down to see the latest items.
Bookmark This Post for Copyright News and Articles
Bookmark this post and check back here every second Monday for the latest update of copyright news and stories or better yet, subscribe for free to our copyright email list and enjoy a copyright email from us each Monday in your email inbox.
Copyright news and articles, posted 26 November 2018
The Taste Of A Food Product Is Not Eligible For Copyright  Protection
The State Copyright Conundrum: What's Your State Government's Rule On Copyright?
Copyright Permissions Sample Letter
Copyright Specialist: Getting Started
Japan Amends Its Copyright Legislation To Meet Future Demands In AI And Big Data
The First Software Licensing Agreement And Its Relationship With Copyright Law
As You Wish: A Copyright History Of The Princess Bride
Canada's Notice And Notice Regime: The End Of Speculative Invoicing (It Won't Be Missed)
A Break For Canadian Creators? Maybe – Canadian Copyright Revision Required Under US/Mexico/Canada Agreement (USMCA)
How To Protect Photos You Post Online
Copyright news and articles, posted 5 November 2018
Misconceptions About Licensing Digital Content
Nine Things You Need To Know About Copyright: A Good Practice Guide For Administrators, Librarians And Academics
Eleventh Circuit Rules Georgia Code Is Uncopyrightable
Copyright Permissions and Infringement (Q&A)
The Orrin G. Hatch-Bob Goodlatte Music Modernization Act
A Landslide Of Classic Art Is About To Enter The Public Domain
Legally Using Images in Presentations
Copyright news and articles, posted 22 October 2018
7 Works With Bizarre Copyright Histories
Italian Supreme Court Holds That An Unauthorized Derivative Work May Be Both Infringing And Protectable
Blockchain And Intellectual Property – Where Are We Now And What Does The Future Have In Store?
Tackling Licensing Issues In Your Library
Creating a Copyright Office And Team
Closing The Gap Between University Presses And Libraries
Lawsuits Over Paparazzi Images On Instagram Raise Celebrity Questions Over Right Of Publicity
Copyright news and articles, posted 9 October 2018
Copyright news and articles, posted 23 September 2018
Where To Learn About Copyright
Copyright Issues In E-Book And Electronic Publishing
Legally Using Images In Libraries
National Geographic "Iceberg" Photo Stirs A Copyright Controversy, But No Lawsuit As Of Yet
Copyright In The Digital Single Market : Texts Adopted (EU)
Where To Learn About Copyright
Everything You Need To Know About Europe's New Copyright Directive
When Art Created By Artificial Intelligence Sells, Who Gets Paid
Understanding Layers of Rights
Copyright news and articles, posted 3 September 2018
'Respect' Didn't Pay Aretha Franklin Much Due To Copyright Law
Accelerating Access: IFLA Releases Statement On Copyright Literacy
What's Cooking In The Copyright Kitchen?
5 Copyright Education Ideas To Implement Today
Copyright And Using Google Images
Traditions, Traditions, An Intellectual Property Perspective
Copyright news and articles, posted 18 August 2018
Duration of Copyright in Canada
Tips for Developing a Copyright Policy
Canada and U.S. Copyright Law (A Comparison)
The Balance in U.S. Copyright Law
Online Copyright Infringement Tracker Survey (8th Wave)
Trolling The Internet For Photos Creates Copyright Headaches For Ad Agency (And The Advertiser) – Laspata v. Rimowa
New Court At The Hague Will Deal Exclusively With Art Disputes
Settlement Agreement – Copibec
Canadian Publishers Issue Statement On Access Copyright Counterclaim to Education Lawsuit
Embedding Preview Images Is Not Copyright Infringement, Says German Court
SOCAN Acquires Montreal Rights Agency SODRAC In Bid To Deliver Better Returns
Online Photos Can't Simply Be Re-Published, EU Court Rules
The Posting On A Website Of A Photograph That Was Freely Accessible On Another Website With The Consent Of The Author Requires A New Authorisation By That Author – Court Of Justice Of The European Union Press Release
COCOpyright And The Value Of Moral Rights
The WIPO Internet Treaties: New Zealand Will Soon Join 97 Other Countries As A Member (Thanks To The CPTPP)
Copyright news and articles, posted 9 July 2018
Copyright Provisions for Libraries
University of Houston Can Be Sued For Using Photo, Judge Rules
No, Virginia, You Can't Just Copy Stuff You Find On The Internet, Even If You Don't Notice The Copyright Notice
U.S. Copyright Office Fees: Extension of Comment Period
Supreme Court [U.S.] To Clarify What Constitutes A 'Registration' Under The Copyright Act
A Bright Future For Libraries In Australia's Copyright Modernisation Review
Controversial Copyright Law Rejected by EU Parliament
Au Revoir, Droit de Suite – 9th Circuit Narrows California Resale Royalty Act to a Single Year's Sale
Q&A: Duration of Copyright Protection
Copyright news and articles, posted 24 June 2018
The Public Lending Right And What It Does
Emoijis And Intellectual Property Law
So You Admire Your Neighbour's House? Best Not To Copy The Design
Canadian Publishers Welcome Settlement Between Laval University and Copibec
Intellectual Property And Drones: Copyright Law Considerations For Drone Services Companies
Copyright news and articles, posted 11 June 2018
Dutch Court Rules That For-Profit Provision Of Links To Unlicensed Content Is An Infringement
U.S. Copyright Office Wants To Increase Registration Fees
Paparazzi & Copyright: Where Are We And Where Should We Be?
Joining The International Copyright System: What's At Stake?
Copyright Uncovered: How Do I Know If My Artwork's Been Infringed?
German Court: TV Show May Not Use 'Bloopers' From Other Network Without Permission
Originality In Copyright: A Meaningless Requirement?
Frequently Asked Questions: Patents
Copyright news and articles, posted 27 May 2018
How To Protect Photos You Post Online
U.S. Copyright Office Issues Notice Of Proposed Rulemaking Relating To Group Registration Of Serials And Newsletters
When Rights Are Alleged To Be 'Trampled': Authors Sue Education Publisher Cengage
'Star Trek'/Dr. Seuss Mashup Creator Beats Trademark Claims
Draft Agenda And Other Documents For WIPO's Standing Committee On Copyright And Related Rights 28 May to 1 June 2018 (Link For Webcast And More)
Is There Copyright In The Taste Of A Cheese? Sensory Copyright Finally Makes Its Way To CJEU
U.S. Copyright Office Proposes New Fee Model
Copyright news and articles, posted 13 May 2018
Digital Licensing Questions & Answers
United States: Great Minds Don't Always Think Alike: License Limitations Must Be Explicit
House Of Representatives Unanimously Passes Major Music Reforms
After 17 Years Of Litigation, 'Freelance' Writers Finally Collect
Star Wars: Forty Years Of Copyright Registrations
Author Payments Arrive For Copyright Class Action
Copyright Compliance Checklist
Copyright news and articles, posted 29 April 2018
The Trials of Australian Copyright Law Reform: Australia's Government Seeks Further Consultation
Copyright Education for Librarians and Information Professionals
The Proposed Press Publishers' Right: 5 Historical Lessons To Learn
Broadway Producers Of To Kill A Mockingbird Countersue Harper Lee's Estate
6 Essential Tips For Legally Using Images
United States: Overview Of Copyright In Social Media
Raging Bull And Fearless Girl – Moral Rights In Copyright
Nine Things You Need To Know About Copyright: A Good Practice Guide For Administrators, Librarians And Academics
Copyright news and articles, posted 15 April 2018
A Day In The Life of The Copyright Modernization Office
Can The Monkey Selfie Case Teach Us Anything About Copyright Law?
This Copyright Dispute Is At The Center Of An Education Policy Controversy
The Eyes Have Had It: How The Second Circuit Addressed Its Copyright Fair Use Problem
Music Modernization Act Approved By House Judiciary Committee; Steven Tyler, Execs Weigh In
Copyrightlaws.com's most read article: Legally Using Images
Judge Awards $150K For Lawyer's Infringement Of Indy Skyline Photo
Research Paper: The Accuracy Of Rights Statements On Europeana.eu
Copyright news and articles, posted 2 April 2018
Illuminating the Profession: Women in Copyright
Legally Using Images in Slide Presentations
Oracle v. Google: Preserving Fair Use and Creators' Rights
We Asked 7 Lawyers to Untangle the Broadway Rights Over 'To Kill a Mockingbird"
Encouraging Innovation by Promoting Intellectual Property Education in Canadian Post-Secondary Institutions
IP and Brexit: outstanding 'cliff'-edge' risks
Text and Data Mining in the Proposed Directive: Where Do We Stand?
French Cour de cassation Confirms Broad Interpretation of Making Available/Communicating to the Public as applied to P2P Software
Copyright news and articles, posted 17 March 2018
International
The International Copyright Symbol
Elizabeth Townsend Gard Measures Copyright with the Durationator
Librarians And International Copyright
Pi Is Not Protected By Copyright Law
Copyright Librarians And Other Non-Lawyers As Copyright Managers
United States
The 5 Poinz Case: Should Works Of Art Be Protected From Destruction?
United States Copyright Office: Circular Update Guide
A $1.6 Billion Spotify Lawsuit Is Based On A Law Made For Player Pianos
Owner Of Foreign Copyrights Must Plead Registration Exemption
Copyright news and articles, posted 4 March 2018
International
Shape Of Water: Oscar Favourite Accused Of 'Copying' 1969 Play
The Orphan Works Survey 2017 Summary Report
Copyright At The Crux Of The IPA Congress
8 Tips For Managing Copyright Issues
United States
Free To Use And Reuse: Making Public Domain And Rights-Clear Content Easier To Find
Exploring The Bounds Of Fair Use: Fox News v. TVEyes
Canada
Education Sector Forces Canadian Creators To Defend Why Their Works Should Not Be Used For Free
Independent Publishers Respond To Provincial Governments' Legal Attack On Canadian Creators And Publishers
Copyright news and articles, posted 18 February 2018
See below for news, articles and tips on:
World Intellectual Property Day
Getting started as a Copyright Specialist in a library or university
Copyright issues around the world that affect libraries
Developing A Copyright Risk Management Plan
Copyright Specialist: Getting Started
World Intellectual Property Day – April 26, 2018. Powering Change: Women In Innovation And Creativity
Author-Protective Copyright: How's It Done By Other Countries
Copyright For Libraries In 2018 – Part 1
IP and Sports Background Brief
WIPO Lex (This is a global database that provides free access to  various IP treaties.)
Bookmark this post and check back in two weeks for our next list of copyright news and articles.
Please be aware that we don't cover all the copyright news, we don't necessarily agree with the perspective of the authors of the articles we share,
and we don't vet them for legal accuracy.