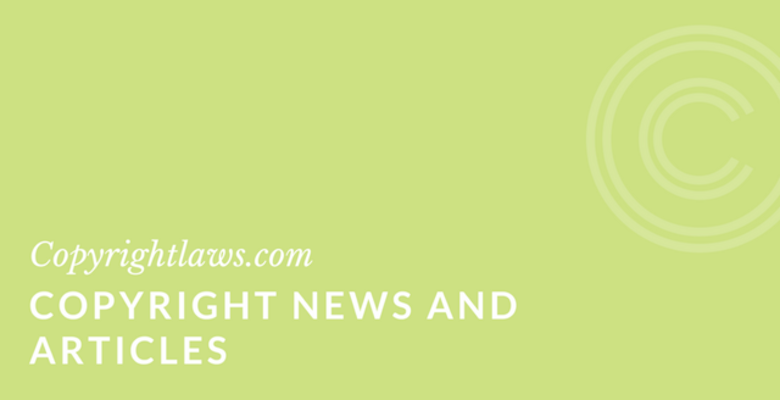 Every two weeks Copyrightlaws.com publishes a list of popular and interesting copyright news and articles from the U.S., Canada and around the world. Scroll down to see the latest items.
Bookmark this post with Copyright news and articles
Bookmark this post and check back here every second Monday for the latest update of copyright news and stories or better yet, subscribe for free to our copyright email list and enjoy a copyright email from us each Monday in your email inbox.
Copyright news and articles, posted 15 April 2018
A Day In The Life of The Copyright Modernization Office
Can The Monkey Selfie Case Teach Us Anything About Copyright Law?
This Copyright Dispute Is At The Center Of An Education Policy Controversy
The Eyes Have Had It: How The Second Circuit Addressed Its Copyright Fair Use Problem
Music Modernization Act Approved By House Judiciary Committee; Steven Tyler, Execs Weigh In
Copyrightlaws.com's most read article: Legally Using Images
Judge Awards $150K For Lawyer's Infringement Of Indy Skyline Photo
Research Paper: The Accuracy Of Rights Statements On Europeana.eu
Copyright news and articles, posted 2 April 2018
Illuminating the Profession: Women in Copyright
Legally Using Images in Slide Presentations
Oracle v. Google: Preserving Fair Use and Creators' Rights
We Asked 7 Lawyers to Untangle the Broadway Rights Over 'To Kill a Mockingbird"
Encouraging Innovation by Promoting Intellectual Property Education in Canadian Post-Secondary Institutions
IP and Brexit: outstanding 'cliff'-edge' risks
Text and Data Mining in the Proposed Directive: Where Do We Stand?
French Cour de cassation Confirms Broad Interpretation of Making Available/Communicating to the Public as applied to P2P Software
Copyright news and articles, posted 17 March 2018
International
The International Copyright Symbol
Elizabeth Townsend Gard Measures Copyright with the Durationator
Librarians And International Copyright
Pi Is Not Protected By Copyright Law
Copyright Librarians And Other Non-Lawyers As Copyright Managers
United States
The 5 Poinz Case: Should Works Of Art Be Protected From Destruction?
United States Copyright Office: Circular Update Guide
A $1.6 Billion Spotify Lawsuit Is Based On A Law Made For Player Pianos
Owner Of Foreign Copyrights Must Plead Registration Exemption
Copyright news and articles, posted 4 March 2018
International
Shape Of Water: Oscar Favourite Accused Of 'Copying' 1969 Play
The Orphan Works Survey 2017 Summary Report
Copyright At The Crux Of The IPA Congress
8 Tips For Managing Copyright Issues
United States
Free To Use And Reuse: Making Public Domain And Rights-Clear Content Easier To Find
Exploring The Bounds Of Fair Use: Fox News v. TVEyes
Canada
Education Sector Forces Canadian Creators To Defend Why Their Works Should Not Be Used For Free
Independent Publishers Respond To Provincial Governments' Legal Attack On Canadian Creators And Publishers
Copyright news and articles, posted 18 February 2018
See below for news, articles and tips on:
World Intellectual Property Day
Getting started as a Copyright Specialist in a library or university
Copyright issues around the world that affect libraries
Developing A Copyright Risk Management Plan
Copyright Specialist: Getting Started
World Intellectual Property Day – April 26, 2018. Powering Change: Women In Innovation And Creativity
Author-Protective Copyright: How's It Done By Other Countries
Copyright For Libraries In 2018 – Part 1
IP and Sports Background Brief
WIPO Lex (This is a global database that provides free access to  various IP treaties.)
Copyright news and articles, posted 5 February 2018
See below for news, articles and tips on:
sharing and republishing content
copyright reform in Germany, Australia and Canada
an Austrian court's conclusion that including 13 quotations is an infringement
International
Why You Need a Copyright Policy or Guidelines
International Copyright Law Quiz
YouTube Becomes An ISNI Agency
United States
Court Reverses $25 Million Copyright Verdict Against Cox Communications
Clarifying Misinformation About U.S. Copyright Law
Canada
Protect Your Design: Recent Developments in Canadian Copyright Law
The Right To Be Forgotten Comes To Canada
United Kingdom
"I Should Like You To See Them Some Time": An Empirical Study Of Copyright Clearance Costs In the Digitisation of Edwin Morgan's Scrapbooks
European Union
Should Taste Be Subject To Copyright Protection? Heksenkaas Will Tell Us
Bookmark this post and check back in two weeks for our next list of copyright news and articles.
Please be aware that we don't cover all the copyright news, we don't necessarily agree with the perspective of the authors of the articles we share,
and we don't vet them for legal accuracy.