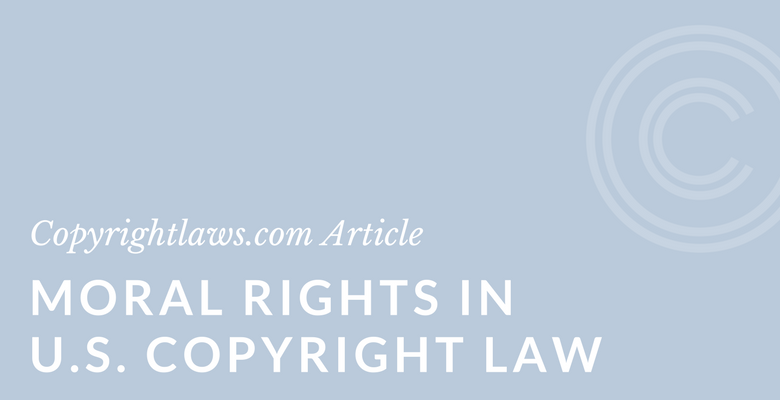 Moral rights in U.S. copyright law benefit authors or creators of select copyright-protected materials: certain works of visual art. The purpose of moral rights is to attribute the author of a work and protect their reputation.
Economic rights (such as the rights of reproduction and public performance), which are more commonly understood than moral rights, provide creators with control over their copyright-protected materials and a way to earn compensation from exploiting their works.
We're here to help if you're interested in more in-depth information about economic rights, moral rights, and copyright law in general in the U.S.
Moral Rights in International Copyright Law
Moral rights originate from the French droit moral and are often described as being personal to the author or creator of a work.
Moral rights have a long history in international copyright law. Article 6bis of the leading international copyright treaty, the Berne Convention, states:
(1) Independently of the author's economic rights, and even after the transfer of the said rights, the author shall have the right to claim authorship of the work and to object to any distortion, mutilation or other modification of, or other derogatory action in relation to, the said work, which would be prejudicial to his honor or reputation.
The 181 Berne member states, including the U.S., must meet the minimum standards set out in Berne, including those for moral rights. Thus, each Berne member state must provide for at least the moral rights of paternity and integrity. Countries are free to go beyond these minimum moral rights and provide further rights, such as the right of association, or the right to withdraw permission to use a work.
Interesting Facts About Moral Rights
Some facts you should know about moral rights:
In some countries, authors may waive their moral rights (e.g., Canada) whereas in other countries (e.g., France) they may not.
The duration of moral rights varies from country to country. In the U.S., moral rights expire upon the death of the author, in Canada they generally last 70 years after the author's death, and in France they are perpetual.
Right of Paternity
The right of paternity refers to the author's right to have their name on a work, to use a pseudonym and to remain anonymous. For example, an author has the right to have their name on the cover of their book (this is true even if they've assigned copyright to someone else). This right is often referred to as the right of attribution.
Right of Integrity
The second component of moral rights, as set out in Berne, is the right of integrity. This is the right of the author to object to any changes to their work that may harm their reputation as an author. Witness testimony about this harm would determine this question of fact in a courtroom.
For example, manipulating a scanned photograph may be a violation of moral rights (the right of integrity), if prejudicial to the honor or reputation of the author of the photograph.
Moral Rights in U.S. Copyright Law
The U.S. amended its Copyright Act to include moral rights when it joined the Berne Convention in 1989. However, while the moral rights set out in Berne are intended to apply to all types of copyright-protected works, the U.S. took a narrower interpretation of the moral rights requirements. In some circles, there is controversy as to whether the U.S. is in fact complying with Berne.
Professor Roberta Rosenthal Kwall states in her book, The Soul of Creativity, that "the United States is out of step with global norms by not recognizing more substantial authors' rights."
In the U.S., various federal and state laws arguably protect moral rights, in addition to explicit protection through an amendment to the U.S. Copyright Act by the Visual Artists Rights Act (VARA) of 1990. Some states, such as New York and California, also have moral rights protection for visual artists.
U.S. Moral Rights Apply to Specific Works of Visual Art
Unlike Berne, VARA protects only one group of authors: visual artists, more accurately those who create "works of visual art." These works include:
Paintings
Drawings
Prints
Sculptures
Photographs, existing in a single copy or a limited edition of 200 or fewer signed and numbered copies
VARA explicitly excludes:
Posters
Maps
Globes
Motion pictures
Electronic publications
Applied art
VARA gives visual artists the right to claim authorship in their work, and to prevent the use of their name in association with a work. In addition, VARA grants artists the right to prevent the intentional distortion, mutilation or other objectionable modification of their works. Artists who qualify for federal moral rights protection can also prevent any destruction of certain works.
Read the moral rights provisions in 17 U.S. Code S 106A, Rights of certain authors to attribution and integrity.
U.S. Moral Rights Waivers and Duration
Under VARA, moral rights are not transferable by license or assignment, but are waivable (in writing). The rights end with the life of the author (unlike economic rights, which endure for 70 years after the death of the author).
Study on U.S. Moral Rights
On 23 January 2017, the United States Copyright Office announced its study on U.S. moral rights for authors. The study focused on the moral rights of attribution and integrity. It examined how the U.S. Copyright Act and other federal and state laws protect these moral rights and whether it's necessary to provide further moral rights protection in the U.S.
On 23 April 2019, the USCO published its report on moral rights. See Authors, Attribution, and Integrity: Examining Moral Rights in the United States. As stated in the report's executive summary, moral rights has not been the topic of major policy focus and this Report is the first comprehensive review in three decades of the moral rights regime in the U.S.
The report calls the U.S. moral rights landscape "complex" and a "patchwork" of protection. It concludes that the patchwork of the Copyright Act's derivative work right, state moral rights laws and contract law is "generally working well and should not be changed." At the current time, "there is no need for the creation of a blanket moral rights statute."
It then goes on to discuss improvements to the moral rights regime in the U.S. and provides a roadmap for doing so. For an interesting regime of moral rights protection, read about Canada's moral rights that include attribution, integrity and association.
You may also be interested in our article Droit de Suite (right to follow), a unique right for artists that exists in some countries' copyright law, ensures that the creator of an artistic work, or their heirs, receives part of the resale value of a physical work of art.
For an in-depth understanding of copyright principles, plus hands-on application of copyright law, see our fully online Copyright Leadership Certificate program.