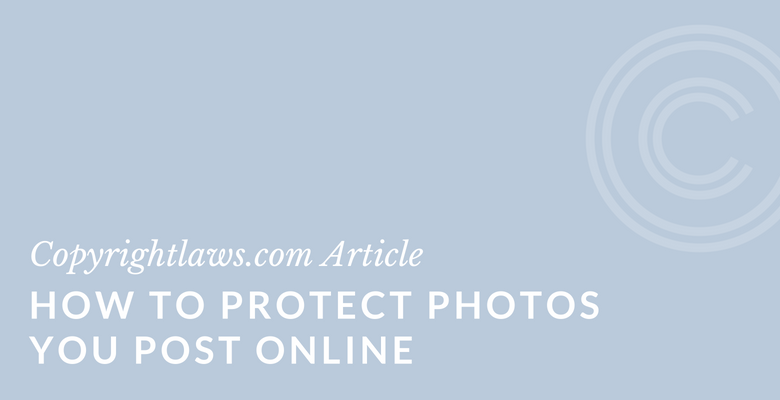 How to protect photos you post online may be simpler and at the same time more difficult than you realize.
Copyright Protection in Images Is Automatic
Your copyright protection begins the moment you take a photo, and it makes no difference whether that photo is taken with your smartphone, iPad or SLR camera. Once that photograph is saved (or fixed, as copyright parlance calls it) on your phone, a memory card or otherwise, it's automatically protected by copyright in the U.S. (and in the 176 countries around the world that are members of the Berne Convention).
You don't have to do anything to secure copyright protection. For instance, you don't need to place the copyright symbol, ©, on the image or register it with the U.S. Copyright Office (USCO). However, you can choose to use the copyright symbol and also register your work with the USCO. Doing both of these things makes it easier to enforce your rights, and you'll also have greater remedies for unauthorized uses under the U.S. Copyright Act.
How to Protect Photos You Post Online
If you're emailing your photos to your cousin or college roommate, you likely don't need to register the images or even place the copyright symbol on them. However, if you're selling your photos online or placing them on your blog or on any social media, then you may want consider taking further steps to secure the rights in your photos. A good general rule is that if you would enforce your rights against any unauthorized uses, then you should take further steps now to better protect your images.
Keep in mind that when it comes to copyright protection, there are no failsafe methods of ensuring that only those who  have your permission will reproduce your images. However, there are proactive steps you can take, whether you're a professional or amateur photographer, to protect your online images, monitor uses and take action against any unauthorized uses.
Use the Copyright Symbol
One of the simplest ways (it's also free) to protect your photos is to place a copyright symbol © and notice on them.
Using a copyright symbol may be important if you're sharing your photos online in public forums, whether on your own website or blog, a site where you sell your photographs or photography services, or posting images on social media such as Instagram or Flickr.
Many people mistakenly think that anything found online and in social media is free for the taking — the copyright symbol gently educates your social media followers that this isn't true. The copyright notice reminds people that copyright exists in your images and states the copyright owner's name (you!).
Also, always include a copyright link or dedicated page on your blog where you discuss copyright protection in your images, and provide your email address with a clickable link so readers have a quick and easy way to contact you for permission before using your images.
Read more about the international copyright symbol.
The Copyright Notice
There are three elements in a copyright notice:
The "c" in a circle, ©, or the abbreviation "Copr." or the word "Copyright" should be present
The name of the copyright owner should be included in the notice
The year of first publication should be set out
These elements need not necessarily appear in this sequence. An example is:
© Simon Soffit 2018
or
Copyright © Simon Soffit 2018
You might like to read about which year to include in your copyright notice.
Register Your Images With the U.S. Copyright Office
Although registering your images with the USCO isn't required for copyright protection, there are several advantages to doing so. Advantages include:
Registration within five years of publication of the image provides prima facie evidence of your copyright claim.
Registration is required before you can file any copyright infringement action in court for works of U.S. origin.
If you register your images prior to an infringement action or within three months after publication of the work, as copyright owner you have the ability to seek special statutory damages and lawyers' fees.  Without registration, only an award of actual damages and loss of profits is available and these may be difficult to prove.
You can also record the registration with U.S. Customs and Border Protection for protection against the importation of infringing copies of your images.
Registration with the USCO may be made at any time following creation of your photographs, even years later. The sooner the better, though, so you have proof of the earliest date possible as a record in the USCO for the presumption of copyright in those images in your name. For further information on registering photos with the USCO, see their copyright registration and photographs page.
Be Proactive 
How to protect photos posted online includes various aspects from using a copyright symbol and notice to registering your works with the USCO. Monitoring the use of your protected images is also an important aspect of ensuring only authorized uses of your photos.
Conduct Google (or other search engine) searches for your images on a regular basis, so you can monitor for inappropriate use. Make this a regular activity, such as once a month.
If you find any sites using your images without your permission, email them and let them know that their use is unauthorized. Ask for the remedy you wish to occur, such as taking down the photo, giving you credit and a link back to your blog, or payment for past and future use. Follow up with a lawyer if need be.
Take the Time to Understand Copyright
Whether you 're a beginner or expert photographer, amateur or professional, your photographs are automatically protected by copyright. Take the time and effort to use a copyright symbol, and consider when it's worthwhile to register your photos with the USCO.
Learn more about copyright law with our online copyright eTutorials.