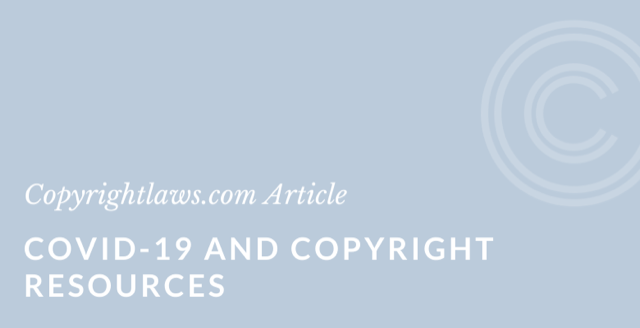 COVID-19 and Copyright Resources
In 2020, COVID-19 changed everything in our lives, including the way we live, work and interact with each other. In the world of copyright, it created some unique circumstances under which we use copyright-protected materials. Highly publicized situations of using copyright materials under time-sensitve circumstances during this crisis included virtual story times and using content in online teaching. This raised questions about COVID-19 and copyright resources.
Note: This article was originally published on 22 December 2020 and has been updated on 24 February 2022. As you review the resources below, keep in mind that many of them were originally published between March and June 2020 and interpretations of fair use, fair dealing and short-term licenses from copyright owners may differ for subsequent uses of copyright materials in libraries and schools and other organizations.
Below are a number of resources to explore regarding using copyright materials during COVID-19, divided into the following categories:
Library Issues
Online Teaching
Story Time
The National Emergency Library (of the Internet Archive)
U.S. Copyright Office
Publisher and Vendor Resources
Canadian Resources
UK Resources
Non-Specific COVID-19 Resources that May Be Helpful During a Crisis
This is not a comprehensive list, but hopefully will get you acquainted with the many issues arising from using copyright-protected materials during this crisis. The resources represent many views, and our publishing this list does not necessarily mean that Copyrightlaws.com endorses any of these perspectives.
You may also be interested in our article The COVID Impact on Copyright for Education.
Library Issues
AL Live-Libraries and COVID-19: Considering Copyright during a Crisis (recorded webinar with Lesley Ellen Harris, Kenneth Crews and Jill Hurst-Wahl). Also see the recorded webinar, AL Live-Libraries and COVID-19: Considering Copyright during a Crisis, Part 2. (NOTE: the webinar links are temporarily unavailable. We will update them as needed when they are restored.)
Fair Use During the COVID-19 Quarantine (Illinois Library Scholarly Communication and Publishing podcast).
COVID-19, Copyright, & Library Superpowers (Part I): Fair Use and Exigent Circumstances by Kyle Courtney; Part II on Exigent Circumstances and S. 108 or Don't Stop Doc Del'ing (sung to the tune of Journey's "Don't Stop Believin'") by Kyle Courney; Part III on Zoom, Zoom, Zoom: Copyright and Face-to-Face TEACH-ing in a COVID-19 World by Brandon Butler, Kyle K. Courtney and Tucker Taylor.
Public Statement of Library Copyright Specialists: Fair Use & Emergency Remote Teaching & Research
COVID-19 and Libraries: E-Books and Intellectual Property Issues (Congressional Research Services)
Online Teaching
TEACHing from a Distance and Copyright Considerations by Holland Gormley on the Library of Congress website.
A Copyright Guide to Rapidly Shifting Your In-Person Class Online, Illinois Library Scholarly Communication and Publishing.
The Copyright Implications of Teaching with Videos, a guest post by Sara Benson on this website.
Covid Lessons — Copyright and Online Learning, by EIFL's Teresa Hackett.
Story Time
Reading Aloud: Fair Use Enables Translating Classroom Practices to Online Learning by Meredith Jacob, American University Washington College of Law and others.
The National Emergency Library (part of the Internet Archive)
Internet Archive Answers Publishers' Copyright Lawsuit by Andrew Albanese in Publishers Weekly.
The Internet Archive has ended its "emergency library" early, The move follows a copyright lawsuit from several large publishers by Kim Lyons in The Verge.
A Crisis — as in School Closures Due to Coronavirus — Justifies Fair Use, Say Librarians by Kara Yorio on the School Library Journal website.
The Controversy Over the National Emergency Library by Jonathan Bailey on the Plagiarism Today website.
Tell Internet Archive to Remove Your Books from the So-Called National Emergency Library by the Authors Guild. Authors Guild Open Letter to the Internet Archive calling for the immediate shut down of the National Emergency Library.
U.S. Copyright Office
Keep Moving Forward: Performance of the Copyright Office during COVID-19 by Maria Strong, Acting Register of Copyrights.
Copyright Office Expands Electronic Submission Options on the U.S. Copyright Office website.
Publisher and Vendor Resources
Vendor Love in the Time of COVID-19 (aka Vendor COVID-19 Related Donations and Pro Bono Access), a UIPO (and allies) community-sourced list of video and other licensed content that library vendors made available on free or modified terms during the COVID-19 outbreak.
What Publishers Are Doing To Help During the Coronavirus Pandemic, Association of American Publishers.
Publishers Sign Onto a Coronavirus "Education Continuity License", Publishing Perspectives.
IFFRO Members Are Responding to the Challenges Posed by the Coronavirus Pandemic, IFFRO News.
Publishers Adapt Policies To Help Educators, School Library Journal.
Canadian Resources
Fair Dealing and Emergency Remote Teaching in Canada by Sam Trosow and Lisa Macklem on the Sam Trosow blog.
See temporary licenses provided for free by publishers like Scholastic Canada (Read Aloud Guidelines), and Access Copyright license for read-aloud (see Canadian Publishers Launch "Read Aloud Canadian Books" Program for Teachers and Librarians).
UK Resources
Copyright Guidance for Using Films in Online Teaching During the COVID-19 Pandemic by Emily Hudson, King's College London — The Dickson Poon School of Law.
Webinars: copyright and online learning during the COVID-19 pandemic, UK Copyright Literacy Website (scroll to the bottom of the page to see relevant webinars).
Help for UK Schools & colleges during closures due to COVID-19 on the Copyright Licensing Agency website.
Non-Specific COVID-19 Resources that May Be Helpful
The resources below are all on the Copyrightlaws.com website.
Copyright 101. This article is a primer on intellectual property and specifically focuses on copyright law.
What Is the Public Domain? Are Creative Commons works in the public domain? What about government works? This primer explains what public domain means and how you can identify what's in the public domain.
6 Best Practices for Legally Using Google Images. This article provides essential tips for following copyright rules when using Google Images. You can also download a Copyright Tip Sheet for Using Google Images.
Legally Using Images. Are you using images you found through Google or on Instagram or FaceBook? Read this article to understand the copyright rules of using images you find online.
A Simple Guide to Copyright for Librarians: 15 Essentials Facts & Tips. This is our most popular downloadable guide. It's essential reading for all librarians and information professionals.
Copyright Permissions Sample Letter. This article will guide you in obtaining permissions, including how to write the best copyright permissions request letter.
Best Practices to Lower Copyright Risks. This article provides tips for identifying your copyright risks when using third-party content, and keeping those risks to a minimum.
Copyright in U.S. Government Works. This often confusing topic is clarified in this primer on copyright in U.S. government works.
A Simple Guide to Fair Use: How To Apply Fair Use to Your Copyright Scenarios. Understanding the ambiguous concept of fair use in U.S. copyright law is essential for anyone who uses copyright-protected materials. This article includes a downloadable guide to fair use.