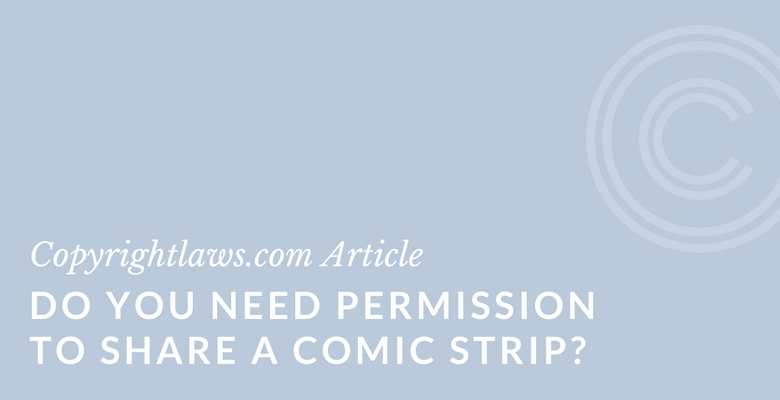 Are you interested in sharing or reproducing a comic strip? Do you have permission to do so? Read below for important steps to follow.
You may also be interested in our article
6 Best Practices for Legally Using Google Images.
Copyright Law and Using a Comic Strip
Is this copyright scenario familiar to you or your business? A colleague forwards a funny comic strip to you (perhaps one on copyright law, like this one). They suggest you copy and paste it to your website because it's relevant to a recent post or article. What do you do?
Do you use it?
Do you obtain permission to use it?
Tip: Always do your research and start with the assumption that all content is protected by copyright. Then determine whether you need permission to use the comic.
In this particular situation, the comic is online at www.GoComics.com. It has a menu of sharing options, which allows you to share it to a variety of social media platforms (e.g., Facebook, Twitter, Reddit, Tumblr and Pinterest). There's also an email sharing button and the permalink is provided for sharing.
While the uses above are permitted, you do require permission for other uses. In fact, GoComics provides some questions and answers about using its content. You'll see the following questions and answers on their Help & FAQ page:
Can I put your comics on my website?
Yes you can! Our dedicated sales team can help you put our syndicated content on your website.

Can I use this strip for a work presentation or personal use? How about for my corporate intranet or website?
Click here to learn more about how to get a permissions agreement to use our content.

Can I put your content on my intranet site?
Most of the features on GoComics are available. Click here to learn more about how to get a permissions agreement to use our content.
Copyright Permissions
Another site, thecomicstrips.com reproduces comics with permission from their respective copyright owners, as stated on their copyright information page, which also says:
All materials contained in this site are protected by copyright, trademark or other laws and shall not be used for any other purpose whatsoever other than noncommercial, private viewing purposes unless otherwise expressly provided herein. Derivative works and other unauthorized copying or use of stills, audio, and video footage, including the retransmission of downloaded programs, graphics, and other materials are expressly prohibited.

https://www.thecomicstrips.com/company/copyright.php
Each cartoon has a link to a licensing permission request form. It asks for your information such as name, email, cartoons to be licensed, purpose of license, and related details to request permission.
The site's Reprint Cost Guidelines page outlines prices, which appear to be guidelines, for a variety of uses, none of which include the ability to modify the image. The site provides more information about things like volume discounts, reuse rates and educational use.
The following are some cost guidelines for reproducing a comic through thecomicstrips.com for a variety of purposes:
In a low-circulation for-profit newsletter, the fee is $200 to reproduce it in the print version and $300 in the electronic version
In a presentation starts at $50, depending on audience size, number of repetitions of the presentation, and whether the slides for the presentation will be shared in print or posted online|
On your non-profit blog for a year, the price ranges from $125 to $400, depending on the estimated audience size
Permission to Share a Comic or Cartoon?
So, do you need permission to share or reproduce a comic or cartoon?
Since comics and cartoons are protected by copyright, the answer is yes, in most circumstances you need permission — either implied or explicit — to reproduce them. It's likely that you'll come across websites such as the two discussed above that provide you with information about when permission is required, and the associated process and fees.
Want more helpful information like this?
See our online copyright courses.