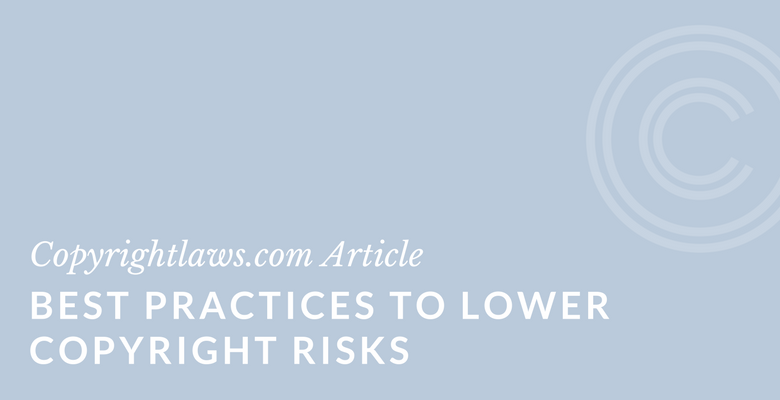 How can you lower copyright risks? Lowering copyright infringement risks is a goal of every library, organization and business. This article provides tips for identifying your copyright risks when using third-party content, and keeping those risks to a minimum.
Copyright Risk Management Checklist When Using Third-Party Content
Applying copyright law to the use of third-party content takes planning and action as well as buy-in from others in your organization.
For purposes of this article, third-party content is copyright materials that your library, business or organization does not own. For example, the third-party content may be an image, video clip, or article. You may want to post that content on your website, include it in presentation slides, or use it in a research paper or book.
Copyright Risks Must Be Addressed in Your Project's Initial Stages
To lower copyright risks, think about copyright issues in the planning stage of any project. You'll need to assess each article, image, video clip or other content you'd like to use in your project. Begin your list at least six weeks prior to beginning any project and prior to using any content that is protected by copyright law.
Make a list of all of your proposed content on a spreadsheet.
Add columns and fill in what you own and which pieces of content you do not own.
Check to see whether you've obtained past permissions to use any of these items. Mark that on your list too. (And later you'll need to determine whether those past permissions apply to your current project.)

As you determine and/or clear rights and obtain permission to use content, add that information to your list.

If you're obtaining permissions, make sure you also record terms and conditions in those permissions. Just because you obtain permission it doesn't mean you can use that content in any manner for any length of time.
Tips for Keeping Copyright Risks to a Minimum
Whether you're in a for-profit or nonprofit library, business or organization, there are key steps you can take to lower copyright risks.
Try the following three step-procedure to lower copyright risks:
Understand and identify potential copyright infringement risks.
Assess the degree of the risk. Is it a risk that's acceptable within your normal policies and strategies and your everyday workings? Or one that you must avoid at all costs? (You'll need to understand how your organization deals with other risks outside copyright in order to understand how it deals with copyright risks.)
Take actions to keep risks to a minimum. This may involve proactive things such as a copyright awareness and education program in your enterprise.
Our Checklist to Help You Lower Copyright Risks
Understand basic copyright principles in your own country. Copyright laws vary from country to country. To start, get familiar with what's protected by copyright, what uses are considered the exclusive rights of a copyright owner and require permission, and the meaning of public domain. Also, see our Intellectual Property Primer.
Be comfortable with global copyright issues. If you're using third-party content such as an illustration or photograph that you find online, there may be implications of global copyright issues.  Keep in mind that most uses of online content means a global copyright issue.
Know about any exceptions in your copyright law. Does your country's copyright act have the fair dealing or fair use principle? How do these principles apply to your uses of third-party content? Are there other exceptions in the copyright law that might apply to you? For example, exceptions for incidental uses of content, or special provisions for libraries, archives, museums and educational institutions.
Learn about how Creative Commons (CC) licenses work. Just because an image or article has a CC license doesn't mean you can use it for free and without obtaining any copyright permissions. Each of the six CC licenses is different. Some are for commercial use and some for noncommercial use. Some allow you to adapt the content. Each CC license requires attribution of the copyright owner. Taking the time to understand how the license on the content you want to use works is essential to keeping your copyright infringement risks to a minimum.
Be aware of the difference between a copyright lawyer and the nonlawyer who manages copyright in a library, business or organization. Do you have access to a copyright lawyer for the "bigger" copyright issues that require a legal opinion or legal advice? An example could be being the defendant in a copyright infringement suit. And who manages the day-to-day copyright issues such as including images in presentation slides or seminar materials? Learn how to manage copyright issues without the daily help of a lawyer.
Be proactive and have a copyright risk management plan in place, possibly including a Copyright Policy or written copyright guidelines. This copyright compliance document can help lead the way when using third-party content on a daily basis. It provides a consistent approach to dealing with copyright materials and guidance for everyone in your library, business or organization.
Spread the copyright word — educate those around you about copyright and licensing electronic content. One of the best ways to lower your risks of copyright infringement is to make all your employees aware of copyright rules, what they can use without permission, and when and how to obtain copyright permission when required.
Legally Using Third-Party Content
Copyright risk management means keeping your risks of using unauthorized third-party content to a minimum. It's a group effort that needs to be coordinated throughout your library, business or organization. And it's not always an easy effort.
The checklist above sets out some steps you can take to keep your risks to a minimum. By incorporating some or all of these steps — and others as well — into your enterprise's protocols and management, you'll be on your way to copyright compliance.
Dealing with copyright issues daily? The Copyright Leadership Certificate program teaches you how to deal with day to day copyright issues including analyzing situations when permissions is required and how to obtain that permission. It's self-paced and practically oriented to those with little copyright experience and those wishing to bring their copyright knowledge up a notch.