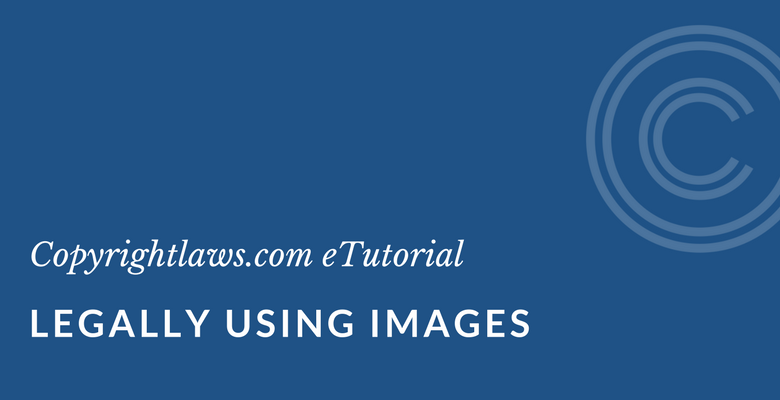 Do you use images and other third-party content? Our primer/refresher course Legally Using Images will teach you ...
Which images require copyright permission and which you can safely use for free
How to avoid hidden traps in licensing language
How to legally use online and print images, and avoid expensive and time-consuming legal hassles
We are in the process of updating this course for 2024. Registration will reopen in January 2024.
Registration Fee: $239 US
Like all of Copyrightlaws.com's courses, Legally Using Images is aimed at empowering nonlawyers to deal with copyright and licensing issues.
Working on your own schedule in our easy-to-use online learning system, you'll have access to the course materials for four weeks and can download the lessons for future reference. The expected time to complete this course is 7 to 10 hours. See our FAQs on how eTutorials work.
As always, our personal touch remains a hallmark of our copyright education. We'll continue to work with you to help you schedule learning time in your busy and perhaps disrupted schedule, and provide extensions where necessary. Our goal remains the same: to encourage and assist you in completing this course.
Thank you for a great course! I learned how to ask for permission and what type of information to include when requesting permission. I will use the information from this eTutorial to make changes in how my institution approaches the use of images and the process by which permission is requested.

— Julie Rustad, Distance Education Librarian
I thought the course was great; good value and good presentation of materials and format of lessons.

— Robert McLeod, Copyright Coordinator
Also consider our more in-depth copyright course, the Copyright Leadership Certificate. This online copyright program will get you fully up to speed on copyright principles including:
Global online uses
Legally using images and other content
Digital copyright issues
Applying copyright to your particular circumstances
Answering copyright issues in your library or organization
Click here for further information.
The Legally Using Images eTutorial is one of five courses in our copyright certificate programs. Ask us how you can receive a credit when you register for the certificate program.
Syllabus for the Legally Using Images Course
Images and Copyright Protection
Understanding Permissions and Licensing
The Public Domain and Orphan Works
Identifying When Permission is Required
The Permissions Process
Obtaining Permissions
Complying With Nonnegotiable Licenses (This lesson includes comprehensive information on Creative Commons licenses, including the various kinds of CC licenses, and the terms and conditions of use permitted under each.)
Practical Applications and FAQs
Best Practices for Legally Using Images
Test Your Knowledge
You'll receive a Certificate of Completion at the end of this eTutorial.
Benefits of Taking the Legally Using Images Course
After taking Legally Using Images you'll be:
Confident when using images you find on Google and elsewhere
Able to understand and correctly apply Creative Commons (CC) licences
Able to create best practices for legally using images
Contact us if you have any questions about this course.
More Testimonials from Legally Using Images Students
I work with Intellectual Property on a regular basis and know that I will apply everything I learned in the "Legally Using Images eTutorial.

— Judy M. Rose, Human Resource Specialist, Federal Government of Canada (November 2017)
I thought the email format was excellent. I was able to read through each lesson and quiz in about 30 minutes. Each lesson was densely packed with practical copyright information. I especially liked the links to Further Information. Having this information will help me better explain to our authors "their" need to procure permissions for images they use in manuscripts they submit to us.

— Lisa G. Reckmeyer, Peer Review Specialist (November 2017)
I got exactly what I expected from this course. The email format was great. I thought the in-depth analysis of Creative Commons licenses was the most valuable piece in the lessons. Would be an excellent primer for anyone coming into a copyright job. I really would have appreciated this course earlier in my career.

— Kimberley Kemmer, Copyright Clearance Assistant at the University of Alberta
The format of the course is perfect: just the right length so that it doesn't feel like it's consuming a lot of one's time at work. I learned a lot from this course and was reminded about the importance of not being lax regarding getting permissions. I'm an editor for a geological survey and we quite often review manuscripts that are using third party material for which permissions have not been sought.

— Marg Rutka, Geoscience Editor
This course is available on demand for groups.
Contact us for more information.
For an in-depth understanding of the principles of domestic and global copyright law principles and using third-party content (including images), as well as practical tools and strategies you can customize for your circumstances, see our Copyright Leadership Certificate.