Licensing Digital Content is a practical guide for librarians and others who license digital content such as databases, periodicals and journals. It and our in-depth online course Licensing Digital Content are complementary resources for anyone seeking to learn more about licensing e-resources in their library or organization. Both the book and the course (which leads to a Certificate in Licensing Digital Content) are for anyone new to licensing digital content or who'd like to enhance their current knowledge base.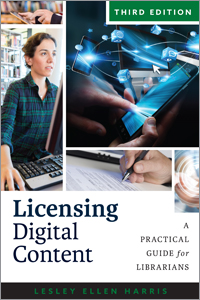 Licensing Digital Content: A Practical Guide for Librarians, 3rd Edition
Copyrightlaws.com's CEO Lesley Ellen Harris is the author of Licensing Digital Content: A Practical Guide for Librarians. Its third edition is Lesley's 10th book. You can purchase the book here.
This guide is an excellent primer for anyone who is new to digital content licensing. It also can be useful as a refresher for those who have been in the business for a while. It presents licensing in simple, jargon-free language and demystifies a process that is quite opaque to anyone who is new. [...] It contains a wealth of information, practical advice, and insightful tips that will be highly useful in achieving the best possible outcomes for licensing any digital content.

— Book Review in Technicalities, Volume 38 No.5, September/October 2018
As with the previous edition (2009), this single volume is a good first resource for librarians who want to gain a better understanding of how to license digital content. Copyright lawyer and educator Harris [...] offers readers firsthand advice and knowledge that is helpful in license-agreement negotiations. The revised version of this book is well organized and updated to help professionals with the licensing process. The book includes detailed chapters, analysis, terminology, a thorough index, and examples of copyright law, all compiled by an expert in the field.

— Review on Booklist Online
Of the second edition of Licensing Digital Content: A Practical Guide for Librarians, American Reference Books Annual declared:
Lesley Ellen Harris's book has become the standard for libraries and has yet to have an equal published that is either as useful or as clear.
Covering the basics of digital licensing for librarians, the new third edition, published by ALA Editions, provides a refreshed look at all the key issues as well as updated sample agreement clauses. Giving library professionals and students the understanding and the tools needed to negotiate and organize license agreements, Harris uses a plain language approach that demystifies the process. Her guide:
Explains licensing terminology and discusses changes in technology, including developments such as text and data mining
Points out opportunities for cost savings
Features many useful tools such as a comprehensive digital license checklist
Provides sources of additional information on the global aspects of licensing
Walks readers through educating organizations that have signed license agreements
Harris draws from her unique experience as the owner of Copyrightlaws.com; she is not a librarian but has built a career demystifying copyright law and frequently works with libraries and other information services. She presents an unbiased, objective account of the licensing process. Throughout the guide, Harris reminds readers that a license must benefit both the library and the information provider. She instructs readers on the art of nonaggressive, rational negotiation, which can result in a win-win outcome for the licenser and the licensee: both parties want to "enter into a relationship in which the information provider is fairly compensated for the use of its electronic content while the [library has] the right to use that content in a manner necessary for [its] situation." It is necessary to understand and accommodate the needs of both parties, and Harris has the vantage point to see the process from both sides. [...]

The guide provides a plain-English introduction to digital licensing and can walk inexperienced librarians through the process of drafting, organizing, and negotiating according to patrons' needs. Experienced readers may draw insight from certain portions of the book, specifically in regards to changing technologies, such as text and data mining, interlibrary loan, open access, and archiving and perpetual access. Supervisors may also find the book to be a useful tool when drafting language that will be used to teach others about the licensing process, i.e., the language provided in the sample licensing policy. Harris claims that "keeping it simple is the premise of this book," and Licensing Digital Content: A Practical Guide for Librarians fulfills this statement.

— LRTS 62, no. 4
Table of Contents for Licensing Digital Content
Acknowledgments
Introduction
Note to Canadian and Other Non-U.S. Readers
Quick-Starter Tips for a Successful Agreement
When to License
Demystifying the Licensing Experience
Learning the Lingo
Key Digital Licensing Clauses
Boilerplate Clauses
Un-Intimidating Negotiations
Questions and Answers on Licensing
Go License!
Appendices
A. Fair Use–Section 107 of the U.S. Copyright Act
B. Interlibrary Loan–Section 108 of the U.S. Copyright Act
C. Digital Licensing Clauses Checklist
Glossary
Online Resources
About the Author
Index
For more resources, see Copyright and Licensing Books by Lesley Ellen Harris.
To enhance your knowledge and gain practical skills related to licensing, see our fully online Certificate in Licensing Digital Content.