Copyrightlaws.com Founder and CEO Lesley Ellen Harris has published 10 copyright and licensing books (including editions) on Canadian copyright, digital copyright, licensing digital content and more. Providing an informed, unbiased and global perspective on the topic of copyright, Lesley Ellen Harris is one of today's foremost copyright messengers.
Featured Books and Where To Purchase
Canadian Copyright Law, 4th Edition
For more information, see our article Book on Canadian Copyright Law.
Purchase from Amazon.ca, Amazon.com
Canadian Copyright Law is "an excellent text written from the Canadian perspective."
— The Globe and Mail

"A useful reference, this book could save speechwriters, screenwriters, all writers much grief, and lawyer fees."
— The Hill Times

"Excellent book."
—University of British Columbia, University-Industry Liaison Office
Licensing Digital Content: A Practical Guide for Librarians, 3rd Edition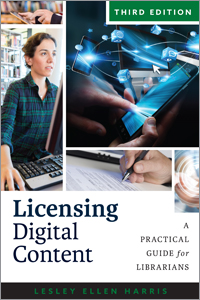 Purchase from the ALAstore.
"Harris' book has become the standard for libraries and has yet to have an equal published that is either as useful or as clear."
— ARBA Online

"Your book was my bible as I started this position almost five years ago."
— Will Stuivenga, Project Manager, Statewide Database Licensing, Washington State Library, Olympia, WA USA

"Harris provides an excellent global perspective on licensing. In addition to providing practical resources for negotiating and organizing licensing information, she brings expertise in copyright law, an area that can involve some of the most confusing elements associated with electronic content acquisition."
— The Librarian's Guide to Negotiation, Winning Strategies for the Digital Age, by Beth Ashmore, Jill E. Grogg and Jeff Weddle

"Harris draws from her unique experience as the owner of Copyrightlaws.com; she is not a librarian but has built a career demystifying copyright law and frequently works with libraries and other information services. She presents an unbiased, objective account of the licensing process. Throughout the guide, Harris reminds readers that a license must benefit both the library and the information provider. She instructs readers on the art of nonaggressive, rational negotiation, which can result in a win-win outcome for the licenser and the licensee: both parties want to 'enter into a relationship in which the information provider is fairly compensated for the use of its electronic content while the [library has] the right to use that content in a manner necessary for [its] situation.' It is necessary to understand and accommodate the needs of both parties, and Harris has the vantage point to see the process from both sides. [...]

"The guide provides a plain-English introduction to digital licensing and can walk inexperienced librarians through the process of drafting, organizing, and negotiating according to patrons' needs. Experienced readers may draw insight from certain portions of the book, specifically in regards to changing technologies, such as text and data mining, interlibrary loan, open access, and archiving and perpetual access. Supervisors may also find the book to be a useful tool when drafting language that will be used to teach others about the licensing process, i.e., the language provided in the sample licensing policy. Harris claims that 'keeping it simple is the premise of this book,' and Licensing Digital Content: A Practical Guide for Librarians fulfills this statement."
— LRTS 62, no. 4
Digital Property: Currency of the 21st Century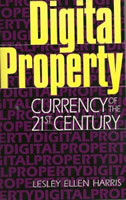 Published by McGraw-Hill Ryerson, out of print. Purchase from Amazon.com.
A Canadian Museum's Guide to Developing a Digital Licensing Agreement Strategy, 2nd Edition (May 2011)
Published online by the Canadian Heritage Information Network.