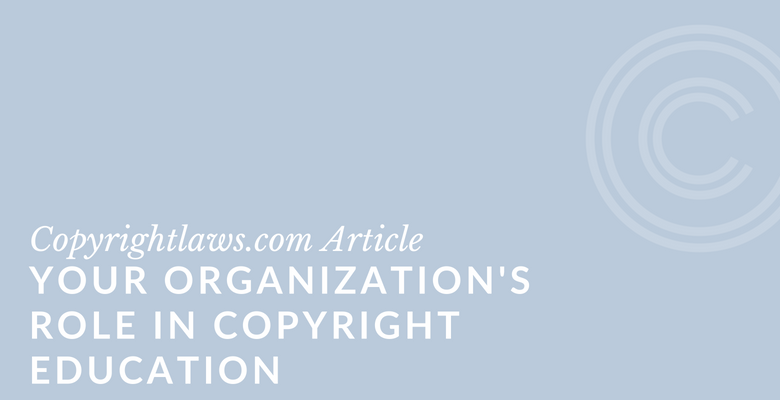 Copyright compliance is an important part of an enterprise's management and administration. Your organization's role in copyright education is important for ensuring copyright stakeholders have the information and understanding they need to legally use copyright-protected materials.
Your Organization's Role in Copyright Education
Libraries in organizations of all sizes are often the department responsible for obtaining copyright permissions and providing information about current copyright laws. An increasing role of libraries, and one that can only help in your work as "copyright administrators," is to carry out your organization's role in copyright education. This encompasses:
Educating various people and departments in your organization about the basics of copyright laws
Compliance with copyright laws and your organization's copyright policies
Proper clearance procedures
Legal usage of licensed content
You may be interested in our article Monitoring Use of Digital Content.
Sensitizing Others
Your first job is to promote the library's reputation with respect to copyright in a positive light. Your role is to sensitize others to the fact that copyright compliance is an important part of your organization's management and administration. Help them understand that you didn't create copyright laws; rather, you're trying to educate others so your organization complies with these laws.
Creativity will be necessary as you work to obtain support from employees within your organization. For example, you may find it helpful to implement techniques such as:
Lunchtime discussions on copyright
Communication opportunities between copyright owners and licensees within your workplace
An internal discussion list on copyright
An electronic copyright newsletter
In-person and online courses
To learn more about copyright education in the workplace, see our articles
5 Copyright Education Ideas to Implement Today and Copyright Awareness and Literacy.
Obtaining Copyright Law Information
Information about copyright law comes from a variety of print and online resources. Available print publications include books targeted to lawyers, specialized audiences, and non-experts.
See copyright and licensing resources in Copyright and Licensing Books by Lesley Ellen Harris.
Electronically, there are many websites and discussion groups on the internet that are invaluable sources of information.  Additionally, online courses and guides are useful and offer flexibility in educating members of your organization.
You need to regularly refer to these resources for reference and for updates, as court cases and changes to copyright legislation can influence the use of copyright-protected materials in your organization. The legal sections of many general news and legal websites follow current copyright cases.
Every two weeks we update our compendium of Copyright News and Articles.
Learning from Seminars
General seminars on copyright law and ones targeted to specific groups like librarians, academics, management and publishers are increasingly available. It's useful for you and other stakeholders to attend as many as feasible to absorb as much information as possible. Not only are seminars good sources of current information, they're an excellent resource for getting your specific questions answered by experts and colleagues. They're also a good outlet for sharing your copyright frustrations with colleagues in similar situations.
Online seminars on copyright law and licensing are also becoming more popular and may be a less expensive, less time-consuming way to keep informed.
See our online copyright and licensing courses.
Collecting Copyright Resource Materials
In addition to having an written copyright policy for your enterprise, building a small library of copyright resources is a good way to fulfill your organization's role in copyright education. To help copyright stakeholders understand the law, regularly circulate new books, newsletters and articles on copyright. Also, if you can't attend a relevant seminar, try to obtain the course materials for your copyright reference shelf.
Copyright Discussion Group
Your organization's employees are also a resource. Consider setting up a discussion group that meets regularly to discuss copyright issues in your workplace. Attendees can share their frustrations or challenges in dealing with copyright issues and see how others have resolved them.
You might even consider guest speakers to further enlighten the discussion group about copyright issues. Speakers might include:
A copyright lawyer
A person from a publisher's rights and permissions department
A representative from one of your vendors who negotiates licenses to online content
On-Going Work
Copyright education is an ongoing endeavour whether copyright laws change or your enterprise's use of content changes. It's best to start now and then continue sensitizing stakeholders to the importance of managing copyright issues, and teaching them about the intricacies of this complicated area of law.
For more in-depth information about copyright education, see our online course
Developing a Copyright Education Strategy.
For in-depth information about U.S. and global copyright law and practical tools
and strategies, see our fully online Copyright Leadership Certificate.