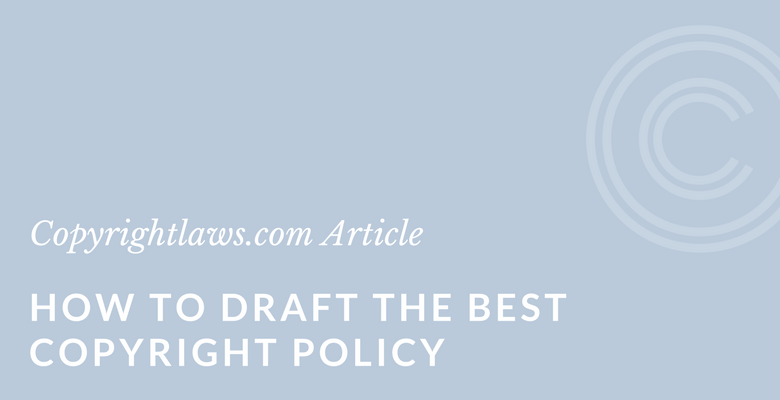 A written copyright document such as a copyright policy or guidelines can help keep your copyright infringement risks to a minimum. Here are some tips on how to draft the best copyright compliance policy, so it's as focused and effective as possible.
Consider Why You Need a Copyright Policy or Guidelines
More and more for- and nonprofit organizations are drafting and implementing copyright compliance policies and/or guidelines (we call them copyright documents). This is not a simple task and involves various components that build upon one another. At the beginning of the process, it is vital to spend much time contemplating why you are even creating copyright compliance policies or guidelines so that you can then concentrate on what is important in your written document.
Some situations that may arise in your library or organization that justify creating a copyright compliance document are:
Your compliance department has asked you to prepare a policy or guidelines on copyright law
A recent lawsuit has got you thinking a policy or guidelines would help your organization avoid a similar lawsuit
A change in the copyright law means you need to change your procedures when using copyright materials
New technology is changing the way your company uses content and "rules" need to be set out in a written compliance document
Employees are asking for clarification on fair use or fair dealing and how to apply these copyright law principles to their work situations
This written document will act as course material for a seminar on copyright or licensing that you will be giving to staff
Sample Wording to State Your Purpose
Here are examples of wording I have used when preparing policies/guidelines for copyright compliance:
The purpose of this Policy is to provide a summary of U.S. Copyright Law particularly as it relates to electronic courses. This Policy is necessary because copyright laws are not always straight forward and because the application of copyright laws can be frustrating.
The purpose of this Policy is to provide the Board and employees of the Lennox Public Library with a summary of Canadian copyright law as it relates to internal and patron copying of non-digital (e.g., print) and digital materials.
The purpose of these Copyright Guidelines is to provide general information on how global copyright law works and to provide answers (through FAQs) to simpler scenarios so that employees have a consistent approach to deal with copyright issues.
The purpose of these Copyright guidelines is to ensure that all employees of Company Y have a minimum knowledge of copyright law and that they can follow the procedures in these guidelines when using third party content. Third party content is copyright materials not owned by Company Y.
What is the Purpose of Your Copyright Policy or Guidelines?
Take the time during the initial stages of the drafting of your policy or guidelines to think through the purpose of this important written document. Write down the purpose as you go through the development of the policy or guidelines, and revisit the purpose many times throughout the various stages of creating your document to ensure that you have remained true to that purpose.
Determining the purpose of your policy or guidelines is not something that can be done in isolation. You will need to consult with others in your library or organization. You need to get answers to questions such as:
Why would they want a copyright document?
How would they use that document?
What information in that document would be most useful to them?
Updating Your Copyright Policy or Guidelines
If you already have a written copyright document, keep in mind that these documents are often "live" documents and need to be revisited from time to time. When it's time to amend your copyright document, you may need to re-examine the purpose of the initial document as opposed to the purpose of the updated and revised copyright document. Has the purpose remained the same, or do you need to adjust your underlying purpose? If your purpose has now changed, can you support that purpose with an amendment copyright policy or guidelines or is it best to start from scratch?
What is the purpose of your copyright compliance policy or guidelines? Taking the time to answer this question is your best first step to drafting a the best copyright policy or guidelines for your organization. Don't rush through this process, research all you can, consult with others and be able to write your purpose out in one sentence.
Register for our new online copyright program, the Copyright Leadership Certificate. It's a unique online program that is self-paced and aimed at bringing your copyright knowledge up a level, while empowering you with confidence to apply copyright law in your day to day work.
If you want more in-depth information on drafting a copyright policy, see the eTutorial, Developing a Copyright Policy or Guidelines.