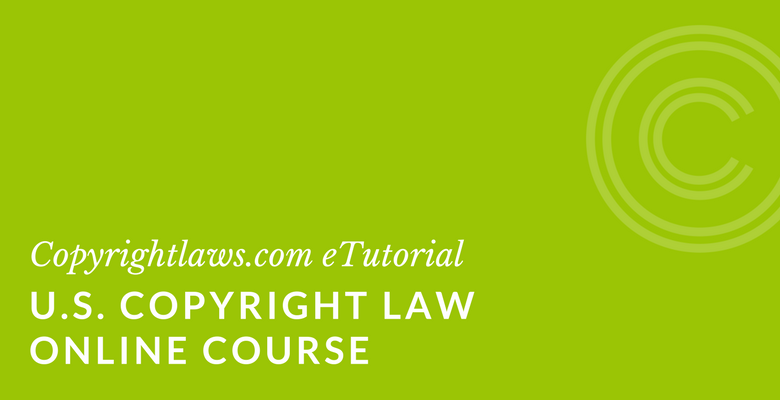 Copyrightlaws.com's U.S. Copyright Law online course is a 10-lesson primer/refresher eTutorial that demystifies U.S. copyright law. Each e-lesson provides up-to-date information on the topic listed, sets out fundamentals for that topic, has a self-marking quiz, and provides URLs for further reading.
This course is available on demand for groups. It is also U.S. Copyright Law is one of the five eTutorials offered in our Copyright Leadership Certificate.
Contact us for more information.
All of Copyrightlaws.com's courses are aimed at empowering nonlawyers to deal with copyright and licensing issues. See our FAQs on how eTutorials work.
Syllabus for U.S. Copyright Law Online Course
Copyright and Intellectual Property
International Copyright in the U.S. Context
Works Protected by Copyright
Registration and Copyright Notices
Copyright Ownership and Duration
Protected Rights and Their Exploitation
Limitations on Rights
Copyright Infringement
Legally Using Copyright-Protected Materials
Final Quiz: Review of United States Copyright Law
You will receive a Certificate of Completion at the end of this eTutorial.
Benefits of Taking U.S. Copyright Law
After taking our U.S. Copyright Law online course you'll be able to:
Explain how U.S. copyright law works and how to obtain copyright protection in the U.S.
Identify what's protected by U.S. copyright law and when you need permission to use copyright materials
Understand key U.S. copyright law principles and international copyright law from the U.S. perspective
Who Should Enroll in This eTutorial?
Anyone who wants a basic understanding of U.S. copyright law in plain English
Americans who want a primer or refresher on U.S. copyright law
Non-Americans seeking an overview of U.S. copyright law
Testimonials for Our Courses
I received some training on copyright when I started my job as a librarian a year ago. I understood enough about copyright for our daily operations. After completing the U.S. Copyright Law eTutorial I feel have a much deeper understanding of copyright law, how to make sure the company is following it, and what the consequences are if there's an instance of copyright infringement. I can also better explain to patrons why some practices are allowed and others aren't.

— Chelsea Embree, Research Librarian, Schweitzer Engineering Laboratories, Inc.
The Copyright Leadership Certificate exceeded my expectations. I did not expect the course to cover as much material as it did. I will be applying a number of changes throughout the rest of year due to what I learned in the Certificate program, mostly to our copyright guidelines. I would absolutely recommend this program to others.

— Irina Burns, Managing Editor, Academy of Management
If you're looking for more in-depth knowledge about U.S. and global copyright principles,
as well as practical skills and customizable tools, check out the
Copyright Leadership Certificate.
See all of Copyrightlaws.com's courses.