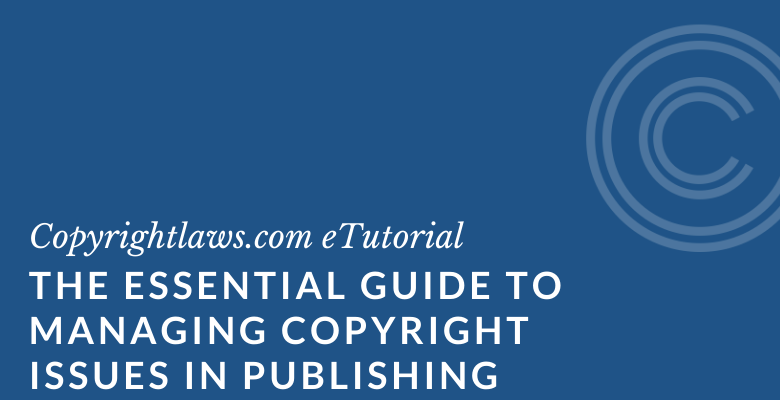 Are you publishing content in print or online? Our NEW primer/refresher course The Essential Guide to Managing Copyright Issues in Publishing will provide you with confidence in:
Acquiring rights in publishing projects
Interpreting copyright clauses in publishing agreements
Legally using third-party content and obtaining permissions
Protecting your publishing project and monitoring unauthorized uses
Deciphering between Copyright myths and facts relating to publishing content
Understanding domestic and international copyright principles (including working with public domain materials)
And much more!
The course includes interactive quizzes at the end of each module, Tools, downloadable lessons and an activity on analyzing a publishing agreement. You'll receive a Certificate of Completion at the end of this eTutorial.
This course will next be offered starting on 31 July 2023. Register Now!
Like all of Copyrightlaws.com's courses, this course is aimed at empowering nonlawyers to deal with copyright and licensing issues.
Working on your own schedule in our easy-to-use online learning system (Thinkific), you'll have access to the course materials for four weeks and can download the lessons for future reference. The expected time to complete this course is approximately 12 to 15 hours. See our FAQs on how eTutorials work.
As always, our personal touch remains a hallmark of our copyright education. We'll continue to work with you to help you schedule learning time in your busy and perhaps disrupted schedule, and provide extensions where necessary. Our goal remains the same: to encourage and assist you in completing this course.
Here's what our graduates have to say about the course:
This course has helped me understand copyright issues better, in particular as they apply to the publishing world. As a freelance editor, I have flagged content in a manuscript that likely requires permission to use. This course has helped me see the bigger picture and implications for both author and publisher. I am now better equipped to advise clients about what to consider when including such content and also about how to protect their own work. As far as I can tell it is a unique course, and well worth taking!

— Patricia Walsh, Freelance Editor
What graduates say about our other eTutorials:
Thank you for a great course! I learned how to ask for permission and what type of information to include when requesting permission. I will use the information from this eTutorial to make changes in how my institution approaches the use of images and the process by which permission is requested.

— Julie Rustad, Distance Education Librarian
I thought the course was great; good value and good presentation of materials and format of lessons.

— Robert McLeod, Copyright Coordinator
BENEFITS OF TAKING THE ESSENTIAL GUIDE TO MANAGING COPYRIGHT ISSUES IN PUBLISHING
After taking The Essential Guide to Managing Copyright Issues in Publishing you'll be:
Confident when acquiring content for your print and electronic publishing projects
Able to understand how to negotiate the best copyright clauses in your publishing agreement
Able to protect your publications and monitor unauthorized uses
Contact us if you have any questions about this course.
For an in-depth understanding of the principles of domestic and global copyright law principles and using third-party content (including images), as well as practical tools and strategies you can customize for your circumstances, see our Copyright Leadership Certificate.