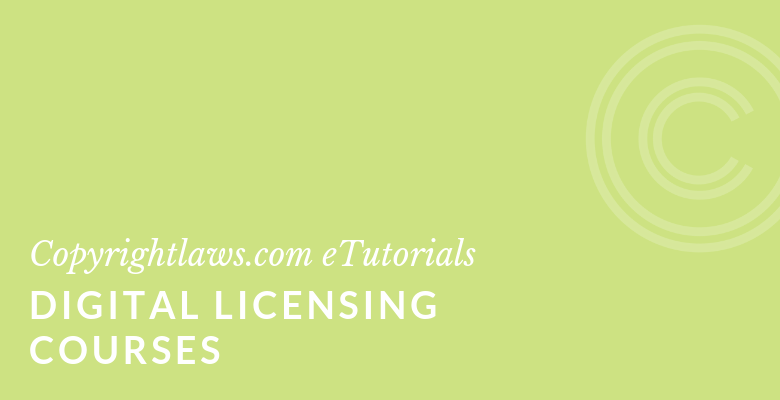 Our digital licensing courses reflect the way libraries and other organizations now procure, access, share and store information.
In the pre-electronic days, we purchased and owned print copies of books and magazines. And we owned them as long as we wanted or as long as they lasted. Now we access that same content through electronic databases, e-books, and digital journals. These changes have brought new tasks for many librarians, copyright managers, content owners, publishers and other nonlawyers.
Procurement of digital content requires new skills such:
Negotiating licenses
Interpreting legal agreements
Understanding how to legally use licensed content, subject to the terms and conditions of licenses
Copyrightlaws.com's Digital Licensing Courses
Copyrightlaws.com offers three courses on digital licensing that address the know-how and skills you need to understand, interpret, negotiate and manage licensing agreements tailored to your library or organization's specific needs (jump to course details below using the links):
Each course syllabus is below.
These courses are presently available only through the Certificate in Licensing Digital Content. Click the link for more information about this certificate program or contact us.
Learn more about how our eTutorials work by clicking here.
Introduction to Digital Licensing
A good license agreement can make it easy to access, use and share licensed digital content. Learn essential steps toward the best licenses for your library or organization, the relationship between copyright and licenses, licensing language and debunking licensing myths.
Syllabus
Introduction to Digital Licensing includes 10 e-lessons addressing the following topics:
Why Understanding Licensing Is Essential
Key Licensing Concepts
Copyright, Contracts and Licensing Agreements
Global Licensing Issues
Why Each License is Unique
Essential Steps Toward Your License Arrangement
Components of a Licensing Policy
Ensuring Others Legally Use Content Under Your Licenses
Debunking Licensing Misconceptions
Digital Licensing Questions and Answers
Digital Licensing Terms and Conditions
This course delves into commonly found license terms and conditions, also called clauses, and when to use them in your licenses. Think of this course as a checklist for clauses to include in or omit from your license agreements. It's essential for those who interpret or negotiate license agreements.
Syllabus
There are 11 e-lessons in Digital Licensing Terms and Conditions on the following topics:
Definitional Clauses
Rights Granted
Sublicenses, Interlibrary Loan and Fair Use
Usage and Usage Restrictions
License Fees and Pricing Models
Licensor Obligations
Licensee Obligations
Authorized Users, Territory, and Ownership of Content
Termination, Warranties and Indemnities
Boilerplate Clauses, PartI
Boilerplate Clauses, Part II and Best Practices
Negotiating and Managing Digital Licenses
This course provides an examination of the art of negotiation for license agreements. It provides you with practical tips and strategies so your licenses reflect the terms and conditions your library or organization needs. It further helps you to effectively manage multiple digital licenses.
Syllabus
The nine e-lessons in Negotiating and Managing Digital Licenses cover the following topics:
The Meaning of Negotiation
A Mindful Approach to Negotiation
Preparing for Negotiations
During the Negotiations
License Format and Administration
Future-Looking Licenses
Managing Your Licenses
Negotiating and Managing Licenses Q&A
Best Practices for Negotiating and Managing Digital Licenses
Benefits of Taking Copyrightlaws.com's Digital Licensing Courses 
Understand the interplay of copyright and contracts when licensing electronic resources
Understand key terminology when reading a license and acquire a glossary of commonly used terms and conditions in digital licenses
Learn tips and tricks for the best possible licenses for your library or organization
Gain insight on educating end-users about how to legally use licensed content
Gain confidence in negotiating and interpreting licenses
Learn strategies for effectively managing digital licenses
Who Should Enroll in Our Digital Licensing Courses?
Our digital licensing course are primarily aimed at:
Employees of libraries and other for- and nonprofit organizations that license digital content and e-resources such as databases, journals and periodicals
Content owners such as aggregators and publishers
Anyone who interprets, negotiates or manages digital licenses
What Our Graduates Say
Introduction to Digital Licensing
"I learned a lot about digital licensing. I recommend this course to librarians licensing electronic resources."
— Katherine Greene, Resources and Copyright Support Librarian, Georgetown University Medical Centre (November 2018)

"This course provided me with a fundamental understanding of copyright and licensing. I really liked that I was able to complete each lesson on my own time. Each lesson was concise enough to be completed during a busy workday but still contained meaningful content. The licensing skills from this course will be very useful managing relations with vendors for online research platforms and assisting in bringing in new platforms. I definitely recommend this course."
— Emily Newman, Librarian (November 2018)

"I found this course to be a useful overview of licensing for librarians. The e-mail format allowed me to do things at my own pace. I really like the sample licenses that were provided and we will now be creating our own license template for use with vendors."
— Alana Pollock, Library Manager, Natural Resources Canada (November 2018)
Our digital licensing courses were developed by Lesley Ellen Harris, Founder and CEO
of Copyrightlaws.com and author of
Licensing Digital Content, A Practical Guide for Libraries, Third Edition.