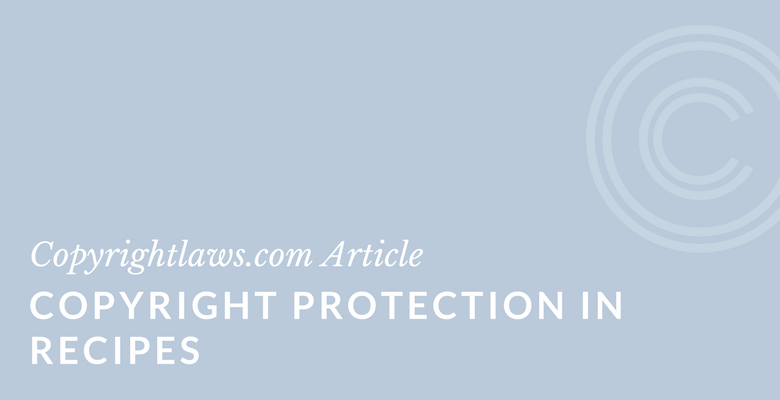 Is there copyright protection in recipes? The answer may be different than you expect. This is a subject that's often discussed in food writing circles, with many questions arising.
Can you copyright an ingredient list?
Can you republish a recipe if you change at least three ingredients?
How can you protect the recipes you develop and publish?
The answers to these questions and more are discussed below.
What Is a Recipe?
Merriam-Webster defines a recipe as:
A formula for cooking or preparing something to be eaten or drunk : a list of ingredients and a statement of the procedure to be followed in making an item of food or drink
At its most basic, a recipe is a mere listing of ingredients. However, as the dictionary definition suggests, it's standard practice for procedures to accompany recipes. These are often called directions, instructions or methods.
In our current heyday of food blogs and websites and cookbooks that are more like coffee table publications, another common feature of recipes is the headnote. This is an introduction to the recipe itself, and can include a variety of elements, including:
The origins or history of the dish
Information about finding and choosing the best ingredients
Preparation tips
A short memoir inspired by the dish
Musings that may have no obvious relationship to the recipe itself (a common criticism of food blogs)
Attribution (e.g., if this recipe was inspired by someone else's version)
Copyright Protection in Recipes
Similar to ideas, facts and history, there isn't copyright protection in recipes as mere lists of ingredients. This is clearly stated by the U.S. Copyright Office. Most recipes, however, include content beyond the ingredient list.
Copyright protection does apply to any written text, photographs or videos accompanying that list of ingredients. For example, the headnotes and instructions on how to combine ingredients are protected by copyright.
If you have a collection of recipes, for example in a cookbook, the collection as a whole is protected by copyright. Collections are protected even if the individual recipes themselves are in the public domain.
Tips for Protecting Your Recipes
If you write and publish recipes, for example on a food blog, the following are some steps you can take to ensure copyright protection in recipes.
1. Include Content Beyond the Ingredient List
The term "recipe" has come to include more elements than a mere listing of ingredients, such as:
Headnote — Usually the first element of a recipe, the headnote is where you introduce the recipe and perhaps tell a story about it.
General instructional notes — These often precede the ingredient listing, and include preliminary directional information, such as preheating the oven and greasing the pans. Such notes may contain other supplementary information, such as how the reader can grill the ribs under their oven broiler if they don't have a barbecue, or possible substitutions for some ingredients.
Directions — Also commonly called "Method," this section provides directions and steps for assembling and cooking the ingredients.
Photographs, videos and sometimes even podcasts — These elements usually accompany recipes published online and in many cookbooks, and have copyright protection separate from the other components of the recipe.
2. Personalize Your Writing
While many recipes are written in a concise, technical style, developing a distinct "voice" for your recipes helps protect your copyright in the non-ingredient list elements. For example, instead of directing your readers to "bake the cake for one hour," you could say "bake for one hour, until the tantalizing aroma wafts through the house and makes your mouth water."
If someone were to republish your work without your permission, it would harder for them to claim the latter example as their own writing. They could, however, use the information in your instructions but must express it in their own words.
3. Use Copyright Notices
When publishing recipes online, use the copyright symbol and notices on each individual recipe and/or your website as a whole. Include a link to your email address with wording such as: "For permission to reproduce this recipe, click here."
4. Foster a Culture of Respect for Copyright and Ethics in Writing
Doing your part to foster a culture of respect for copyright and ethics in recipe writing indirectly helps you protect your own original recipes. For example, if you're posting another food blogger's recipe on your website, not only get their permission to do so, but clearly indicate that you're using the recipe with permission. If your recipe was inspired by someone else's, whether a published recipe or a dish you enjoyed in a restaurant or at your aunt's home, give them attribution.
Tips for Using Copyright-Protected Recipes
If a recipe (or elements of it) is protected by copyright, what can you legally do with it? You can:
Make that recipe for your family or even as a caterer for a large group or the public.
Take a photo of your finished food creation from a protected recipe and share the photo on your blog or Instagram or Facebook account.
Make the recipe and sell the finished food product.
Share on your blog or elsewhere how you cooked the recipe and your thoughts about it, a summary of the recipe, and a link to it. Always be careful to link to an authorized source such as the cookbook writer's or publisher's website, or a recipe elsewhere that's clearly authorized.
The Three Ingredient Myth, Ethics and Confidentiality
A common misconception when reproducing recipes is that if you change three items in a recipe, then you can use the recipe without permission. That's not true, particularly for minor changes like saying Kosher salt instead of sea salt, specifying a different type of apple, or tweaking a half teaspoon of cinnamon to one teaspoon.
What you do when you make changes to a recipe may be as important as the changes themselves. Here's what the authors of The Recipe Writer's Handbook, Barbara Gibbs Ostmann and Jane L Baker, say:
The general rule [...] is that three major [emphasis added] changes are required to make a recipe "yours." However, even if you make such changes, it is a professional courtesy to acknowledge the source of or inspiration for the recipe.

— Revised and expanded edition, 2001, p 212
Even if copyright isn't an issue, it may be a matter of ethics and common courtesy to mention the cookbook, website or blog where a recipe originated, or indicate that your recipe is based on, adapted from or inspired by a particular source. For more information, see the article Recipe Attribution by food blogger and cookbook author David Lebovitz.
If you work in a restaurant or for a caterer and you use their recipes, you may be violating trade secrets and confidential information that your employer shared with you.
For more food-related copyright information, see Pi Isn't Protected by Copyright Law and Copyright + Food: Photographing Food in Restaurants.
Learn more about copyright law.