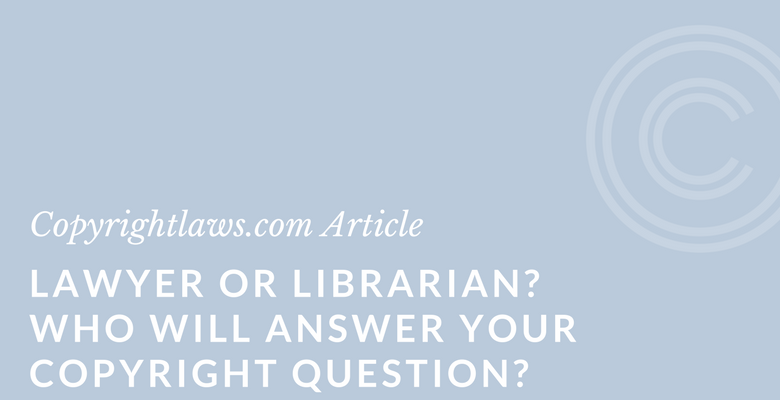 Should a lawyer or librarian answer copyright questions in your organization? You need to consider various issues and copyright situations before answering this question. We set out issues to take into account in determining the role of a lawyer, librarian or other nonlawyer in responding to copyright issues and leading the way in your organization on copyright education and management.
How does your organization manage its copyright issues? In many for- and nonprofit organizations, the librarian or information professional is the manager of copyright issues, the one who answers copyright questions, and educates others about copyright law and digital content licensing issues. Providing answers about legally using content is not simple, and the roles of the lawyer or librarian may overlap in any type of organization.
Lawyer or Librarian: Who Will Answer Your Copyright Question?
In most organizations if you have a legal question you head over to the legal department. When someone has a copyright question, however, they often head over to the library or information centre to discuss it with the librarian or information professional responsible for copyright and licensing issues. When did this shift occur, and why?
Librarians Are Gatekeepers to Valuable Content
The reasons the role of answering copyright and licensing questions has fallen to librarians are as myriad as the facets of copyright. In librarians' primary function as guardians of content, from research materials to music and image collections, much of what librarians routinely encounter consists of copyright-protected works.
Because librarians have historically been equated with assistance, research, and answers, it's a good fit to turn to them for information and help when evaluating the legal aspects of works for potential use.
In fact, many organizations now have designated positions with such titles as Copyright Librarian, Licensing Librarian, and Copyright Officer. In educational institutions this role often falls within the position of the Scholarly Communications and Copyright Librarian.
The fact that librarians are now the first stop for copyright and questions relating to licensing digital content in libraries raises the question of whether librarians are providing legal advice. Their role (see next paragraph for specifics) is to recognize copyright issues and to provide information. Librarians can direct patrons and researchers to relevant material about copyright law and licensing, but ultimately they should be providing the information without interpreting it.
Many libraries now have written copyright policies or guidelines which set out specific amounts of copying allowed. These copyright policies and guidelines are usually prepared by lawyers or at least vetted or finalized by lawyers. These are great tools as they provide librarians with concrete direction that veers them away from providing legal advice.
If you're a librarian managing copyright issues, consider the Copyright Leadership Certificate.
Copyright Issues and Responsibilities
Daily activities of educators, librarians, archivists and other information professionals involving copyright issues include: photocopying and scanning of articles; copying software or offering it for multiple users; and, downloading or incorporating music in presentations and in course management systems.
Negotiating permissions and licenses and interpreting licensing agreements are routine aspects of copyright and permissions management. Depending on the position, understanding foreign copyright laws and the implications of international copyright treaties is also integral to this management function.
Qualifications
Copyright law is a complex and nuanced field. While law students can specialize in intellectual property, librarians have no such specialization or educational individuation. Someone who chooses to pursue a Masters in Library and Information Science (MLIS) degree generally can begin with an undergraduate degree in any field. Once on the MLIS track, collection development, cataloging, reference, and archiving are among traditional topics. With the inclusion of the "information sciences," an MLIS degree has widened to include computer science topics like web and database design. Few information schools offer courses in copyright and licensing.
As a practical matter, professionals in this field may have extensive experience negotiating permissions and licensing due to the nature of their position within an organization. Also see Copyright Education for Librarians and Information Professionals.
Lawyer or Librarian: Collaboration on Copyright Issues
Copyright law is no longer just the domain of lawyers. While there is a definite and important role in copyright for lawyers, the role of librarians has and will continue to increase when it comes to the day-to-day management of copyright law. There's a balance between what lawyers may do and what librarians may do.
This balance suggests the need for collaboration. Sometimes the teaming up of lawyers with librarians and information specialists may be the best strategy. For example, a librarian may negotiate the terms and conditions for a licence for digital content; the lawyer, however, may review the legal language in the licence agreement.
A librarian may draft copyright guidelines for routine uses of content, which are in turn vetted by an organization's lawyer. Or, a librarian may deal with simpler copyright questions relating to fair use or fair dealing, but a lawyer may be consulted when the organization receives a notice from a content owner that their content was used without authorization.
Copyright in Your Organization
Who answers copyright questions in your organization and are they best equipped in this role? Now is the time to consider the roles of various individuals (lawyers, librarians and others) and their respective tasks when it comes to copyright and licensing questions.
Dealing with copyright issues daily? The Copyright Leadership Certificate program teaches librarians and other nonlawyers how to deal with day-to-day copyright issues, including analyzing situations when permissions are required and how to obtain that permission. Click HERE to sign up and change the way you manage copyright issues in your organization.