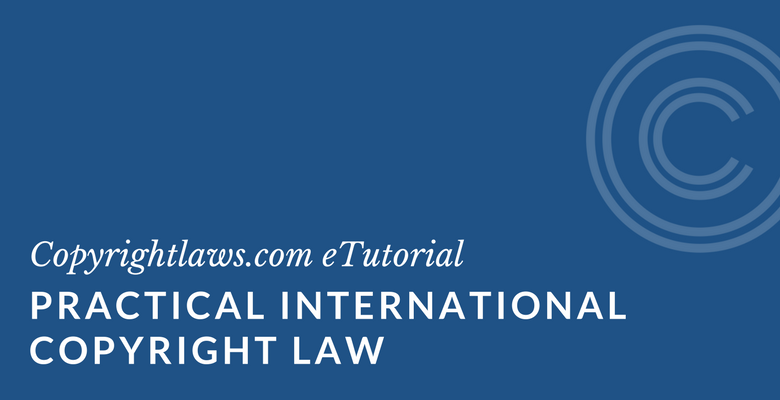 Practical International Copyright Law explains how to deal with international copyright issues within your library or or for or nonprofit organization.
While there is no "international copyright law" per se, there are legal implications whenever your use of copyright materials — your own or third-party content — extends beyond your country's borders. Avoid international copyright violations by understanding how the system of international copyright works on a practical level.
Each e-lesson in the Practical International Copyright primer/refresher eTutorial provides up-to-date information on the topic listed, sets out fundamentals for that topic, has a self-marking quiz, and provides URLs for further reading. All of Copyrightlaws.com's courses are aimed at empowering non lawyers to deal with copyright and licensing issues.
Syllabus for Practical International Copyright eTutorial
E-Lesson 1.0 — The Role of International Copyright Law
E-Lesson 2.0 — Copyright Laws in Different Countries
E-Lesson 3.0 — Minimum International Requirements
E-Lesson 4.0 — A Summary of Major Copyright Treaties
E-Lesson 5.0 — Worldwide Exploitation of Rights
E-Lesson 6.0 — Best Practices for Obtaining Global Permissions
E-Lesson 7.0 — Practical Applications
E-Lesson 8.0 — Final Quiz: Review of Practical International Copyright Law
Benefits from taking Practical International Copyright:
Understand how key international copyright treaties and differences in copyright laws globally affect your use of copyright-protected materials
Establish best practices for obtaining permissions to use copyright-protected content globally
Be aware of international licensing considerations
Develop a global copyright mindset and knowledge of international copyright organizations and how they can assist you
Click for testimonials about our courses.
Who should enroll in our Practical International Copyright eCourse?
This course is relevant to you, no matter what country you are in, if you:
Post content on a website, blog or intranet that will be accessed outside of your own country
Use content from outside of your own country
Negotiate digital licenses with a vendor/publisher/content owner based outside your own country
Distribute content beyond your own country's borders
For an overview of what copyright means in an international context, visit the World Intellectual Property (WIPO) website.
See our Copyright Course Calendar.