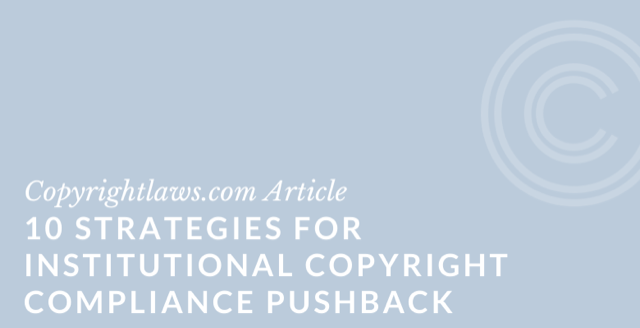 Copyrightlaws.com is excited to share this guest post by Erin Gurski, our first Copyright Specialist in Residence and now an Assistant Instructor at Copyrightlaws.com. Erin has experience as the Coordinator and Licensing Agent for Copyright Visual Arts in Ottawa, Canada. She was previously the Copyright Officer and Advisor of Intellectual Property at the Canadian Museum of History. This is a guest post and does not necessarily reflect the opinions of Copyrightlaws.com or its CEO Lesley Ellen Harris.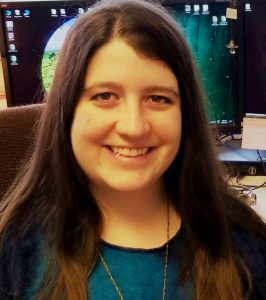 Acting as the copyright go-to person in an institution or other workplace, especially when the position is a relatively new one, can be a daunting task, especially when you face institutional copyright compliance pushback.
You have to educate yourself in the intricacies of your domestic copyright law and accept responsibility for ensuring that your colleagues are also educated. You may find that copyright has long been a subject on the periphery of your colleagues' work and not something they've engaged with fully — and they may be reluctant to do so!
Though a lack of copyright understanding can often lead to resistance to your efforts to spread your newfound intellectual wealth, so to speak, this doesn't mean these change-resistant colleagues can't be won over. Read on to find 10 strategies (in no particular order) for how to handle institutional copyright compliance pushback. These strategies can serve as a toolkit to help you navigate the tricky waters of copyright leadership.
10 Strategies to Counter Institutional Copyright Compliance Pushback
Understand Your Organization
1. Get management on board — Probably one of the key steps to reducing the amount of pushback to copyright management and education in your institution or workplace is to help upper- and middle-management understand what you do and how valuable your work is. This can be done by first speaking to your direct manager. They can help you to figure out what might be the best method to inform their fellow managers of the services you provide.
The sooner you're able to get your own manager on board as a cheerleader (and, indeed, this may be a given!), the better. They can help ensure the rest of the institution knows you as the copyright go-to person.
2. Get to know your institutional structure and what your colleagues do — If you'd like your colleagues to know and understand your job, it may be useful to make sure you know and understand theirs as well. Not only will this help you to provide the most relevant answers to every question encountered, but it'll also help you identify the teams you should be working with most closely.
For example, if you find you've never spoken to some colleagues working on the social media team, take the opportunity to introduce yourself and let them know what you do. Since social media is an area particularly rife with copyright concerns, they'll likely be thrilled to know you're there to help.
3. Ask to attend team meetings — This one can be awkward at first, granted, but it'll benefit you in the long run. If your workplace is project-based, as many are, ask if you can be invited to the kick-off meeting for any new project in development. Even if it turns out you have nothing to add to the project in question, attending the meeting will help you gain a better understanding of what kinds of projects your workplace is embarking on.
Chances are, there'll be multiple elements in any project that could use your involvement (e.g., clearing images for a marketing campaign or drafting a license for a designer being brought on board). If you're there from the beginning, you're less likely to encounter complicated problems later on, making it easier for you to do your job.
Foster Copyright Literacy
4. Educate yourself so you can educate others! — This means more than memorizing your country's copyright act or equivalent (which, in fact, I don't recommend as that would take an incredible amount of time and it's usually available to be freely consulted at any moment). Instead, you may…
Take every course you can (time and budget permitting)
Read as many articles as possible
Ask your local library to ILL relevant copyright titles (of which there are many!)
Get to know others working in your field and share stories and tips
In short, accept that you'll probably never stop learning about this field and get excited about it! The more you know, the more knowledge you can share with others, which in turn will encourage them to come to you with questions.
5. Create as many simple copyright tools and tips as possible — You can create simple checklists, flowcharts or FAQs as useful resources for your copyright stakeholders. Or, alternatively, make use of the many free educational tools available online! The more simple one-pagers you have access to, the better, as these come in handy when the same questions come up often. If your colleagues have a tool on hand they can turn to, they've already taken a step towards being copyright literate.
6. Offer training — The next step to creating and disseminating copyright literacy tools to your colleagues is to offer training (time and resources permitting). This doesn't have to be an intensive, multi-month course complete with assignments and exams. Instead, aim for a quick PowerPoint presentation (30 minutes tops) that you can offer to deliver to other teams and individuals as needed.
Not only does this provide you with an opportunity to spread copyright knowledge, but it may also introduce you to colleagues who weren't aware of the services you provide. It's also a great opportunity for colleagues to ask questions.
Be an Accessible and Judgment-Free Resource
7. Be patient — Though you may be thrilled by the thought of executing the perfect copyright permission or license, not everyone will initially share your enthusiasm. In fact, some colleagues may never understand your excitement about the intricacies of copyright. But that doesn't mean they can't be brought around to appreciating your expertise and love for the field. Give them time to understand you're there to help, not add more work to their over-full plates.
8. Create an "open door" policy — This doesn't mean you have to be available every minute of every day (and who could be?). Most copyright go-to people are extremely busy and often are a one-person team. However, the more you make it clear that you're always ready and willing to answer questions and offer advice, the more likely it is that someone who's never before used your services may stop by with a quick question or problem.
The more you're available to answer off-the-cuff questions, the more likely these same colleagues will be to come by again and again.
9. Treat no question as too small or unworthy of your time — While some colleagues may bring only their toughest cases your way, preferring to tease out the smaller ones on their own, most are likely unsure of even the simplest elements of copyright management.
Case in point: the ever-present "I found this image on Google — that means it's public domain, right?". Though this may seem like a no-brainer for you, try to remember that not everyone has even basic training in copyright law (though you may be working to improve this in your workplace). Therefore even questions you see as requiring a yes or no answer may cause confusion. Patiently walk them through your answer and how you came to it. You can even provide simple tools to help them tackle similar decisions in the future (see #5 in this list).
10. Don't take resistance personally — This is probably the best and most important advice any copyright specialist can receive. It may be easy to worry that your tips and expertise aren't being listened to because your colleagues don't see you as an expert or think they know more than you do about copyright. Very rarely is this ever the case.
Whether you handle pushback through humor, work-arounds or seeking the support of other colleagues, just make sure you remind yourself you're doing a difficult job to the best of your ability. With enough hard work and perseverance, even the most resistant colleague can eventually be brought to see the value of copyright education in general and what you bring to your workplace in particular. Keep up the great work.
Remember, There Are Many Ways to Address Institutional Copyright Compliance Pushback
Taking on the role of the go-to copyright person in any institution can be a challenge at the best of times. Are you feeling overwhelmed with institutional copyright compliance pushback and the amount of work to be done to ensure your workplace is as compliant and consistent as possible in respecting copyright law? These tips should help to remind you that there are many ways to achieve your copyright management goals. Best of luck!