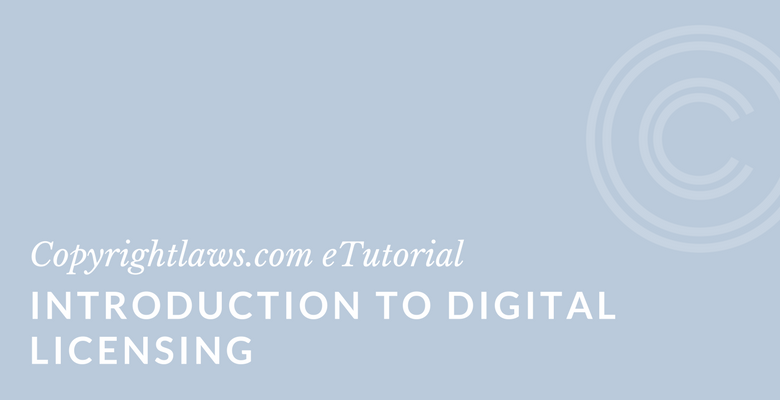 Copyrightlaws.com's Introduction to Digital Licensing course is an online primer on digital licensing and licensing electronic resources.
The digital revolution has resulted in an important and sometimes daunting change in the way libraries and other organizations procure, access, share and store information available for their own use and for use by researchers and the public. In the pre-electronic days, you purchased and owned print copies of books and magazines. Now you research online through electronic databases, read e-books, and subscribe to digital journals. These changes have brought new tasks for many librarians, copyright managers, content owners, publishers and other nonlawyers negotiating and interpreting legal agreements.
Register for 15 to 26 October 2018 $199 – $229.
This eTutorial is the first in a series of three eTutorials that address the information and skills you need to understand, interpret and negotiate licensing agreements tailored to your organization's specific needs. Two companion courses to Introduction to Digital Licensing will be scheduled in 2018: Digital Licensing Terms and Conditions and Negotiating Digital Licensing. See our course calendar for these and other copyright courses.FAQs on how eTutorials work.
All of Copyrightlaws.com's courses are aimed at empowering nonlawyers to deal with copyright and licensing issues.
INTRODUCTION TO DIGITAL LICENSING Syllabus
E-Lesson 1.0 — Why Understanding Licensing Is Essential
E-Lesson 2.0 — Key Licensing Concepts
E-Lesson 3.0 — Copyright, Contracts and Licensing Agreements
E-Lesson 4.0 — Global Licensing Issues
E-Lesson 5.0 — Why Each License is Unique
E-Lesson 6.0 — Essential Steps Toward Your License Arrangement
E-Lesson 7.0 — Components of a Licensing Policy
E-Lesson 8.0 — Ensuring Others Legally Use Content Under Your Licenses
E-Lesson 9.0 — Debunking Licensing Misconceptions
E-Lesson 10.0 — Digital Licensing Questions and Answers
BENEFITS OF TAKING INTRODUCTION TO DIGITAL LICENSING
Understand key terminology of reading a vendor license
Understand the interplay of copyright and contracts when licensing electronic content
Learn essential steps toward licenses that are best for your library or organization
Gain insight on educating end-users on how to legally use licensed content
See all our online copyright courses
WHO SHOULD ENROLL IN OUR INTRODUCTION TO DIGITAL LICENSING E-COURSE?
This course is primarily aimed at:
Employees of libraries and other for- and nonprofit organizations that license digital content and e-resources such as databases, journals and periodicals
Content owners such as aggregators and publishers
This eTutorial was developed by Lesley Ellen Harris, Founder and CEO of Copyrightlaws.com and author of Licensing Digital Content, A Practical Guide for Libraries, Third Edition
If you're looking for a more in-depth review of copyright law and applying copyright to
your every day copyright and licensing images without the assistance of a lawyer,
consider our Copyright Certificate programs,
designed to empower nonlawyers to manage copyright issues.