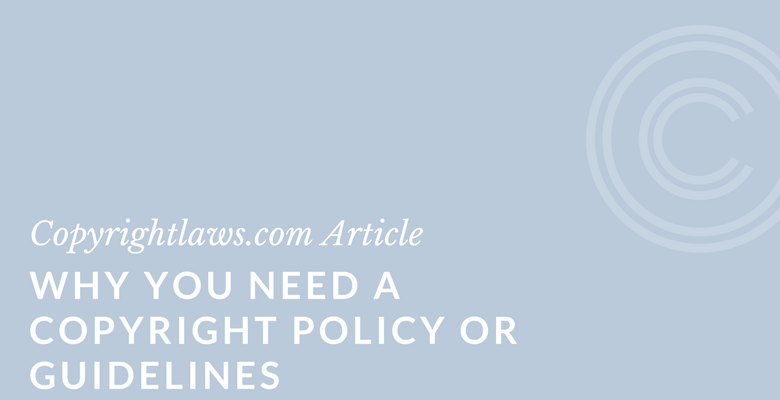 Do you need a written copyright compliance document such as a copyright policy, guidelines or best practices?
Yes! Your copyright compliance document may become your organization's best friend when it comes to complying with copyright law and your digital licensing agreements. Below are 5 important reasons why you should consider writing a copyright compliance policy, guidelines or best practices.
Writing A Copyright Policy or Guidelines or Best Practices
Copyright is a complex field. What are you doing to make people in your organization aware of copyright law with tips on how to comply with the law? Do you have some specific factors in your library or organization that clearly indicate the need for a written copyright policy, guidelines or other copyright compliance document? Consider the situations below and start thinking about how you can develop a write a copyright policy, guidelines or best practices to meet your specific needs.
You're A Repository
1. Your library or organization is a repository for materials that you loan or reproduce.
It's important that you and everyone you work with are aware of how copyright law works with respect to copyright-protected materials you have in your repository and that you loan or reproduce. Knowing the rights that exist in copyright materials will allow you to plan for legal handling and compliance with copyright law and agreements.
Does your library or business own the copyright in those materials, or do you just own the physical materials?
Are there any copyright or contractual restrictions on types of uses permitted on all of the materials? Do you have a summary of these contractual terms and conditions?
Are you permitted to digitize the materials and also to provide access to the digital editions? Is this unlimited access or subject to limitations by the content owner?
Are some or all of the materials in the public domain and can they be used without permission or payments?
Will the content be available online and accessible in other countries (which may raise other international copyright concerns)?
You're Worried About Copyright Infringement
2. You or others in your library or organization have concerns about liability for copyright infringement.
Are you aware of your responsibilities for ensuring the legal use of copyright-protected materials? What is your personal and work exposure to liability for unauthorized use of copyright-protected materials? Your copyright policy, guidelines or best practices can offer a framework within which individuals and organizations can legally operate – it can provide everyone with confidence when using copyright-protected works. Specifically, a written copyright document may do the following:
outline employee responsibilities for identifying copyright-protected works and how to legally using those works.
include a summary of any works (or a link to a database of such works) for which your organization has a license agreement or other permissions and what rights and uses those permissions cover.
identify works that are in the public domain.
provide a series of questions and answers specific to your organization is also helpful in providing quick and easy answers to everyday copyright issues.
See our article How To Draft the Best Copyright Compliance Policy.
You Need to Clarify Copyright Myths
3. Copyright is misunderstood in your organization and not correctly applied in your organization.
Sensitizing others in your library and organization to copyright concerns is key to ensuring that your library and organization are operating within the bounds of copyright law and within the parameters of your license agreements. There are many opportunities to educate employees, faculty, researchers, students and consultants about copyright, from workshops and webinars to posted copyright notices and warnings near computer terminals and printers to distributing internal communications.
Your copyright compliance document may be your first effort toward copyright literacy awareness and education. Here are some tips to help you:
Write your document it in plain language.
Distribute the document at in-person meetings and post it on your internal website.
Encourage employees to use resources for which your library or organization already has copyright permission; this can be an effective way to educate staff about permissions and to seize the teachable moment.
You Do Not Have Consistent Copyright Procedures
4. Procedures for obtaining permissions to use content are not standardized in your organization.
A copyright compliance document can make sure your permissions procedures for copyright works are streamlined. It can address various issues such as:
When you need copyright permission, how do you obtain that permission?
Do you have a permissions letter everyone in your library or organization uses to request permission from the copyright owner? A standard letter of permissions is also a great tool for ensuring obtaining consistent copyright permissions and documenting those permissions.
Is there a designated person in your organization who clears copyright permissions? How can someone with a copyright permissions question reach this person?
Do you have a record of these permissions, perhaps in an electronic database?
You Have Licensed Content
5. You have licenses with aggregators, electronic journals and copyright collectives.
A license means that you have permission to use content in specific ways as set out in the license. Often you have paid for this permission, so you want to spread the word as widely as possible that the content in your electronic periodicals and databases is accessible to all—according to the terms and conditions of use as set out in the licenses.
When you have copyright collectives or digital licenses with publishers in place, you have a repertoire of resources that are already cleared for specified uses. This can help you save time by avoiding the need to go through the permissions process for individual uses. It also often saves money, because uses cleared through license agreements or copyright collectives are often less expensive than individual permissions for each use.
All licenses allow use under specific terms and conditions. As with individual uses, you must know what is permitted under those licenses and agreements. Those terms and conditions can be summarized in your copyright policy or guidelines so it's clear what uses are permitted by whom and under what circumstances.
Learn how to write your own copyright policy in our eTutorial, Developing A Copyright Policy or Guidelines, and consider the fully online program, the Copyright Leadership Certificate.
If you like this article, subscribe to our free weekly copyright email and get regular tips in your email inbox each Monday.