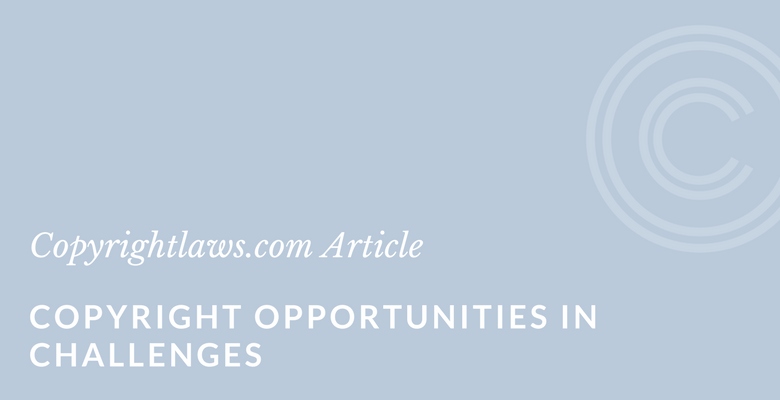 Last night I had the honor to speak about Copyright Opportunities in Challenges to the Maryland Chapter of the Special Libraries Association (SLA). Below is a summary of my speech and slides.
Finding Copyright Opportunities in Challenges
I've spent much of my career demystifying copyright to nonlawyers. Librarians and information professionals are a major part of this audience. I've heard again and again that copyright issues are a major challenge in their day-to-day work. I've examined these challenges from several perspectives. In my speech, I presented them as opportunities. Then I asked the audience — and now you — to take the 2018 Copyright Challenge towards greater copyright compliance.
Copyright Challenges
In my speech I discussed copyright challenges such as answering questions like, May I email a PDF article from a licensed database? I point out the challenge of correcting copyright misinformation like, If it's on the internet, it's copyright free. Then I addressed how to find copyright opportunities in these challenges.
If you're contemplating your role in copyright management in your library, see the article Are You the Go-To Copyright Person? for insight on this topic.
Your Copyright Opportunities
Copyright law isn't always straightforward. You must address its nuances when applying your situations to the copyright law. Do you have a leader to do so? A copyright officer or copyright librarian? And I provided practical tips on how to lower your copyright infringement risks.
I asked the audience to think about copyright leadership in 2018. Who will lead the copyright issues in their libraries and organizations? I pointed out opportunities to take action on copyright and licensing issues. For example, create copyright guidelines. Let colleagues know you can answer their copyright questions.
Click here to view the slides, Recognizing Opportunities in Copyright Challenges
You may also like our Copyright Compliance Checklist. Use this Checklist of 18 points to make 2018 the year you increase your copyright compliance and lower your copyright infringement risks.
For weekly copyright tips and information, join our free copyright email (each Monday). Subscribe here.