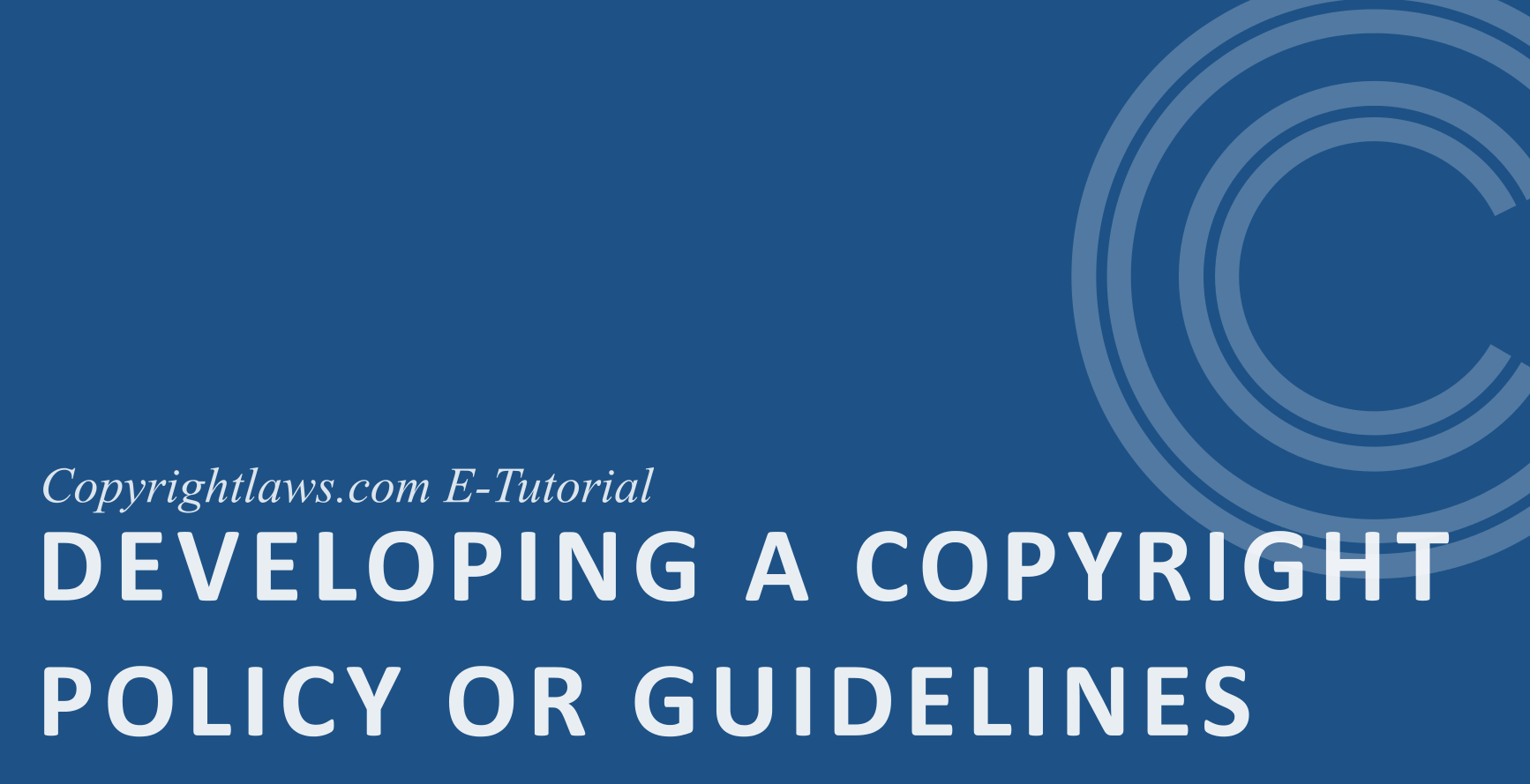 Developing a Copyright Policy or Guidelines (DCP) is a unique hands-on eight-lesson eTutorial where you complete a draft Copyright Policy or Guidelines.
By reviewing each lesson, completing your assignments with feedback by fellow students and moderator Lesley Ellen Harris, you will complete this course with a draft copyright policy, guidelines or best practices. FAQs on how eTutorials work.
All of Copyrightlaws.com's courses are aimed at empowering non lawyers to deal with copyright and licensing issues. Join us!
Syllabus for Developing a Copyright Policy or Guidelines
E-Lesson 1.0 — Why Your Enterprise Needs a Copyright Compliance Document
E-Lesson 2.0 — Simplifying Copyright in a Policy or Guidelines
E-Lesson 3.0 — How To Select Key Copyright Policy Team Members
E-Lesson 4.0 — Tips for Sensitizing and Educating Others
E-Lesson 5.0 — Obtaining Copyright Permissions: The Big Picture
E-Lesson 6.0 — Obtaining Copyright Permissions: The Specifics
E-Lesson 7.0 — Addressing Your Specific Copyright Situations
E-Lesson 8.0 — Writing Your Outline and Draft
You will receive a Certificate of Completion at the end of the eTutorial.
Benefits from taking Developing a Copyright Policy or Guidelines:
identify the role of a copyright policy or guidelines in your organization
share the components that will make copyright compliance in your organization a reality
complete a draft copyright policy or guidelines specific to your organization's needs
Testimonials for this course:
A super course. I appreciated getting your prompt feedback after posting my assignments. — Lynn Hughes, Library Technician, Copyright, College of the Rockies Library, British Columbia, Canada

Thank you very much [for instructing Developing A Copyright Policy.]  This course has forced us to put down on paper what we need to move copyright forward in our institution. — Patricia Sutherland, Library Manager, College of the North Atlantic, Qatar
Who should enroll in this course?
Anyone who needs to have consistent rules about applying copyright law in their organization.
Is this course based on U.S. copyright law?
No, this course is about managing copyright, copyright compliance and having the right tool – a written Copyright Policy or Guidelines – and is not based on any one country's copyright laws. Many examples of copyright compliances are included in the lessons in this course with emphasis on U.S., Canadian and U.K. resources.
Is this course aimed at librarians?
Although many librarians participate in this course, the course is ideal for anyone or organization. Every institution and organization, for profit or nonprofit, would benefit from a written Copyright Policy or Guidelines.
Email Copyrightlaws.com with questions about the course
See all our online copyright courses
Looking for more in-depth review of copyright law and applying copyright to your every day copyright and licensing images without the assistance of a lawyer, consider our Copyright Leadership Certificate program, designed to empower non lawyers to manage copyright issues. See Copyright Leadership Certificate.