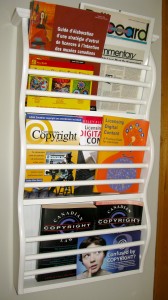 The LEH-Letter is published 4-6 times per year and is available for free from the office of Lesley Ellen Harris.  All issues since publication began in 1996 are archived at the National Library of Canada.
The LEH-Letter is global, practical and unique. We do not aim to cover all issues, but rather summarize specific news items from court cases to new legislation to interesting digital ventures. Relevant blog posts and articles are mentioned, as well as educational opportunities in copyright.
For more in-depth coverage of copyright, licensing and practical advice, see The Copyright & New Media Law Newsletter.