Since 1991, Lesley Ellen Harris has written 9 books (including editions.) Browse the available selection and reviews below. Questions? Ask here!
Canadian Copyright Law, 4th Edition is available October 2013.  Order your copy here:
Canadian Copyright Law is "an excellent text written from the Canadian perspective." The Globe and Mail
"A useful reference, this book could save speechwriters, screenwriters, all writers much grief, and lawyer fees" The Hill Times
"Excellent book." University of British Columbia, University-Industry Liaison Office
Licensing Digital Content
Licensing Digital Content:  A Practical Guide for Librarians, 2nd ed.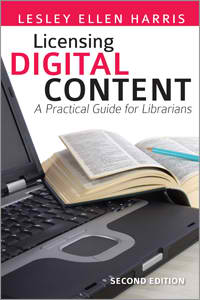 "Harris' book has become the standard for libraries and has yet to have an equal published that is either as useful or as clear." — ARBA Online
"Your book was my bible as I started this position almost 5 years ago." Will Stuivenga, Project Manager, Statewide Database Licensing, Washington State Library, Olympia, WA USA
"Harris provides an excellent global perspective on licensing. In addition to providing practical resources for negotiating and organizing licensing information, she brings expertise in copyright law, an area that can involve some of the most confusing elements associated with electronic content acquisition." The Librarian's Guide to Negotiation, Winning Strategies for the Digital Age, by Beth Ashmore, Jill E. Grogg and Jeff Weddle.
A Canadian Museum's Guide to Developing a Digital Licensing Agreement Strategy (Canadian Heritage Information Network)  2nd ed. published May 2011.
Digital Property, Currency of the 21st Century (McGraw-Hill Ryerson, out of print)