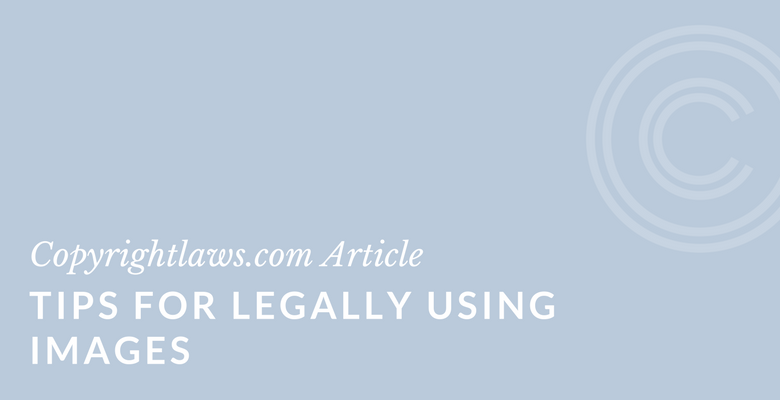 The six essential tips for legally using images set out in this article will help you minimize your copyright risks and lower your risks of copyright infringement. When selecting images, always remember to research their copyright status and obtain copyright permissions as necessary.
Be Copyright Compliant by Following These 6 Tips for Legally Using Images
Images are the new words. We're all looking for that perfect image, illustration or photograph to use on our blog, in our presentation slides or possibly a corporate document. However, before copying and pasting that image, or scanning an image, we need to consider and possibly research whether we have the rights to do so or if we need to obtain copyright permission.
Consider adding to the tips below for legally using images and creating your own best practices to ensure your consistent legal use of images, illustrations and photographs.
6 Crucial Tips for Legally Using Images
Research, Link or Use Your Own Photos
1. Always start with the assumption that your selected images are protected by copyright.
This includes images (illustrations, sketches and photographs) you find through a Google search or through another search engine. You'll find more explanation about using images from a Google search in the article Copyright and Using Google Images.
Never use an image, illustration or photograph without first doing research to determine the copyright status of the image. Note that Google has made this easier by now providing copyright-related metadata for images in Google Images, when this information is available. To learn more, see Google's article Image Rights Metadata in Google Images.
(Read below too for information about licensed images you find as you'll need to comply with the terms and conditions of the license and may not be able to use the images in any manner you wish.)
2. Copyright-wise, it's always less risky to provide the URL to a photo or other image.
By providing a URL, you are not making a reproduction of the image. Copying and pasting an image on your website or social media platform may require permission from the copyright owner.
Before reproducing an image, ask yourself whether this is necessary. Does it really add to your use of the text? Or would you get the same message across by providing a URL to the image and not making a reproduction of it (which is an exclusive right of the copyright owner)?
A February 2018 U.S. court case raises the risk when embedding images (rather than merely providing the URL to the images) in certain jurisdictions. You can read more about this case here.
3. When possible, use photos that you've taken yourself.
But keep in mind that you may not always own the copyright in photographs you take or images you create.
If you were employed when you took the photos or created the images and these tasks were part of your job duties, then you likely don't own the photos or images. In this situation you may need permission from your employer to use the images outside the course of employment.
If you're employed and fellow employees created the images or photographs, it's most likely your employer owns the images and you're able to use them without obtaining permission. But always do your research — if a consultant or freelancer created the images or took the photographs it's possible that they own the copyright in them.
You may be interested in Instagram and Copyright — What Are the Terms of Use?
Read Licenses
However, be aware that a CC license is just that: a license.
You need to read the terms and conditions of the license and see what's allowed or not.
 Not all CC licenses allow the same uses. A CC license may allow use as-is, or in a remix or as part of a new work. CC licenses may also require acknowledgement of the copyright owner.
5. Acquire images from stock photo agencies and follow the license terms.
You're not outright buying images from a stock agency but are paying for certain uses of them according to the license you've signed.
Read the specific terms and conditions in the license. For example, you may be able to post the image on your blog but you may require additional permission (and have to make additional payment) to use the image on the front cover of a print book or to save it in a digital archive.
Get a Warranty From the Alleged Copyright Owner
6. When you seek permission from the copyright owner of an image, always ask first if they actually own the copyright in the image.
The image's creator may have assigned their rights to someone else, or the photographs or other images may have been created at work as part of their work duties. In these cases, the photographer or other image creator doesn't have the right to provide you with permission to the use their work.
Ask the photographer to provide you with a warranty or guarantee that they are the image creator, still own the rights in the image and have the right to provide you with permission to use it.
Best Practices and Tips for Legally Using Images
Use these six tips on legally using images as your inspiration for creating a checklist for researching copyright permissions or obtaining permissions to use protected images.
Which of the above tips are ones that relate directly to your use of images?
What steps can you add to these tips to develop best practices to keep you copyright compliant and within the boundaries of copyright law?
There are lots of checklists and flowcharts online that will help inspire you to develop your own best practices for the legal use of content. Use a search engine to locate helpful resources and start reading how others are clearing copyright in images, illustrations and other intellectual property.
You may be interested in our article Do You Need Permission To Share a Comic Strip?
Want to learn more about legally using images? See our online course Legally Using Images.